Kategorie Kommunikation / Chat & Instant Messaging
Download TOP Video cams chat Programs
Version: 7.3.3.3000 | Freeware
Free download now the latest versions in 2011.....free the most popular voice and video chatting programs and free phone calls programs through the internet (VOIP) with the best quality ever...just choose the required program or select all to download at the same time and with a very few mouse clicks...At this package you will find the best programs ever like Skype, Paltalk, Gtalk, Manycam and Camfrog. This package has a high compatibility .
Mehr…
ComputerExpert 2009
Version: 3.6 | Freeware
ComputerExpert 2009 is a Online Instant Q/A software committed to offering computer help and tutorials. whether you are novice or veteran, while using computer you will meet all kinds of questions , you can post your question at ComputerExpert 2009 and get immediate answers. Our mission is to create an international network of computer troubleshooters service experts who will provide friendly, in time, online service.
Mehr…
MIE Chat Software
Version: 2 | Freeware
MIE Chat Software is a revolutionary internal company chat software and collaboration tool that offers the ability to chat with any business associates without worrying about users chatting outside the company walls. The chat tool is deployed on your company's file server, and gives you the ability to associate chats to business tasks and files in a quick, easy manner.
Mehr…
fTalk
Version: 3.0 | Freeware
Hol dir fTalk, das beste Facebook-Chat-Programm, von dem alle reden- Chatte direkt auf dem Desktop mit deinen Facebook-Freunden! Ftalk meldet dir, wenn deine Freunde online sind. Sende und empfange Nachrichten auf Facebook, ohne Facebook im Browser zu öffnen. Schicke deinen Freunden lustige animierte Smilies. fTalk ist klein, einfach und komplett gratis!
Mehr…
Crawler Smileys
Version: 1.0.5.30 | Freeware
Express Your Thoughts & Emotions - Crawler Smileys makes expressing yourself more fun! Insert smileys directly into your messages with a single click. Enjoy over 2,500 wonderfully animated smileys. Extremely easy to use. Works with AIM, MSN Messenger, Yahoo! Messenger, ICQ, Google Talk and most webmail services. When words just aren't enough. Browse our huge gallery of smileys and pick the one that best expresses your thought or emotion.
Mehr…
Teen Chat Decoder
Version: 5.0.00 | Freeware
"New Acronym Decoder lets you 'Crack The Secret Code' your teen uses online, in Chat Rooms, online chats,Instant Messages, & Text Messages! It's easy to use & it's free. Plus, the Teen Chat Decoder software does NOT contain any popup's, spy ware, ad tracking cookies and does not install ANY 3rd party software or cookies during installation. An awesome software for parents because it gives you an inside look into your teenagers online life."
Mehr…
TronMe Interactive Music Player
Version: 2.86 | Freeware
TronMe media player is a new generation of music player. It is a fully interactive music experience in which your favourite mp3 will never play the same way twice.
Mehr…
Paltalk
Version: 10.0 | Freeware
Paltalk allows you to video chat, send IMs and join chat rooms with anyone in the world for free. Browse or search thousands of free chat rooms, or create your own. Paltalk works with AIM, Yahoo, MSN, Facebook, etc. so you can chat with all your buddies using a single program. With SuperIM from Paltalk, you can webcam chat with up to 10 people at once. NEW: Watch Youtube videos in a SuperIM or buy a friend a virtual gift
Mehr…
MSN Recorder Max
Version: 4.4.8.2 | Shareware (29,95 USD)
Record your MSN chatmate's webcam video or capture the whole MSN conversation easily. It supports all versions of MSN. You can also choose Full Screen, Selected Window or Selected Region to record and upload the video you recorded to YouTube directly
Mehr…
MSN Slide Max
Version: 2.3.6.2 | Shareware (29,95 USD)
MSN Slide Max enables you to make fantastic slideshows as your display pictures of MSN Messenger. It supports all versions of MSN messengers including version 2009. You can search and download display pictures online and change personal messages with pictures automatically. It also automatically resizes and edits your display pictures and change pictures when your status changes. You can even make animation slideshows as display pictures with it.
Mehr…
BRAVIS Galaxee 4free Videochat
Version: 2.1.1 | Freeware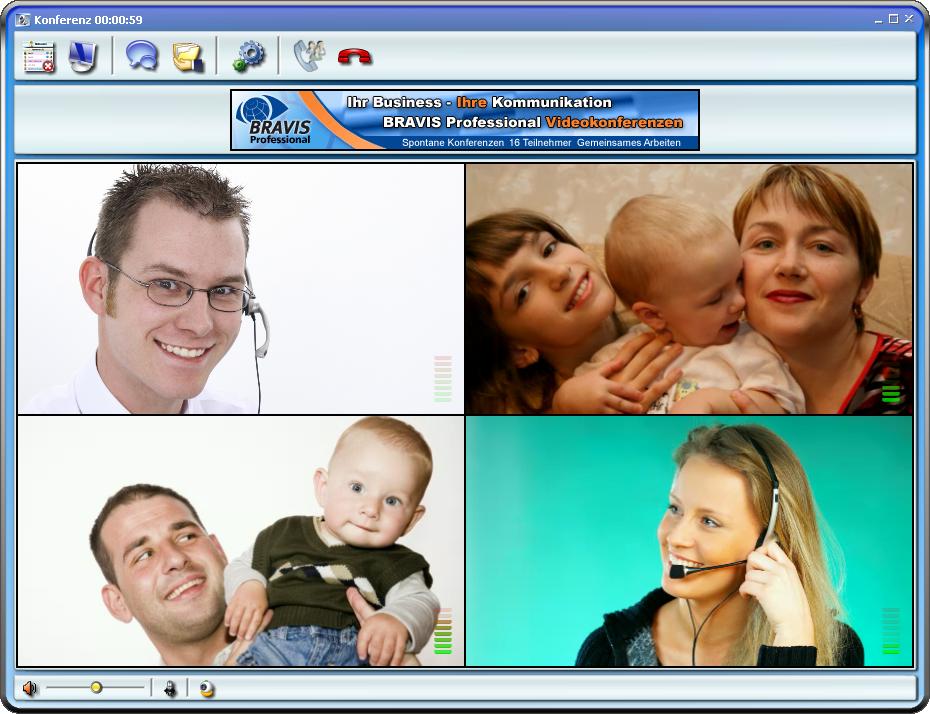 Galaxee 4free ist ein schlankes und leicht bedienbares Programm für private Videotelefonie mit bis zu 4 Teilnehmern, das keinen Server benötigt. Galaxee 4free heißt, einfach per Webcam erreichbar zu sein, und das in gestochen scharfer HD-Auflösung und klarer Audioqualität. Sehen und hören Sie sich als wären Sie da! Galaxee 4free - so fern und doch so nah.
Mehr…
YTK Lite
Version: 1.0 | Freeware
YTK Lite is the Ultimate Yahoo! Messenger chat companion. This easy-to-use chat utility provides many additional features to Yahoo! Messenger including enhanced privacy, unlimited safe list/white list, unlimited ignore bin, font and style filtering and the highest level of anti-boot protection available for the Yahoo! Chat network as well as spam and nuisance blocking.
Mehr…