Kategorie Kommunikation / Chat & Instant Messaging
Fake Webcam
Version: 7.2.433 | Shareware (9,95 USD)
Fake Webcam Streams / spielt Videos und Filme auf Yahoo, MSN, Skype, Chatroulette, AOL, Paltalk, ICQ, Camfrog, YouTube und auf allen Kurieren anstelle von tatsächlichen Webcam. Es strömt Videos und Filme auf Ihrem Kurier gerade wie ein webcam.You müssen nicht über eine Webcam für die Webcam haben. Siehe Demo auf unserer Website
Mehr…
MAXA Notifier for Skype
Version: 1.6 | Freeware
MAXA Notifier ist ein Extra für Skype für Windows, welches Änderungen im Onlinestatus einzelner Kontakte oder den Eingang von Nachrichten einzelner Kontakte auditiv signalisieren kann. So braucht man nur noch in "Hörnähe" des Rechners zu sein und ist entlastet. Sie können bestehende Wave, Midi und MP3-Dateien abspielen lassen oder Text vorlesen lassen.
Mehr…
Winsent Messenger
Version: 3.0.1 | Freeware (12,98 USD)
Winsent Messenger is a simple, handy and easy-to-use instant messaging program for local area networks. The program supports contact list, message archive, LAN browser. Uses standard SMB protocol (compatible with WinPopup, Windows Messenger Service and net send). Does not require a dedicated server or an internet connection.
Mehr…
Live Chat Software
Version: 3.7.4 | Shareware (9,00 USD)
mioot Live chat software is an expert in Help Desk Software solutions Offering Live Chat Support services since 2003. With Our Help Desk Software Live Support Agents can track the visitors informations in real time and Chat with customers.This software is also bundled with e-mail and phone logging solutions.
Mehr…
Winsent Innocenti
Version: 2.3.14 | Freeware
Winsent Innocenti is an one-way messaging program allowing LAN users to receive messages, alerts and notifications from network administrators and other users of the LAN. The program allows message receiving but does not allow users to send messages. Winsent Innocenti uses standard SMB protocol (compatible with net send command, Microsoft Winpopup). It does not require a dedicated server or an internet connection.
Mehr…
Community Chat
Version: 6.0 | Demo (269,00 USD)
Community chat is a cross-platform web application with major engines (PHP/.NET) and video support. The latest version boasts of implementation ultra-modern features for flash based software, namely built-in whiteboard, instant messengers support, online games, MP3 player and more. Number of available plugins brings flexibility in chat configuration and allows meeting requirements of business and entertainment orientated websites.
Mehr…
Chat Zone
Version: 1.0 | Demo (999,00 USD)
ChatZone is a unique flash-based solution for on-site communication and entertainment. Incorporating all Flashcoms applications in one highly dynamic platform with desktop style interface, it brings all-sufficient solution to your website and delivers truly unmatched real-time communication and entertainment experience for site members.
Mehr…
BigAnt Instant Messenger
Version: 2.92 | Shareware (15,00 USD)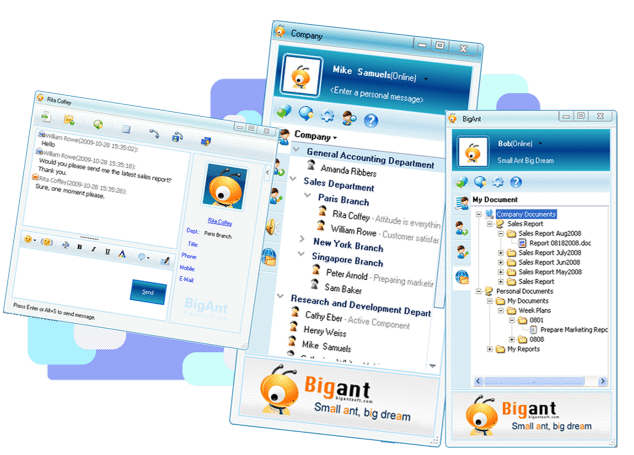 BigAnt Instant Messenger is an office instant messenger with business features, BigAnt Instant Messenger raises the level of collaboration and community for relatively low cost.Key features.1.Create clear organization structure.2. Transfer file or folder as swift as thought.3.Quick send. Send your file or folder using the selection's right-click context menu.4.Send group message with ease.
Mehr…
BigAnt Messenger
Version: 2.92 | Freeware (15,00 USD)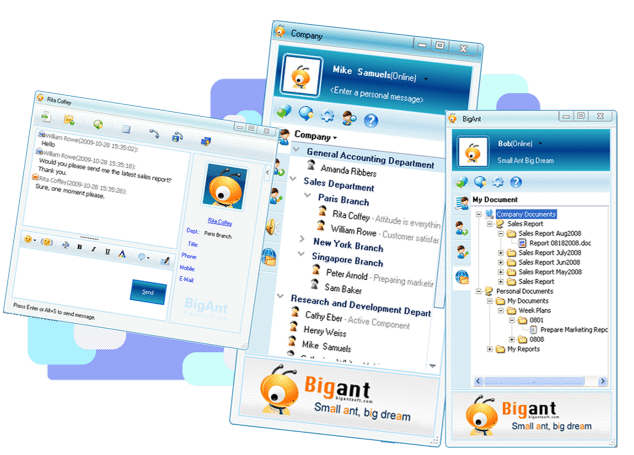 BigAnt Messenger offers you all functionality of a high-speed Enterprise Messaging system. Text chat, transfer file and folder, voice conference. Typically boosts communication and allows easy collaboration.No limit of online users.
Key features:
Transfer files or folders without any limitation. Enjoy maximum security as BigAnt encrypts all data transmitted.A powerful client-server easy for maintenance.
Mehr…
BigAnt Messenger for Enterprise
Version: 2.92 | Shareware (15,00 USD)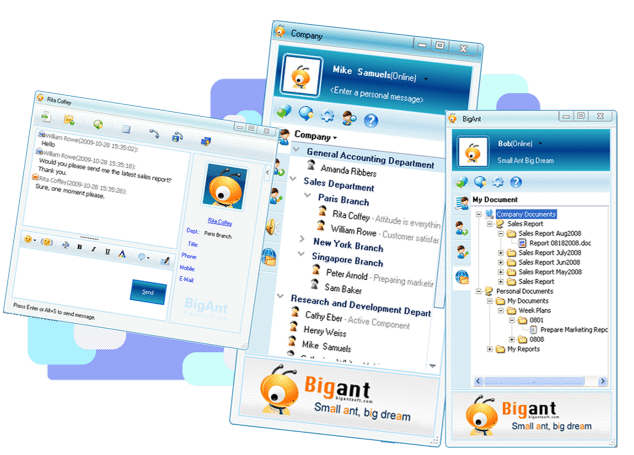 BigAnt Messenger for enterprise is a secure corporate instant messaging program, instant messaging, file sharing, voip, video chat and more.
Set up an instant messaging system for your own company with BigAnt to boost your office productivity. No matter the size of your company, small or large, local or world wide, BigAnt is right for you.
Mehr…
MorphVOX Pro Voice Changer
Version: 4.4.65 | Freeware (39,99 USD)
Voice changing software for online games, VoIP, and the multimedia. MorphVOX Pro Voice sets new standards for voice morphing. MorphVOX Pro is optimized for online games, but is also is great for talking via instant messaging and VoIP. Advance features include file morphing and record to file for quality voice-overs. The new version sports an enhanced professional user interface, extended file format support and an extensible plug-in architecture
Mehr…
Community Video Chat
Version: 5.0 | Demo (199,00 USD)
Community Video Chat is feature-rich, multi-user real-time video/audio/text flash application that will enable all possible modes of
communication for site users. It supports text messages with all text formatting tools available in other FlashComs applications, moderator
options, custom skins, message history, blacklist and more. Flexible video window positioning allows seeing all chat room users.
Mehr…