Kategorie Kommunikation / E-Mail List Management
VIMail
Version: 1.0 | Demo (9,00 EUR)
Serial E-Mails with support of MS Access database and txt template files
- addresses are stored in a true database, no limits for a number of addresses;
- letter templates in a simple text files;
- address record: EMail, Prefix, Name, Template, 5 free Memo-fields for you needs;
- possibility to change a letter-template for every address;
- one-touch-sending mails to all selected addresses with an appropriate template for every address;
Mehr…
eMail Bounce Handler
Version: 3.8.6 | Shareware (19,90 USD)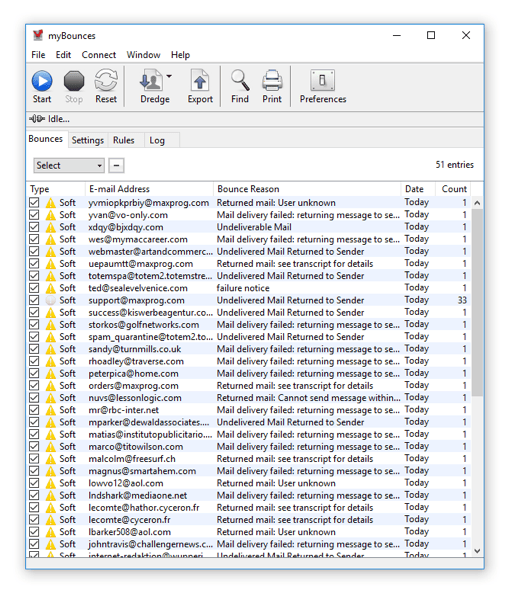 eMail Bounce Handler ist ein Tool zum Filtern und Bearbeiten zurückgesendeter E-Mails, die es anhand eines anpassungsfähigen Regelsatzes erkennt. Es extrahiert daraus die Empfängeradressen und Sie können diese noch einmal verwenden oder sie von Ihrer Adressliste entfernen. eMail Bounce Handler stellt eine Verbindung mit Ihrem POP- oder IMAP-Postfach her, holt nur die zurückgeschickten E-Mails und lässt dabei alle anderen Nachrichten unberührt.
Mehr…
eMail Extractor
Version: 3.6.9 | Shareware (14,90 USD)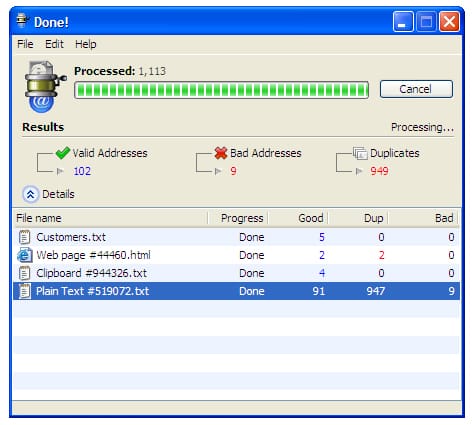 eMail extractor ist ein leistungsfähiges Extrahierungstool, das die E-Mail-Adressen Ihrer Kunden aus Ihrem Postfach oder Ihren Kontaktadress-Dateien herausholt. eMail extractor ist sehr schnell, einfach zu benutzen und multithread-fähig. Es findet absolut alle gültigen E-Mail-Adressen und erstellt eine Ausgabedatei, die nur die brauchbaren und formal richtigen E-Mail-Adressen ohne Duplikate enthält.
Mehr…
eMail Verifier
Version: 3.6.4 | Shareware (19,90 USD)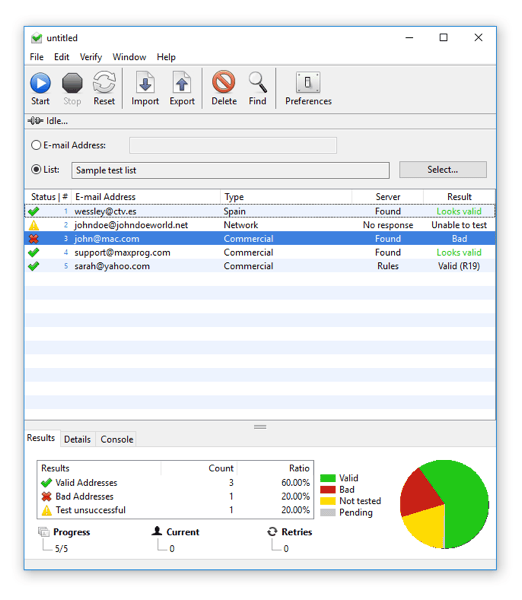 eMail Verifier kann Unternehmen, Organisationen und Personen Zeit und Geld sparen, die Newsletter versenden oder aus anderen Gründen auf eine saubere E-Mail-Kontaktliste angewiesen sind. eMail Verifier ist Ihre leistungsfähige Lösung für den standardmäßigen "Fehler beim Senden einer Nachricht." Email Verifier prüft jede E-Mail-Adresse einer beliebigen Mailingliste, und ermöglicht Ihnen so, 80-90% aller "toten" E-Mail-Adressen vorher zu erkennen.
Mehr…
MaxBulk Mailer
Version: 8.6.1 | Shareware (39,90 USD)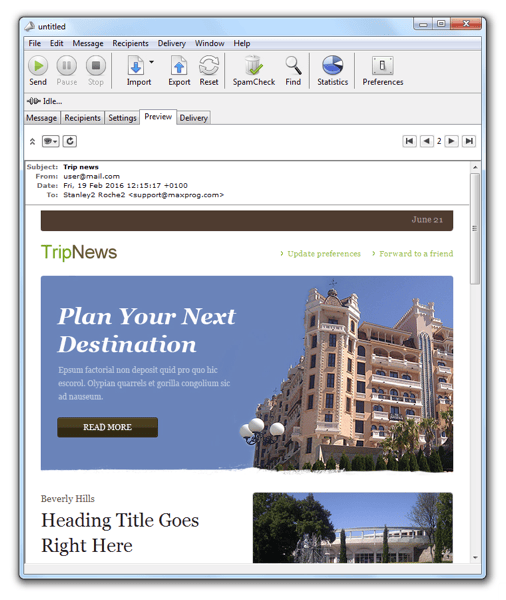 Software für Serien- und Massen-E-Mails, mit der Sie individuelle Pressemitteilungen, Preislisten, Newsletter und Texte oder HTML-Dokumente jeder Art an Kunden versenden können. MaxBulk Mailer kann mit reinem Text, HTML und formatierten Textdokumenten umgehen, unterstützt Anhänge und ermöglicht so aussagekräftige, personalisierte Mailings. Beinhaltet bedingungsgesteuerte Anweisungen, um das beste Ergebnis für Ihre Kampagnen herauszuholen.
Mehr…
Atomic Whois Explorer
Version: 8.05 | Shareware (39,85 EUR)
Atomic Whois Explorer is designed to search through global WHOIS database to automate the process of extracting contact information of domain name administrators or website owners. Current version of the program is capable of retrieving email addresses of domain name administrators or owners and websites expiration dates.
Mehr…
G-Lock EasyMail
Version: 6.89 | Shareware (349,00 USD)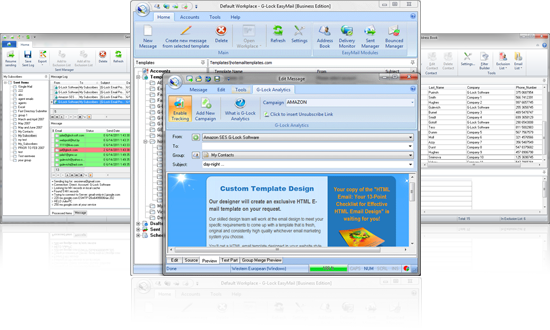 G-Lock EasyMail is a professional bulk email sender software for targeted email lists building and bulk email campaigns creating at your own computer. You can easily manage opt-in mailing lists for your subscribers, create personalized messages such as HTML newsletters, e-magazines, account statements, reports, statistics, bills to your customers and send them with G-Lock EasyMail in just minutes.
Mehr…
1st Mail Sender
Version: 4.2 | Shareware (69,00 USD)
1st Mail Sender is a powerful program used for sending notification messages or requested newsletters to your subscribers by email. Providing some service, you would like to notify your users about significant events, send invoices or price lists as well as organize email-based subscriptions on your web sites. 1st Mail Sender is the best solution for such purpose.
Mehr…
Email Spider
Version: 3.1 | Shareware (49,95 USD)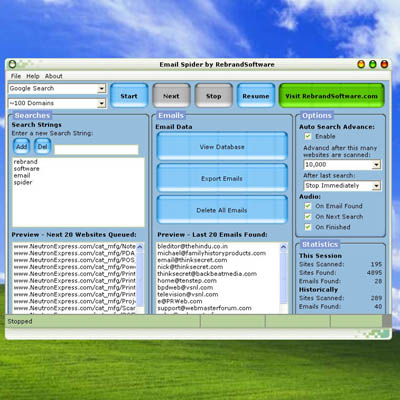 Harvest email addresses from the net using this Email Spider, which finds email addresses that are targeted by utilizing the Google and Yahoo search engines. Finds thousands of email addresses an hour, which makes scanning for vulnerabilities simple!
Mehr…
Atomic List Manager
Version: 5.03 | Shareware (34,85 EUR)
Atomic List Manager can split and merge email mailing lists containing multiple data parameters. Our mailing list software can split the list using some common-sense filters, like excluding invalid and duplicate e-mails as well as free e-mail addresses (Hotmail and Yahoo!, for example). A number of "mix-and-match" and filtering tasks can be done with Atomic List Manager based on parameters other then e-mail address.
Mehr…
Mailing List Express Pro
Version: 6.80 | Shareware (79,95 USD)
Mailing List Express Pro is designed to create and support mailing lists for your clients and subscribers. All you have to do is draft one message and it will be sent to an entire list of mail recipients. In addition, the program will create a personalized letter for each subscriber, which can include all the necessary information from your data base. Nowadays nearly all offices have tasks which demand fast-track information delivery.
Mehr…
Pilot Newsletter Software
Version: JAN.2013 | Shareware (199,00 EUR)
Das Programm fur individuellen und Massenversand der Email-Nachrichten. Hat ein Packett der fur den Massenversand nutzlichen Funktionen. Ein bequemer Interface und Leitung, fertige Schablonen, Editor fur Erstellung und Editierung der Briefe, Import/Export der Benutzer aus den Feilen xml, cvs (Excel), personalisierte Briefe. Moglichkeit, den Versand plangema? durchzufuhren, Briefbearbeitung, die mit den Fehlern zuruckkommen.
Mehr…