Kategorie Kommunikation / E-Mail List Management
Email Address Collector
Version: 6.0.175 | Shareware (29,95 USD)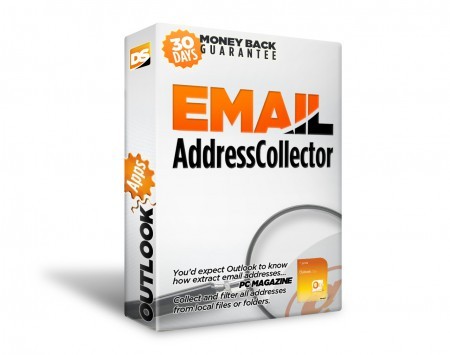 Email Address Collector... email extractor for Microsoft Outlook, Outlook Express, Windows Mail, Thunderbird, Windows Address Book, Outlook Contacts, DOC, PDF, mail EML files or for other local files... export extracted addresses to the Comma Separated Values (CSV) format or Outlook Contacts folders... backup and restore your Outlook folders and identities and it can backup and restore your Outlook Express rules.
Mehr…
Advanced Email Verifier
Version: 8.3.1 | Shareware (99,00 USD)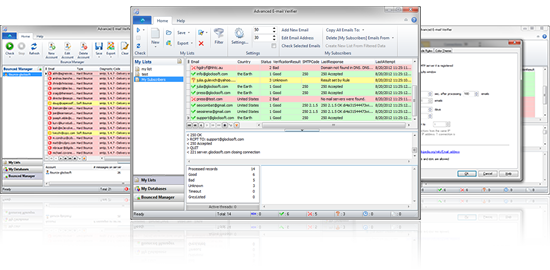 Using the Advanced Email Verifier you can clear your email list or database from bounced and undeliverable email addresses and keep your contact lists "clean" on a proactive basis. You can quickly connect to a huge database containing millions emails and verify email addresses directly from the database without export-import. After your email campaign is sent, you can use the powerful built-in bounced handler to deal with bounced emails.
Mehr…
Atomic Email Logger
Version: 8.20 | Shareware (34,85 EUR)
Designed to search files for e-mail addresses, Email Logger utilizes advanced search algorithms to extract e-mails from anywhere on your hard drive. It scans files of all types and finds thousands of new contacts. There are no any restrictions for Email Logger, it parses text, graphic, music and even executable files.
Mehr…
MailList King
Version: 12.05 | Shareware (99,50 USD)
MailList King brings all the power of a complete mailing list server to your PC, allowing you to easily create, manage and communicate with the people interested in your company and products. MailList King integrates with popular e-mail software or mail servers to retrieve mailing list messages (subscribes, unsubscribes, bounces, etc) and deliver automatic responses, double opt-in confirmations and personalized, rich text messages.
Mehr…
AY Mail
Version: 2.10 | Shareware (99,95 USD)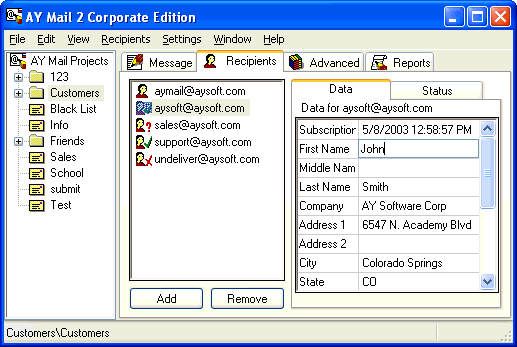 Customizable emailing software trusted by thousands of businesses around the world since 1998. Easily import your list from virtually any source (address books, mail folders, databases, csv files...), create your message with very personal look using built-in HTML editor (use any data you have on recipient for personalization) and schedule sending at your convenience and much more ..
Mehr…
1st Subscription Manager
Version: 2.55 | Freeware
1st Subscription Manager - is a simplest, way to extract business emails from your regular POP 3 mailbox. When your clients subscribe or unsubscribe using an email with a certain subject, you can use This utility to grab the messages they produced from any POP3 mailbox and then feed them to a mass mailing program such as Advanced Emailer
Mehr…
Mailing List Deluxe
Version: 6.80 | Shareware (119,95 USD)
Mailing List Deluxe is designed to create and support mailing lists for your clients and subscribers. The new version supports multi-part html messages with embedded images, combined text and html messages, has a WYSIWYG html message editor, can send custom attachment for each recipient. The Deluxe version also has a built-in smtp server and can send mail directly without any help from the ISP server.
Mehr…
Advanced Mail Bomber
Version: 11.41 | Shareware (69,00 USD)
Advanced Mail-Bomber - vorgerückter Postbomber ist es eine professionelle E-mail Software, die für schnelles verschickendes Listenmanagement bestimmt ist. Es erlaubt Ihnen, E-mail Subskriptionen auf Ihrer Web site zu organisieren und information/notifications zu schicken vielen Empfängern. Sie können strukturierte Verschickenlisten, Importempfänger erstellen und handhaben von allen möglichen Aktenformaten...
Mehr…
E-MailVerifier
Version: 2.10 | Freeware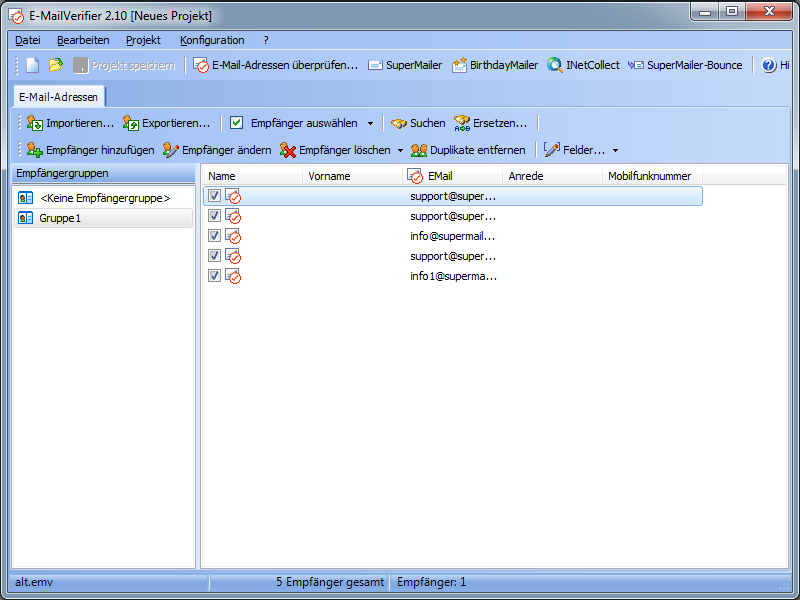 Mit E-MailVerifier importieren Sie beliebige E-Mail-Adressen inkl. zusätzlicher Daten zum E-Mail-Empfänger aus Textdateien, aus Microsoft Outlook, aus dem Windows-Adressbuch, aus Excel oder aus SQL-fähigen Datenbanken. Nach dem Import können Sie die E-Mail-Adressen auf korrekten Syntax und mit bis zu 100 gleichzeitigen Verbindungen auf Existenz der E-Mail-Adresse prüfen lassen.
Mehr…
onl!ne email grabber professional
Version: 2.1.5 | Demo (49,95 EUR)
Diese Software ist die ideale Lösung für alle Firmen und Webmaster, welche große Mengen an E-Mail Adressen für Newsletter etc. auszulesen oder zu verwalten haben. Finden Sie zuverlässig E-Mail Adressen auf dem PC und im Internet. Die Stichwortsuche findet gezielt Adressen bestimmter Branchen. Bei der Suche im Internet werden Links zu anderen Seiten verfolgt, wobei die Qualität der Ergebnisse durch diverse Einstellmöglichkeiten stets einwandfrei.
Mehr…
ListWizard
Version: 1.5.2.55 | Shareware
ListWizard is a mailing list manager. Lists can be configured as simple distribution lists or full-featured mailing lists. There is no limit to number of lists or members that can be managed. The program is simple to use yet has many advanced features like subscription verification, password protection, list moderation, feature to ban selected members etc. In addition, all response messages can be customized to suit your own taste.
Mehr…
Comment List Builder
Version: 3.6.1 | Shareware (4,95 USD)
Deine Blog-Besucher werden automatisch in Deine E-Mail-Adressliste eingetragen, nachdem sie etwas zu Deinem Thema kommentiert haben. Nutze hierzu Deinen E-Mail Marketing Anbieter wie bspw. MailChimp, Aweber, Klick-Tipp, GetResponse, MadMimi, CleverReach, Rapidmail, Benchmark oder weitere. Durch mein Plugin erhalten Deine Besucher einen Bonus fürs Kommentieren. Dies führt zu mehr Kommentaren, was widerum mehr SEO Inhalte zur Folge hat.
Mehr…