Kategorie Netzwerk & Internet / Download-Manager (Filter: Freeware)
Fooja Video Downloader
Version: 1.0.0 | Freeware
Fooja is a simple and easy to use video download software for your desktop. Copy and paste video links from your favourite youtube video, facebook video or dailymotion video. Powerful features allow you to download the video and convert them with your desired options. You can select the quality of the MP4. Yes you can convert the video directly into a MP3 for your music devices.
Mehr…
Free YouTube to iPod Converter
Version: 3.11.3.610 | Freeware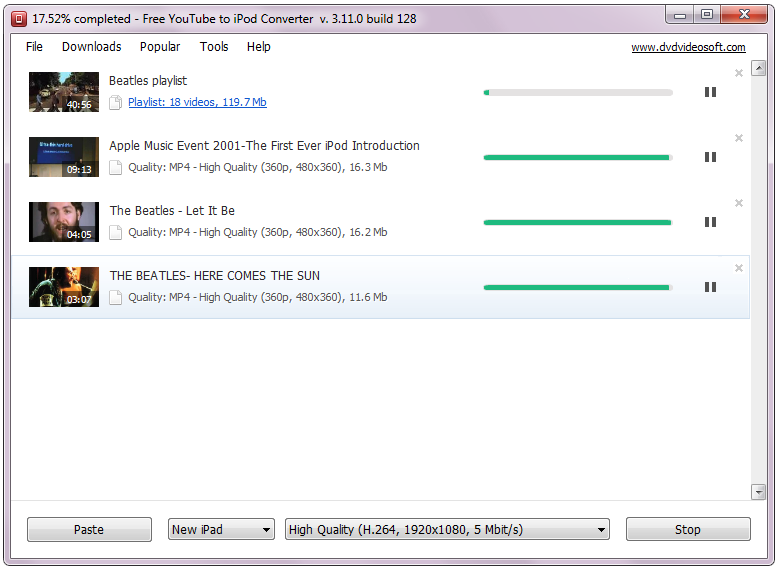 Free YouTube to iPod Converter ist ein leicht benutzendes Tool zum Download aller möglichen YouTube-Videos für Ihr iPod. Free YouTube to iPod Converter ermöglicht eine einfache Bedienung in Verbindung mit erweiterten Download-Funktionen. Die Ausgabedateien werden im MP4- oder 3GP-Format im Ordner Videos gespeichert und werden denselben Namen haben, wie der YouTube-Titel ist. Sie können sie auf iPod, PSP, BlackBerry oder Mobiltelefon abspielen.
Mehr…
NeoDownloader Lite
Version: 2.9.4 | Freeware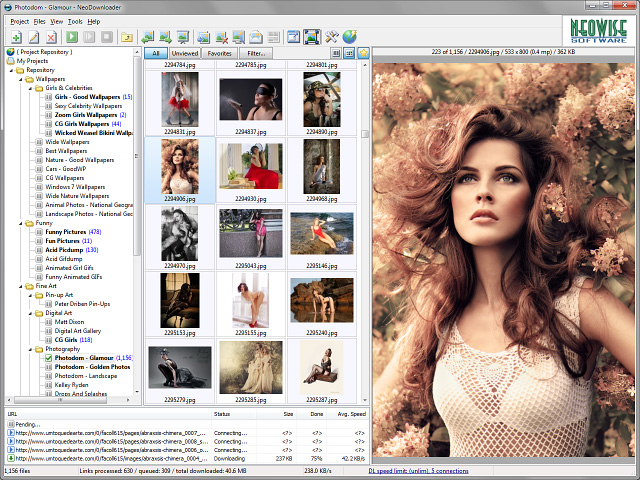 Download and view thousands of hot and sexy girl pics, favorite celebrity photos, amazing wallpapers, funny pictures, animated gifs, artworks of various artists, and much more. Just drag-n-drop a link to the program's floating basket and this bulk image downloader will download all found images to your hard drive. You can immediately see everything you download and delete unwanted pictures.
Mehr…
iOpus File and Website Downloader
Version: 3.01 | Freeware
Automate, schedule and batch file and web page downloads with command line utility. Very easy to use and integrates well with batch files, windows scripts, visual basic or the windows task scheduler. Ideal for automatically downloading files, patches and for stress and load testing your download web server. A must have utility for every internet and system administrator tool box. Freeware!
Mehr…
1A Bildsauger
Version: 1.8 | Freeware
Schneller Download aller Bilder einer Website mit optionaler Filterung und Vorschaufunktion. Das gesuchte Bildprofil kann durch Vorgabe von Bild- und Dateigröße sowie Dateiformat definiert werden. Download von mehreren Websites gleichzeitig möglich.
Mehr…
Free Download Manager
Version: 3.9 | Freeware
Download files and convert videos (including flash) faster with open-source Free Download Manager. Its features include integration with all browsers, support of downloads from rapidshare, adjusting traffic usage, BitTorrent support, resuming broken downloads, and more. The new version features prioritized and partial torrent downloads, support for Chrome and Safari browsers, multifile metalinks, FDM plugins, and numerous optimizations.
Mehr…
Download Accelerator Plus
Version: 10.0.6.0 | Freeware
Download Accelerator Plus (DAP 10)- Eine neue Version des schnellsten und beliebtesten kostenlosen Download-Managers und -Beschleinigers: Mit 300 Mio. Installationen und neuen Funktionen. DAP ist mit der patentierten Multi-Kanal-Technologie von Speedbit für schnellstmögliche Downloads ausgestattet. Nutzen Sie die DAP-Erweiterungen, um Social Web-Videos zu speichern und mit Speedbit Video Beschleuniger Videos sofort und reibungslos anzuschauen.
Mehr…
ConnectFusion
Version: 1.0 | Freeware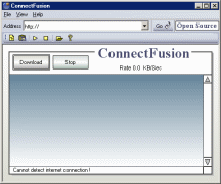 ConnectFusion is a download manager that can accelerate your downloads by launching multiple threads to the remote server. It supports the resume feature and is capable of restarting a broken download due to lost connection. ConnectFusion includes an easy-to-use interface and its installation does not interfere with the normal behavior of your browser.
ConnectFusion is free, never expires, and does not contain any spyware or advertisement.
Mehr…
Internet Download Accelerator
Version: 6.13 | Freeware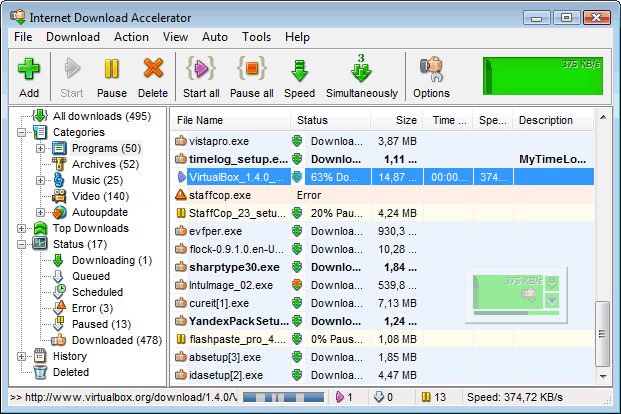 Easy-to-use and effective download manager that can increase download speed by up to 500 percent. It uses intellectual multi-section download to provide the best possible performance for all connection types. IDA lets you conveniently manage downloads by orginizing them in categories with automatic category detection option. With IDA you can download and save video from popular video sharing services: YouTube, Google Video, Metacafe and others.
Mehr…
MP3 Rocket
Version: 7.4.1 | Freeware
MP3 Rocket - YouTube to mp3 conversion done right. Fastest Video to MP3 Converter. Convert YouTube to MP3 for free! Get free video to mp3 conversions with MP3 Rocket It's fast, free, and no registration is required. Compatible with any mobile device. MP3 Rocket is a easy to use YouTube to MP3 converter and video downloader. MP3 Rocket converts video to multiple audio or video formats and provides easy play back on computers or mobile devices.
Mehr…
Free YouTube Downloader
Version: 3.1.39.1015 | Freeware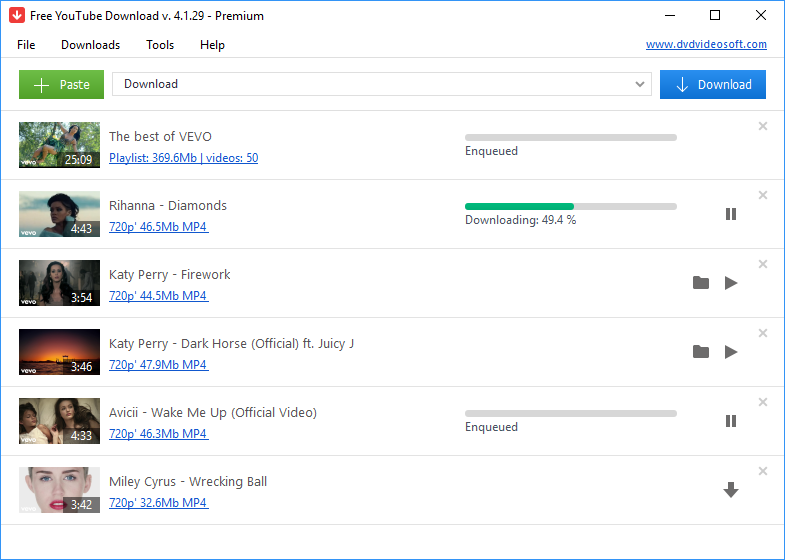 Free YouTube Downloader ist eines der beliebtesten Programme im Web zum Download der einzelnen YouTube-Videos und auch Videosammlungen. Das Programm ermöglicht eine einfache Bedienung in Verbindung mit erweiterten Download-Funktionen. Sie können Videos mit der originalen YouTube-Qualität herunterladen oder sie ins AVI, MP4, WMV-Formate konvertieren; Download-Historie speichern; Videos in iTunes automatisch importieren; etc.
Mehr…
Blogspot Image Downloader Free
Version: 1.1.33 | Freeware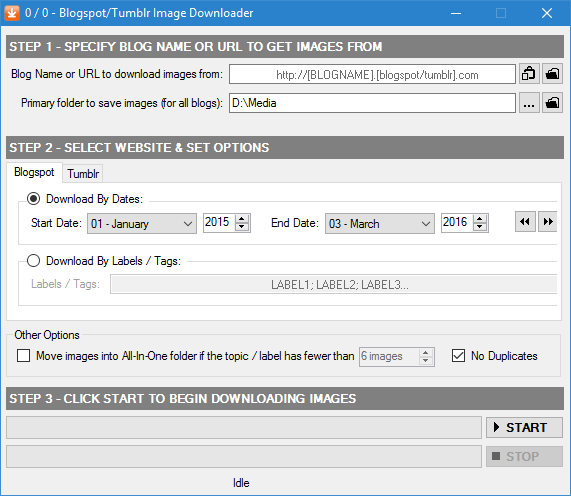 Easily save hundreds of save images and photos from Blogspot / Tumblr blogs with friendly names derived from post titles. Download only images within specific date range or with specific labels. Easy to use: enter blog URL, set options, and start downloading. Save pictures and photos you like from blogs to your computer before they are removed!
Mehr…