Kategorie Netzwerk & Internet / Download-Manager (Filter: Shareware)
DataShark
Version: 1.2.14.0 | Shareware (99,00 EUR)
DataShark ist ein generischer Web-Crawler/Web-Scraper, der speziell zum Erfassen von Daten aus externen oder internen Internetseiten entwickelt wurde.
Mehr…
DownloadStudio
Version: 10.0.3.0 | Shareware (14,97 USD)
DownloadStudio is an ultra-fast download manager that gets everything on the web. It contains over 12 specialized downloading tools for downloading movies, TV shows, music, programs, games, photos, podcasts, RSS feeds and web sites. Features include accelerated downloads, resume broken downloads, schedule downloads for a later time and more! Works with all popular web browsers - Google Chrome, Firefox, Internet Explorer and Opera.
Mehr…
NeoDownloader
Version: 3.0.3 | Shareware (32,95 EUR)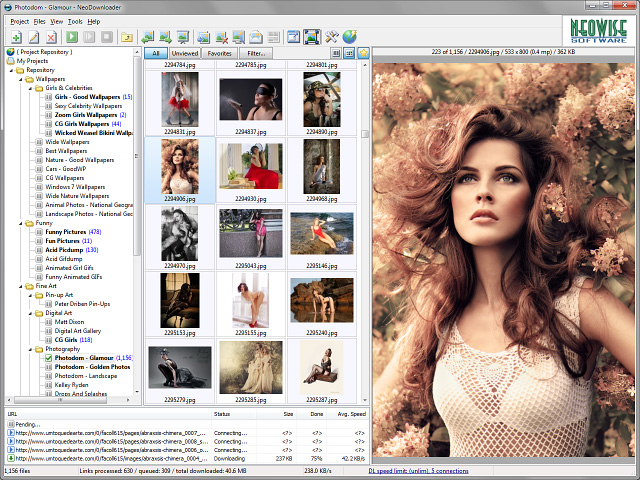 NeoDownloader will help you download thousands of favorite pictures, wallpapers, videos, mp3's and any other files from any website. Just specify a link and click a few buttons, and this fully automatic mass downloader will do the rest. You can view downloaded files with built-in viewer and media player. Beautiful celebrities and girls, amazing desktop wallpapers, funny pictures and animated gifs, and much more - you choose yourself!
Mehr…
Web Dumper
Version: 3.3.7 | Shareware (20,00 USD)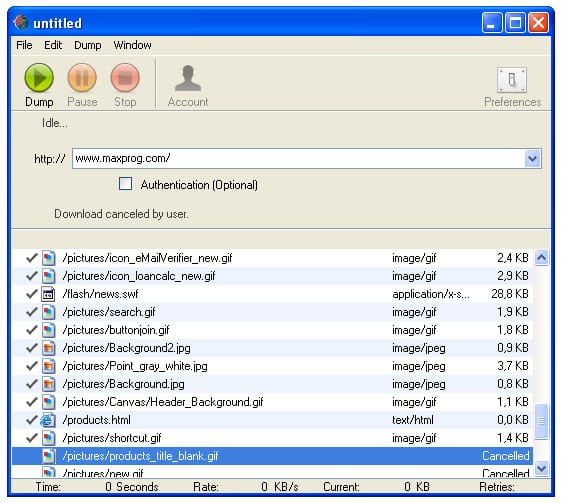 Mit Web Dumper können Sie ganze Webauftritte aus dem Internet auf die Festplatte herunterladen, um sie später offline im Browser betrachten zu können. Die Verzeichnisstruktur aller Webseiten bleibt beim Sichern auf die Festplatte erhalten. Web Dumper lädt die HTML-Dokumente automatisch mit ihren dazu gehörenden Bildern, Sounds, Filmen usw., indem es sie nach sämtlichen enthaltenen Links zu anderen Dokumenten absucht.
Mehr…
easyDown
Version: 1.06 | Shareware (19,99 EUR)
Programm durchsucht angegebene Seite nach angegebenem Suchkriterium und lädt diese in angegebenes Zielverzeichnis unter Berücksichtigung verschiedener Features runter. Besonderheit: Programm setzt Suche auf weiterführenden Seiten rekursiv fort. Es ist universell einsetzbar und verfügt über viele Features wie z.B. einen Generator zum Erzeugen von Download-Folgen. easyDown ist ideal zum Download von Bildergalerien geeignet!
Mehr…
Extreme Picture Finder
Version: 3.39 | Shareware (29,95 USD)
Bild Downloader und Web Picture Finder in einem Produkt. Automatisch herunterladen alle Bilder, Musik, Videos von einer Webseite. Sofort sehen Sie die Bilder in der integrierten Bildbetrachter. Web durchsuchen nach Bildern mithilfe von Schlüsselwörtern mit verschiedenen Suchmöglichkeiten: nur Thumbnails, nur Bilder in voller Größe, die beide von ihnen. Plus-integrierte Datenbank mit Tausenden von Webseiten-Adressen nach Kategorien sortiert.
Mehr…
Web Stream Recorder
Version: 2015 | Shareware (39,95 USD)
Web Stream Recorder 2013 is an improved version of a popular multimedia web stream recorder. The program allows users to watch offline any multimedia stream, including online radio, TV, YouTube, Google Video, WinAmp etc. The program features many advanced functions but is extremely simple in use thanks to the "minimum operations, maximum benefits" approach and a stylish user-friendly interface. Available for Windows 2000/XP/Vista/7/8.
Mehr…
PicaLoader
Version: 1.7.1 | Shareware (49,95 USD)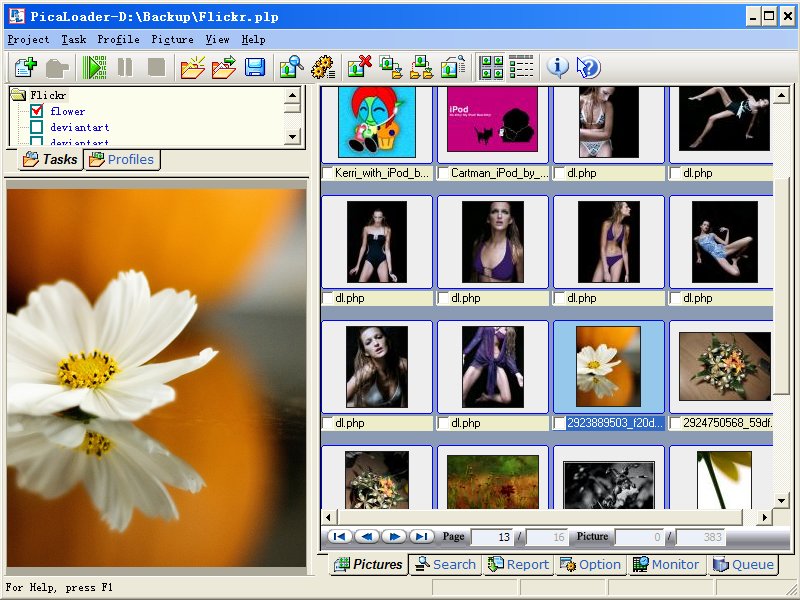 Find and download millions of pictures from the web automatically and easily. Just specify a web address, and Picaloader automatically follows every link to get the pictures you want, including pictures linked by Javascript, VBScript and Jscripts. Picaloader even lets you set filters to select the pictures you want based on size, definition, color depth, picture type. Manage and view the pictures easily with the built-in thumbnail browser.
Mehr…
Offline Downloader
Version: 3.60 | Shareware (29,95 USD)
So if you are viewing a large website with a thousand pages, you'd have to click the mouse a thousand times ... and ... choose a directory/folder a thousands times when you want to save each file. With Offline Downloader, you can download whole websites (or parts of them) in one go to your computer. You can then view the whole site offline at your leisure - and you can whiz through the saved pages at lightning speed.
Mehr…
BlackWidow
Version: 6.30 | Shareware (39,95 USD)
BlackWidow ist ein multifunktionales Internettool. Es ladet Webseiten herunter und ist ein Webseiten Downloader, Seitenripper, Seitengrabber, Seitenkartographierungs-, Seitenscanner- und ein Seitenspiegelungstool. Benutzen Sie es um Seiten zu Scannen und komplette Profile der Seitenstruktur, Dateien, externen Links und sogar der Linkfehler anzulegen. Es nutzt Threads, Pull-Links von Java Scripts und Java Script Dateien.
Mehr…
Internet Download Manager
Version: 6.28.17 | Shareware (24,95 USD)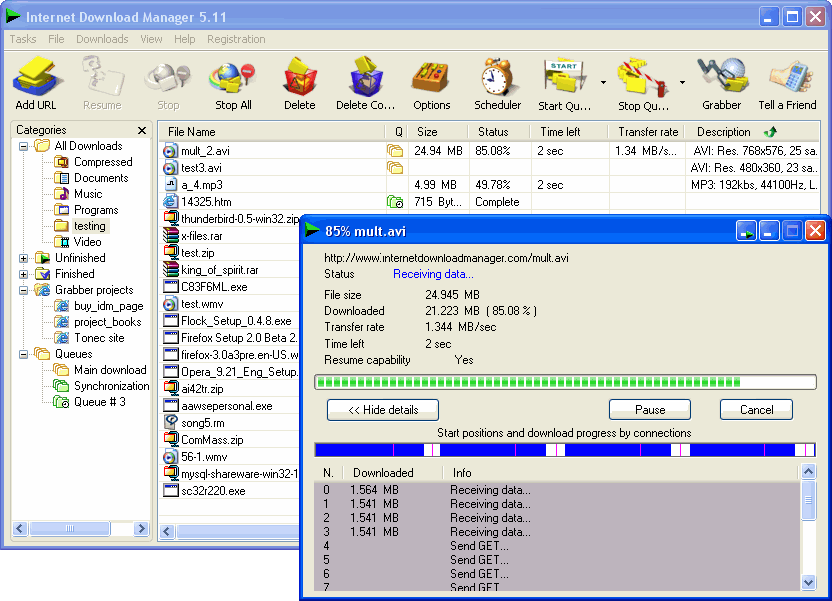 Accelerate downloads by up to 5 times, schedule downloads, recover and resume downloads. IDM will increase your download speed by using smart dynamic file segmentation logic. IDM has an Internet Grabber to download all pictures from a web site, or complete web sites for offline browsing. IDM features unique integration into all browsers, Vista compatibility, speed limiter, FLV grabber to download FLV files from Youtube, MySpaceTV, GoogleVideo etc
Mehr…
Jaksta for Windows
Version: 5.0.1.54 | Shareware (39,95 EUR)
Jaksta downloads Video & MP3s from virtually any site, including YouTube, video, chat and music sites. Automatically converts to MP3, AVI, WMV, MP4 and more. Saves files to your PC at up to 10x speed. Jaksta is easy to use - just open Jaksta, then play your media, and watch as a perfect copy is saved on your PC - even before the clip has finished playing! Jaksta is free for YouTube - try it now.
Mehr…