Kategorie Netzwerk & Internet / Download-Manager
Xilisoft YouTube Video Converter for Mac
Version: 2.0.3.1217 | Shareware (24,95 EUR)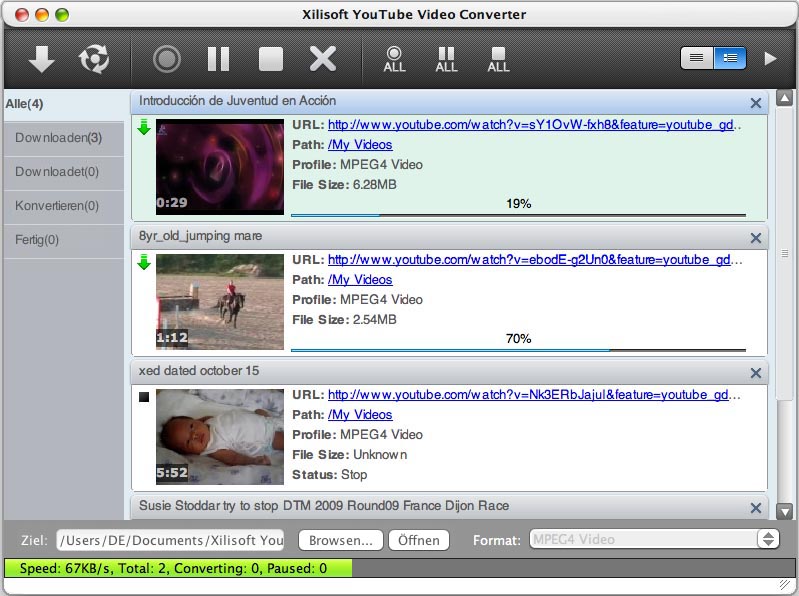 Xilisoft YouTube Video Converter for Mac ist ein praktischer YouTube Downloader und Converter besonders für Apple Mac-Anwender. Er kann YouTube Videos/Film/Musik einfach und schnell herunterladen und in ein gängiges Format umwandeln. Die Vielfalt an den unterstützten Ausgabeformaten musste Ihre Anforderungen entsprechen, inkl. MP3, AVI, MPEG, H.264/MPEG-4 AVC, MPG, MPEG-1, MPEG-2, MPEG-4, MP4, FLV, DivX, XviD, MOV, WMV und 3GP.
Mehr…
Xilisoft YouTube to iPod Converter Mac
Version: 2.0.3.1217 | Shareware (19,95 EUR)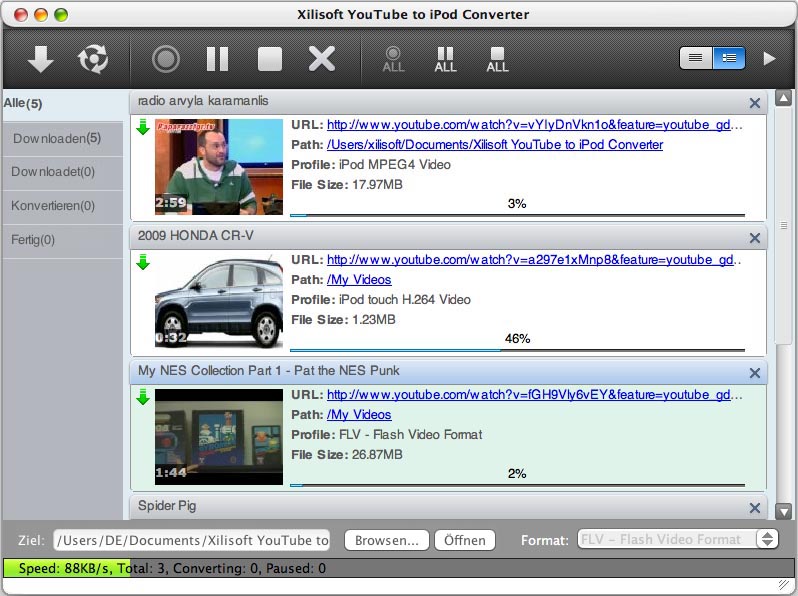 Xilisoft YouTube to iPod Converter for Mac ist ein hilfreicher YouTube Downloader und Converter besonders für Mac und iPod Anwender. Er kann YouTube Videos/Film/Musik einfach und schnell herunterladen und ins iPod MP4/MPEG-4 Format umwandeln. Die Ausgabeformaten sind passend für alle iPod Modelle (iPod Classic, iPod Nano, iPod Touch), inkl. MP3, MPEG-4, MP4, FLV, H.264/MPEG-4 AVC. Mit dem eingebauten Browser kann man YouTube Website besuchen.
Mehr…
GetGo Download Manager
Version: 5.3.0.2712 | Freeware
Free Complete Online Video, Music and File Download Manager with YouTube Download Support. Easy to use, Customizable GUI allows downloading of your favorite files with extreme acceleration. Seamless integration with web browsers allows easy "1-Click" downloading of YouTube, Facebook, Google, Metacafe, DailyMotion, iFilm/Spike, Vimeo, MegaVideo, Break.com and sites with FLV video. No banners, no spyware, no pop-up ads, and completely FREE.
Mehr…
ClipGet YouTube Downloader
Version: 3.7 | Shareware
Fast and easy-to-use software helps you quickly download videos from YouTube and other video sites and convert them to avi, mp3, mp4, mov, 3gp. You'll be able to save YouTube music and videos to your pc, mp3 player, PSP or cell phone. You can also use the program as an add-on to Internet Explorer or Firefox. This functionality will allow you to save videos just by clicking ClipGet button located on the browser toolbar.
Mehr…
Youtube Downloader HD
Version: 2.9.9.30 | Freeware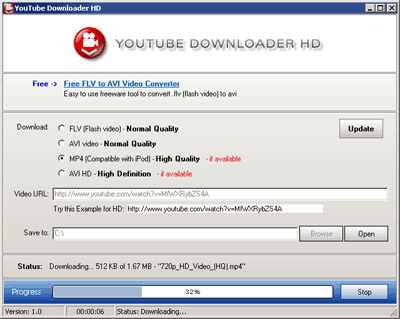 Youtube Downloader HD ist ein kostenloses Tool zum Download von Videos von YouTube, und speichern Sie sie auf Ihren lokalen Computer. Die Videos können konvertiert werden, um AVI-Video-Format oder mp4 (kompatibel mit dem iPod, iPhone, iPad). Erkennungszeichen: mit Youtube Downloader HD können Sie High-Definition-Videos von YouTube.
Mehr…
Clip Extractor
Version: 5.5 | Freeware
FREE and easy to use toolbar for Internet Explorer and Firefox designed to help you quickly download and convert YouTube videos. Automatically detects video URLs. This allows you to save clips directly from YouTube, avoiding extra steps. Integrated ringtone maker. Powerful functionality, user friendly interface and true simplicity make this easy YouTube downloader a perfect choice both for beginners and pros.
Mehr…
RipTiger Ultimate
Version: 3.3.8 | Shareware (34,99 USD)
RipTiger Full is a secure, effective and very simple in use online video downloading software system. It interprets almost all of online video types: Flash Video (HTTP and RTMP),Windows Media (HTTP, MMS and RTSP), Real Audio and Real Video (HTTP and RTSP), MPEG, QuickTime, Streaming MP3 (Shoutcast).This would mean that you might be allowed to record online videos from just about any site in the Web! You and all your friends will enjoy it for it'
Mehr…
Bandwidth Monitor
Version: 3.4.0.757 | Shareware (24,95 USD)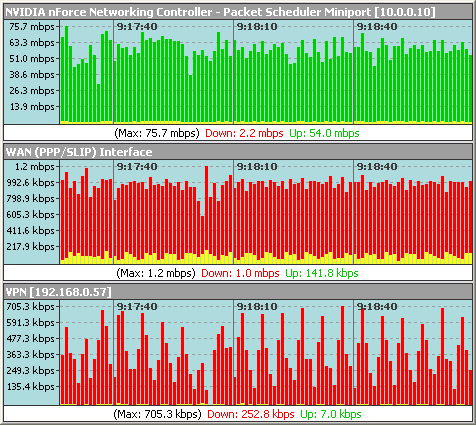 Bandwidth Monitor monitors bandwidth usages through computer it's installed on. The software displays real-time download and upload speeds in graphical and numerical forms, logs bandwidth usages, and provides daily, weekly and monthly bandwidth usages reports. Bandwidth Monitor monitors all network connections on a computer, such as LAN network connection, Internet network connection, and VPN connection.
Mehr…
Download Entire Web Sites Software
Version: 7.0 | Shareware (19,99 USD)
This software offers a solution to users who want to download an entire website. The user simply enters the URL of the website. With one click, all the files on the site will be listed in the main pane. The output folder is then chosen and files selected or deselected before starting the download. This is a useful tool for getting all the files from a large website quickly.
Mehr…
GSA Image Spider
Version: 2.92 | Shareware (22,00 EUR)
Mit diesem Programm können Sie auf einfache Weise Bilder und Fotos im Internet suchen und herunterladen. Ob Sie nun mit Schlüsselwörtern die Bilder finden oder vorhandene Internetseiten absuchen, der Image Spider liefert schnelle und qualitativ hochwertige Ergebnisse. Die Bedienung ist denkbar einfach und schon nach wenigen Sekunden erhalten Sie die gewünschten Resultate.
Mehr…
YouTube Music Downloader
Version: 9.5.1 | Shareware (26,00 EUR)
An easy-to-use windows software to download youtube music videos and convert them to MP3, AVI, WMV, MOV, MP4, 3GP formats. You can download millions of music from youtube and listen them on your iPod, MP3 Player or watch them on your PC, iPod, iPhone. Unlimited Download 6,000,000+ Music from YouTube, Get started now!
Mehr…
Free YouTube Download
Version: 4.1.47.525 | Freeware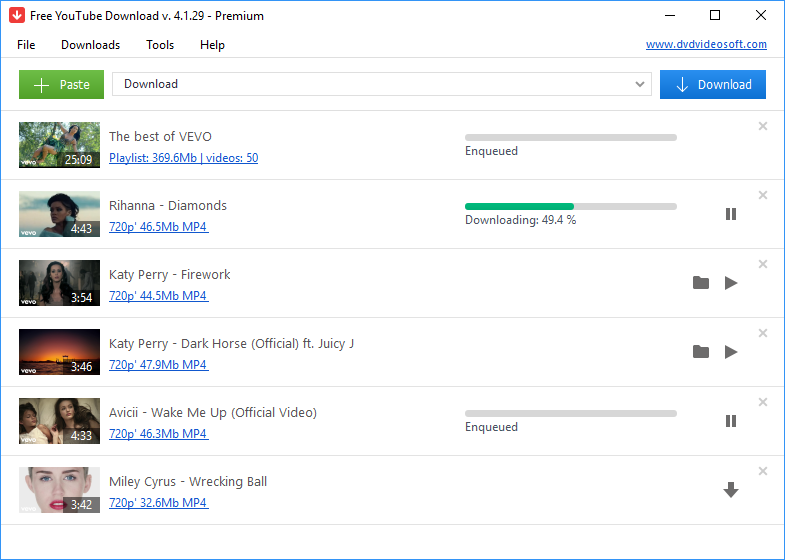 Free YouTube Download ist eines der beliebtesten Programme im Web zum Download der einzelnen YouTube-Videos und auch Videosammlungen. Das Programm ermöglicht eine einfache Bedienung in Verbindung mit erweiterten Download-Funktionen. Jetzt können Sie Videos aus den Kategorien Mein Videoprotokoll und Mit positiven Stimmen herunterladen, Nummerierung für Downloads oder für jeden Playlist hinzufügen; Download/Upload-Datum einfügen; usw.
Mehr…