Kategorie Netzwerk & Internet / Download-Manager
Airy YTB to MP3 Converter
Version: 3.0 | Shareware (19,95 EUR)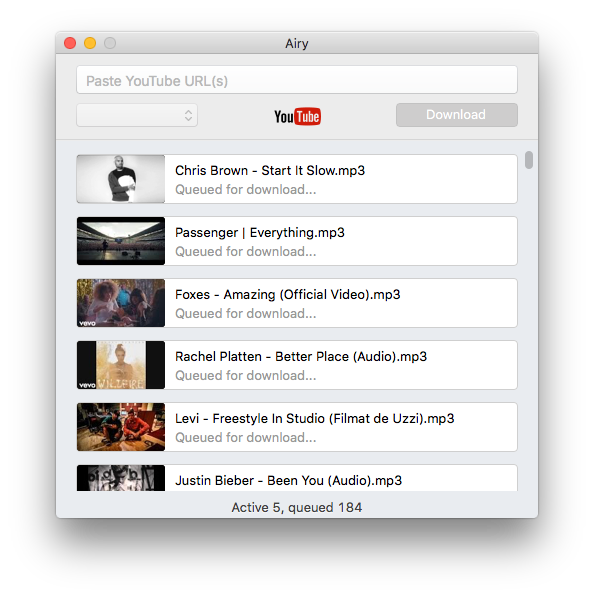 Airy YTB to MP3 Converter presents the easiest way to extract MP3 files from YTB videos on Mac.
Mehr…
MP3 Rocket Download
Version: 2.6.3.2 | Freeware
MP3 Rocket Download, the best free music download software, allows you to listen to music online with no limits, enjoy over 100 million MP3 including recommended hot songs weekly and list of music through all categories, search and download high-quality songs which are upto 320kps bitrate for FREE, and use Advanced Search to search more exactly, etc. It is compatible with all portable devices: iPod, iPhone, PSP, PDA, cell phone and more.
Mehr…
Download Multiple Web Files Software
Version: 7.0 | Shareware (19,99 USD)
This software offers a solution to users who want to download one or more files from a web site to local folders. To get this software to work, simply load a list of remote links/URLs/file addresses from a text file and click the start button to begin downloading.
Mehr…
GetWebPics Pro
Version: 2.9 | Shareware (29,95 USD)
GetWebPics is media files download manager. It will easily allow you to download pictures, digital photos, video, audio and flash from Internet.
Features: search by keywords, batch pictures downloading, web authorization support, javascript support, filters to reject unsuitable pictures, build-in media viewer, thumbnail viewer, fullscreen slideshow with transition effects and downloading monitor to control the process of media downloading.
Mehr…
YouTube Playlist to MP3 Downloader
Version: 1.0 | Freeware
YouTube Playlist to MP3 Downloader - a simple and reliable program that allows user to download from YouTube the entire playlists in one single click. YouTube Playlist to MP3 Downloader downloads only MP3 element (no video). For example, if the user wants to download one hundred songs playlist, YouTube Playlist to MP3 Downloader will deliver this task 20-x plus faster rather than any other YouTube downloaders.
Mehr…
FLV Video Downloader
Version: 1.0 | Shareware (19,99 USD)
Save Flash videos from Internet sites like YouTube and Google Video to your PC in either flv or avi file formats while you watch them in your browser. The program runs in the background, in system tray, and will ask you to save video when you begin watching one. It saves you time and bandwidth, as it saves videos as they are playing in your browser. Its functionality can be accessed by hot keys. Furthermore, it supports simultaneous downloads.
Mehr…
SiteUnseen
Version: 3.4.5 | Shareware (14,95 USD)
SiteUnseen. The easy to use website content analyzer and download manager parses HTML and JavaScript in web pages, finding, downloading and saving any user specified file type(s), jpg, mp3, mpg, etc. SiteUnseen will spider a site regardless of language following links and finding files for automatic download. Unique accelerators speed your search through Yahoo Groups photo and file archives, Google Groups messages and other popular services.
Mehr…
SC Daily Motion Video Grabber
Version: 7.3.3.3000 | Freeware
Daily Motion Video Grabber is an easy to use program to download video files from DailyMotion google, youtube and other sites. You can download using grab and keep flash movies or videos and you can thereafter burn them to CD or DVD for offline viewing from the following twelve Sites: DailyMotion, You tube, Google Video, Myspace, angryalien, ThatvideoSite, ZippyVideoes, Blip.tv, Break, Putfile, Bolt.
Mehr…
deTuber
Version: 2.3 | Shareware (29,95 USD)
DeTuber is the most favorite YouTube Downloader chosen by millions of users and is the most powerful Video Downloader for YpuTube. It is very easy to use, just copy the link for the video you want to download and click begin, all work will be done automatically. Program will start to download video immediately. You can download any number videos at a time. Try it it's free!
Mehr…
GetGo YouTube Downloader
Version: 1.7.2.1197 | Freeware
Free YouTube Downloader HD Video Converter und für MP4 (iPod und iPhone kompatibel), AVI, WMV, FLV und MP3-Audio. Entwickelt für extrem einfach zu bedienen, nimmt GetGo YouTube Downloader nur eine Kopie eingefügt YouTube-Video-Seiten-URL. Es lädt die besten verfügbaren Qualität und wandelt auf bestimmte Video-Format mit integriertem Video-Konverter. Alles was es braucht ist ein Klick auf "Start".
Mehr…
AmiPic ShareMaster
Version: 9.01 | Shareware (49,95 USD)
Automated and fully customizable Internet search tool, Web sites content and Usenet binaries mass downloader designed for total privacy and unattended operations. Eqipped with image viewer capable of URL tracking, image browser, file splitter, duplicate files scanner, text search, Usenet Autopost and Site copier tools. Private file sharing and hidden web sites content download modes. It also may encrypt files and hide them inside one another.
Mehr…
Internet Download Accelerator
Version: 5.15.2 | Freeware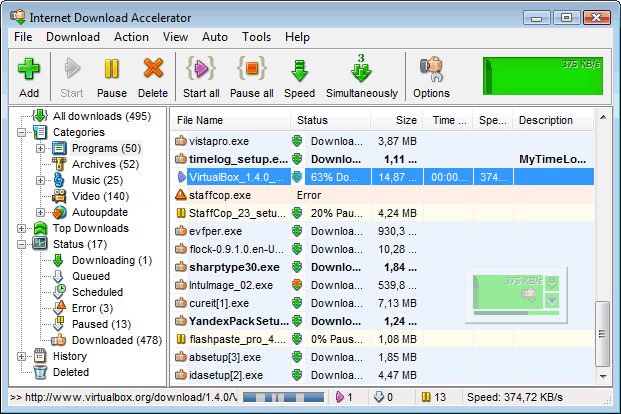 Easy-to-use and effective download manager that can increase download speed by up to 500 percent. It uses intellectual multi-section download to provide the best possible performance for all connection types. IDA lets you conveniently manage downloads by orginizing them in categories with automatic category detection option. With IDA you can download and save video from popular video sharing services: YouTube, Google Video, Metacafe and others.
Mehr…