Kategorie Netzwerk & Internet / Netzwerk Monitoring
NetResident
Version: 2.1 | Shareware (299,00 USD)
NetResident is an advanced network content monitoring program that captures, stores, analyzes, and reconstructs network events such as e-mail messages, Web pages, downloaded files and instant messages. NetResident uses advanced monitoring technology to capture the required data from the network, saves it to a database, reconstructs it, and displays this content in an easy-to-understand format.
Mehr…
LANVisor
Version: 2016.01.199 | Demo (69,00 USD)
Mit LANVisor sehen Sie die Bildschirme der im lokalen Netzwerk verbundenen Computer. Sie können mit dem Programm sehen, was die Benutzer auf anderen Computern tun und gleichzeitig Screenshots davon machen. Das System hilft dem Vorgesetzten, die Angestellten im Blick zu behalten, die sich nicht an die täglichen Routinen halten, und es steigert die Produktivität.
Mehr…
DeviceLock Plug and Play Auditor
Version: 5.72 | Freeware
DeviceLock Plug and Play Auditor is a non-intrusive clientless software solution that generates reports displaying the USB, FireWire and PCMCIA devices currently connected to computers in the network and those that were connected. Its multithreaded engine ensures fast, unobtrusive auditing of all activity on any computers in an organization. DeviceLock PnP Auditor stores, compares and filters the data it receives from all the computers.
Mehr…
Protoport Personal Firewall
Version: 1.5 | Shareware (34,95 USD)
After you download and install the ProtoPort Personal Firewall software, your computer will be protected against hacker attacks. All network traffic is monitored on the lowest possible level ensuring all unwanted network packets are kept off your computer.
Mehr…
10-Strike LANState
Version: 7.8 | Shareware (199,95 USD)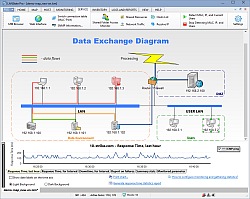 Monitor hosts, FTP, web, database servers, files, folders, free space, switches and UPS via SNMP with this network mapping and monitoring program. This network mapping NMS can discover and draw your LAN topology. LANState contains many tools for administrators and users such as shutting down and turning on remote computers, ping, name lookup, trace route, obtaining information on remote hosts, creating reports, watching SNMP data on switch, etc.
Mehr…
Network Mechanic
Version: 3.1.4 | Demo (29,95 USD)
Network Mechanic optimizes your Internet connection up to 300%, providing faster download speeds and fewer delays while browsing. Network Mechanic modifies a wide series of parameters that control how your TCP/IP stack operates. It acts as an accelerator for your network connection. It works with MSN, AOL, and all private ISP hosts.
Mehr…
Cymphonix Speed-O-Meter
Version: 4.1 | Freeware
Speed-O-Meter is a program that measures the TCP/IP speed of all interfaces on your machine including network adapters and modems. Use it to test your internet connection speed! It displays the TRUE transmission speed and does not average it like IE. This program is freeware.
Mehr…
AdRem NetCrunch
Version: 6 | Shareware (1.950,00 EUR)
NetCrunch ist ein Tool zum Monitoring von Netzwerken, das logische und physische Netzwerktopologien erkennt und in Kartenansichten darstellt. Weitere Funkionen: Überwachung von Leistung und Verfügbarkeit der Netzwerkgeräte, viele Alarmoptionen (z. B. E-Mail, ICQ, SMS, SNMP), automatische Fehlerbehebung, Alarm-Eskalation und -Abstellung, Event Log, Berichte, benutzerdefinierte Ansichten u. a. Unterstützt Windows, Linux, Mac OS X, NetWare, SNMP.
Mehr…
Net Monitor for Employees Professional
Version: 5.5.3 | Shareware (99,95 USD)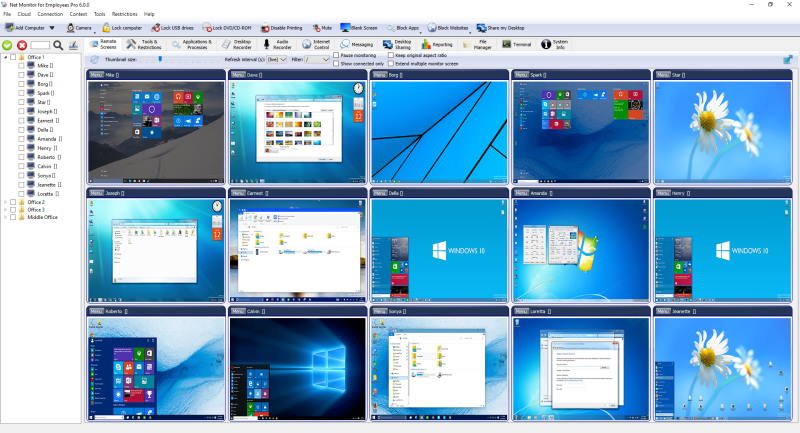 This employee monitoring software allows you to see live screens of remote computers or show you screen to students. You can take control of a remote computer by controlling the mouse and keyboard. This way, you can always watch what users are doing on the remote computer. Additionally you can also record student's screens. With this employee monitoring software you can turn off, restart, hibernate.... remote computers with one click.
Mehr…
WirelessMon
Version: 4.0.1009 | Shareware (49,00 USD)
WirelessMon 2.0 enables a person to detect and monitor Access Points (AP) on any wireless (WiFi) networks within range. The program provides substantial information including whether an AP is secure (or not) and its availability for use. A live channel usage chart helps identify potential interference problems. Users of the Professional Edition can generate signal strength coverage maps by either manually plotting points or using a GPS device.
Mehr…
NetGong
Version: 8.94 | Shareware (39,95 USD)
NetGong erlaubt Netzwerkadministratoren und Webmastern das Überwachen von vernetzten Geräten im Internet, Intranet oder im TCP/IP Netzwerk. Man erhält Warnmeldungen, wenn eine Verbindung unterbrochen wird. NetGong ist also ein günstiges Überwachungssystem, das rund um die Uhr arbeitet. Die Software wird mit Windows gestartet und kann bis zu 500 Verbindungen gleichzeitig überwachen.
Mehr…
WinLock Remote Administrator
Version: 4.4 | Shareware (89,95 USD)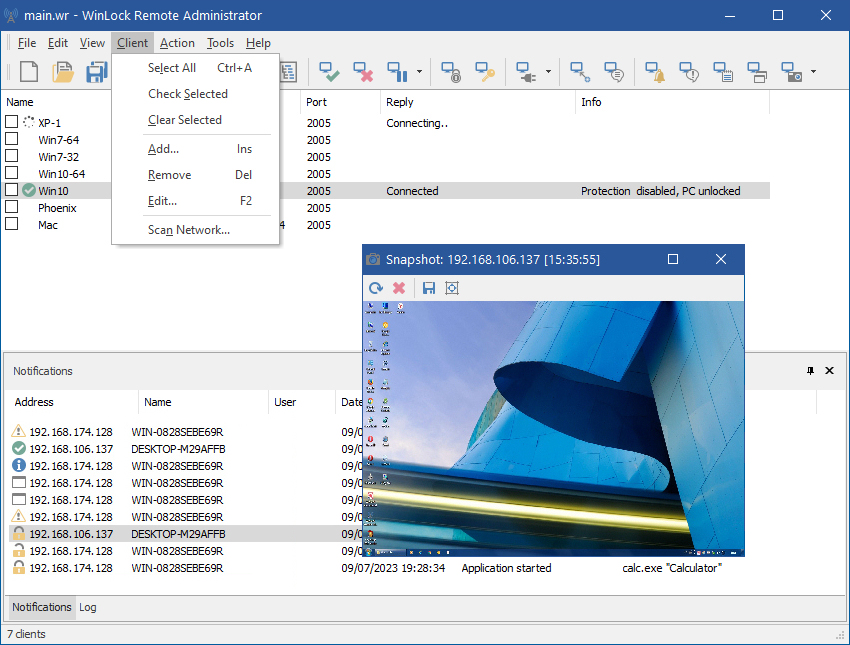 A security application that makes networks safer and administrators' life easier. Remote Administrator helps quickly configure remote WinLock clients, lock remote workstations, and apply security profiles by means of easy-to-use interface. By means of this tool, you can manage WinLock settings on-the-fly; enable or disable each copy of WinLock; pause protection and send pop-up messages; capture screenshots of remote client's desktop, and more...
Mehr…