Kategorie Netzwerk & Internet / Netzwerk Monitoring
LizardSystems LanSend
Version: 2.6.0 | Freeware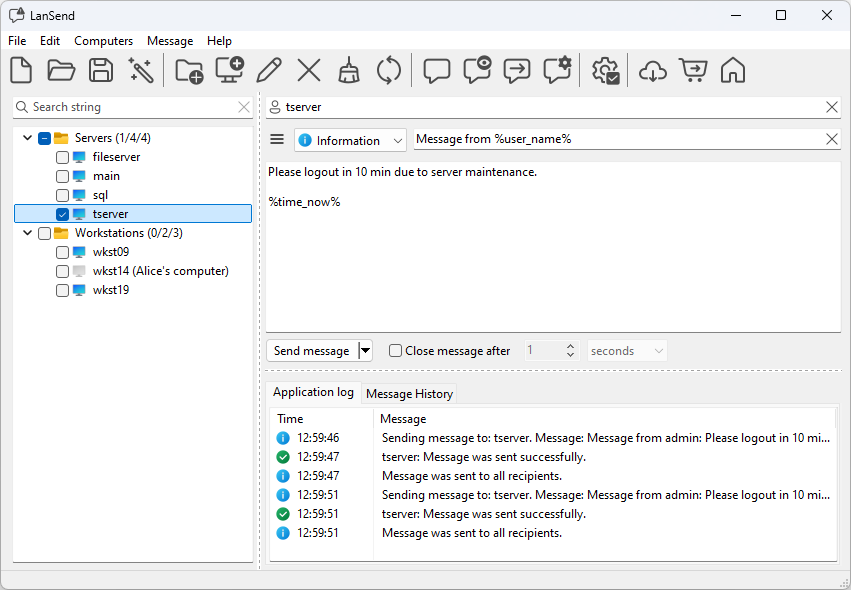 Messages can be sent to all active remote computer users connected both locally and remotely (terminal session). Message templates are included, allowing you to compose and send messages fast.
Mehr…
SolarWinds Alert Central
Version: 1.1.0 | Freeware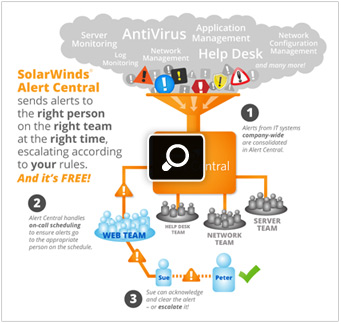 SolarWinds Alert Central is FREE alert aggregation & management software with an integrated on call calendar. This allows for easy, accurate and automated alert distribution, quick and efficient alert resolution, and greater visibility into the workflow of your companies alerts. Alert Central gets your alerts to the right person, on the right team reducing the number of alerts that get into your inbox, yet ensuring they all get handled.
Mehr…
Free WiFi Hotspot
Version: 4.6.3 | Freeware
Free WiFi Hotspot is a super easy solution to turn your laptop or notebook into a portable Wi-Fi hotspot, wirelessly sharing your internet connections like DSL, Cable, Bluetooth, Mobile Broadband Card, Dial-Up, etc. through the built-in wireless card. By a click of a button, you can get a Wi-Fi Router without the need of buying new hardware from store. It allows you to set the hotspot ID (SSID) & password and select the connection you want.
Mehr…
ReaSoft Network Firewall
Version: 3.0 | Shareware (199,00 USD)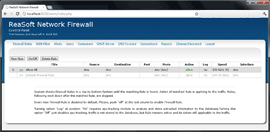 ReaSoft Network Firewall ist eine leistungsstarke Lösung, die speziell für kleine und mittelständische Unternehmen entwickelt wurde, unter Berücksichtigung ihrer spezifischen Bedürfnisse und Probleme. Das Programm hat bereits erhebliche Popularität dank seiner hervorragenden Leistung mit minimalen Anforderungen und Benutzerfreundlichkeit kombiniert gewonnen.
Mehr…
SerialSniffer
Version: 6.07 | Shareware (28,00 EUR)
SerialSniffer ist ein Tool zur Anzeige von Daten, die über eine serielle Schnittstelle übertragen werden. SerialSniffer gibt Ihnen dabei die Möglichkeit in den Datenstrom ?hineinblicken? zu können. Die Daten, die zwischen den Geräten ausgetauscht werden, werden durch SerialSniffer sichtbar gemacht. Dabei wird unterscheidbar, welcher Teilnehmer welche Daten gesendet hat. FAQ: http://www.serialsniffer.com/de/pdf/SerialSniffer_FAQ_Deutsch.pdf
Mehr…
SNMP Explorer
Version: 1.1 | Freeware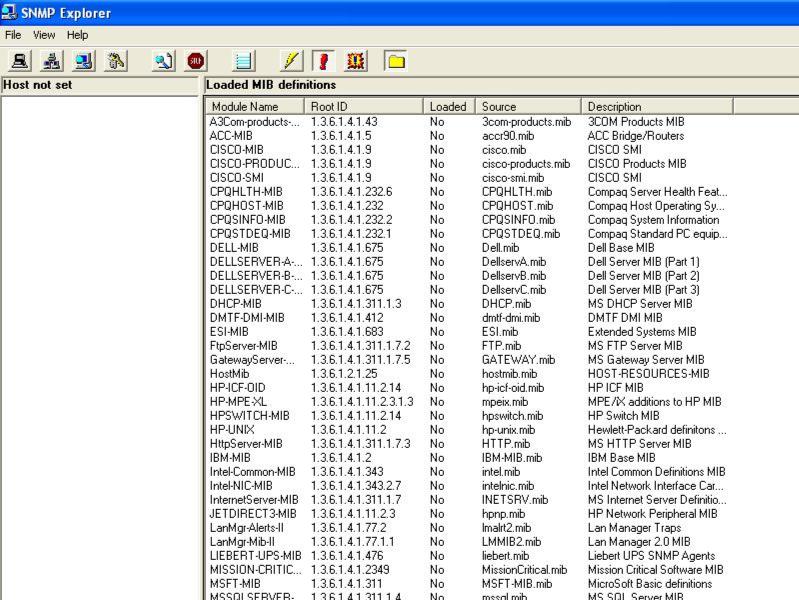 SNMP Explorer (SE) is a tool that enables you to easily browse the Management Information Base (MIB) exposed by systems with SNMP agents. SNMP Explorer extracts or "walks" the MIB of a selected SNMP agent system and creates a structured view of the agent's MIB. A tree view of the MIB allows quick exploration of the MIB to locate objects of interest. The current value of MIB objects are displayed along with object descriptions.
Mehr…
Adminpctools Hardware Inventory
Version: 1.7 | Shareware (80,00 EUR)
Adminpctools Hardware Inventory ist ein Ressourcenprüf- und Rechnerverwaltungssoftware gezielt für große und mittelständige Unternehmen. Sie ermöglicht volle administrative Kontrolle von Netzwerkressourcen mit Hardware- und Softwareüberprüfung, Geräteverwaltung, IT-Ressourcenmanagement und Lizenzverwaltung.
Mehr…
Network Monitor
Version: 6.43.00.4475 | Shareware (49,99 EUR)
Network Monitor Packet Sniffer Protokoll Analysator und Datenlogger. Dieses Netzwerk-Überwachungs-Software können Sie auf Daten im Netzwerk in Echtzeit zu analysieren, melden Netzwerkpakete Daten zur späteren Analyse. Mit diesem Netzwerk Packet Sniffer / Network Protocol Analyzer / Netzwerk Traffic Daten Monitoring Software können Sie erfassen, anzeigen, aufnehmen, wiedergeben Daten kommen über Ihr Netzwerk-Adapter
Mehr…
PageR Enterprise Network Monitoring
Version: 5.3.6 | Freeware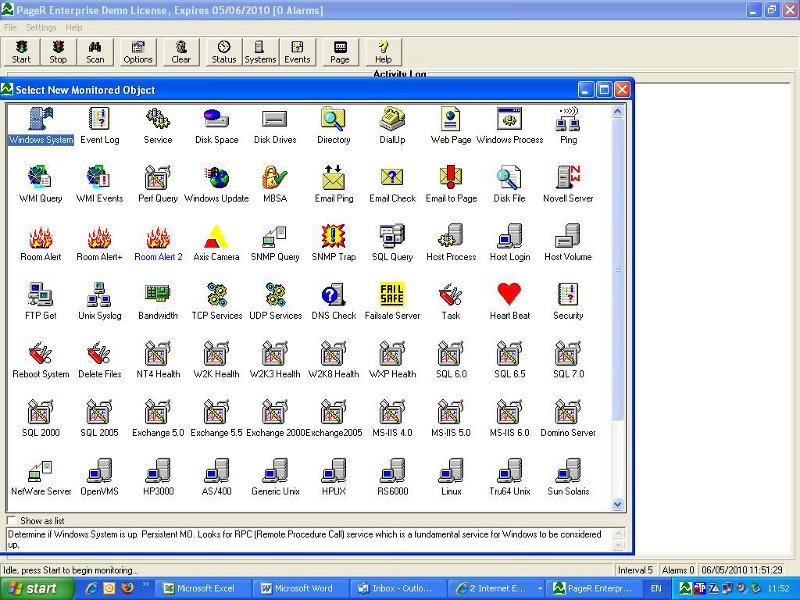 PageR provides advanced server, network and temperature monitoring for all Windows, UNIX and legacy servers and includes network bandwidth monitoring. Server monitoring with PageR is easy to set up and manage. A single instance of PageR on a PC or server can monitor hundreds of servers. PageR server monitoring allows great flexibility by using expert monitored object types such as Disc Space, Event Logs, Unix Server, Unix Syslog etc.
Mehr…
SolarWinds Free SNMP Enabler
Version: 1.0 | Freeware
What's an IT superhero like you supposed to do when faced with the unfathomable task of installing and enabling SNMP on Windows servers and workstations located 20,000 leagues across the sea? Well before you sink into the murky depths of despair, check out our FREE SNMP Enabler!
Mehr…
Application Performance Monitor
Version: 4.0.2 | Shareware (2.495,00 USD)
SolarWinds Application Performance Monitor (APM) delivers powerful monitoring, alerting, and reporting capabilities to applications and servers and at a price that won't draw unnecessary attention from your CFO. In less than an hour, APM can discover your applications and provide the visibility you need into the performance of your applications and the underlying operating systems and servers they run on.
Mehr…
SolarWinds Free VM Console
Version: 1.0 | Freeware
What do you do when a virtual machine is running amuck - or not running at all - and you just want to restart it without slogging through vCenter or vSphere? Act like the superhero you are and bounce that blue-screened troublemaker with our free VM Console! Now you can quickly and easily shutdown and restart a virtual machine - even if you're not a VMware administrator.
Mehr…