Kategorie Netzwerk & Internet / Netzwerk Monitoring
X-NetStat Professional
Version: 5.63 | Shareware (49,95 USD)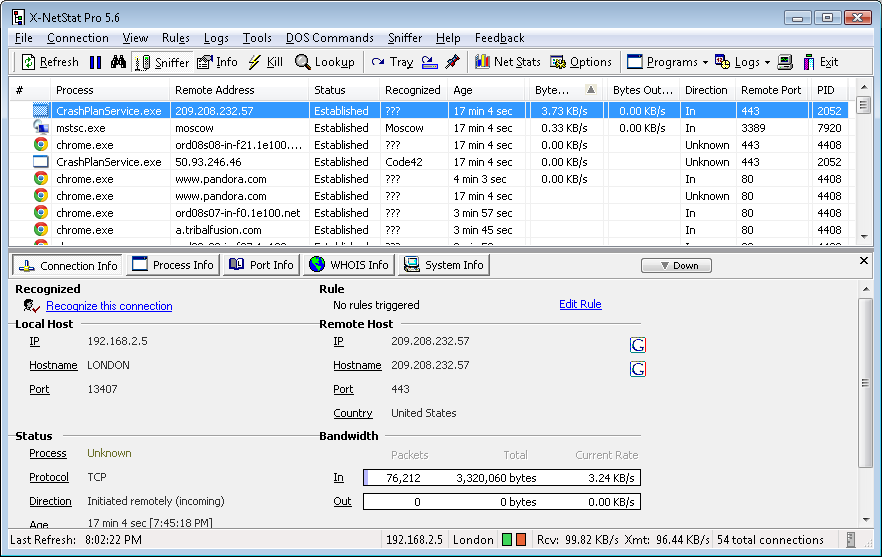 X-NetStat zeigt Informationen ueber all Ihre aktuellen Internet- und Netzwerkverbindungen ueber eine grafische Oberflaeche. Die angezeigten Informationen enthalten lokale und remote Adressen und Ports, den Status, das Alter der Verbindung und die dazugehoerigen Programme/Prozesse. Enhaelt Lookup-Tools (TraceRoute, WHOIS, Finger, NS Lookup), Netzwerkstatistiken (Interface, TCP, IP, UDP, ICMP), einen Remote Server und viele weiter Features.
Mehr…
Dynasoft Cybercafe SurfShop Free
Version: 2.04 | Freeware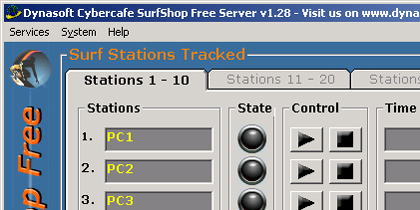 Cybercafe SurfShop Free ist die neue Cybercafé-Freeware-Generation, die nicht nur mit den erwünschten Standartmöglichkeiten ausgestattet ist wie man es von einer solchen Packung erwartet, sondern auch mit starken Sicherheitsmassnahmen, die sonst nirgendwo anders auffindbar sind. Dynasoft Surfshop Free ist die endgültige Verwaltungsfreeware in Europa.
Mehr…
SysRose Syslog Desktop
Version: 1.00 | Shareware (50,00 USD)
Syslog Desktop is a syslog collector designed as Windows desktop application. It allows you to review syslog messages on Windows PC.
Mehr…
WinAgents EventLog Translation Service
Version: 1.5.0.108 | Shareware (39,00 EUR)
WinAgents EventLog Translation Service monitors Windows event logs and forwards events for further processing to SYSLOG server or to SNMP station. The program frees you from the need to check the EventLogs manually and makes centralized event handling possible. WinAgents EventLog Translation Service has event filters that help you to specify the events being forwarded. The product supports SNMPv3 protocol making the data transfer secure.
Mehr…
Network Inventory Expert
Version: 3.9 | Shareware (199,00 USD)
Network Inventory Expert erlaubt Netzwerk Inventory zusammenzustellen ohne Software auf Benutzers PC zu installieren. Dieses Programm erlaubt Ihnen schnell komplette Informationen übers Betriebssystem, Service Packete, Hot Fixe, Hardware, installierte Software und laufende Prozesse auf entfernten PCs zu bekommen. Sie können auch Berichte über die Hardware, installierte Software und laufende Prozesse auf den PCs im Lokalnetz zusammenstellen.
Mehr…
WinAgents IOS Config Editor
Version: 3.1.2.32 | Shareware (85,00 EUR)
WinAgents IOS Config Editor is a text editor specially designed for editing configuration files for the Cisco routers. It allows downloading configuration from a remote device, editing it, and uploading it back to the device. With IOS Config Editor you have access to all devices from one place. Also, IOS Config Editor makes it easy to backup the configuration of your devices. It includes its own SYSLOG server and TELNET Console.
Mehr…
BWMeter
Version: 7.3.3 | Shareware (30,00 USD)
BWMeter is a powerful bandwidth meter, monitor, traffic controller and firewall, which measures, displays and controls all traffic of your computer or on your network. Unlike other products, it can analyze the data packets (where they come from, where they go, which port and protocol they use). BWMeter creates statistics for all computers in your network, measuring and displaying all LAN traffic as well as download and upload from the internet.
Mehr…
Advanced Net Monitor for Classroom
Version: 4.9.12 | Shareware (35,00 EUR)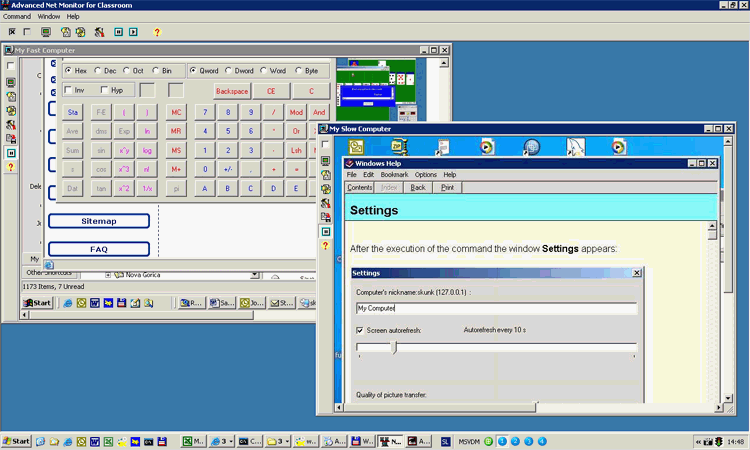 Net Monitor for Classroom is a program that allows a 'view' of a computer monitor of a remote computer, which is connected to the network. The program can be used on networks that use the TCP/IP network protocol. After start, the program displays the windows of all remote computers, where the picture appears, which is displayed on the monitor of the remote computer. A teacher also has the ability to send a message to the students' computers.
Mehr…
SoftPerfect Network Protocol Analyzer
Version: 2.9.1 | Shareware
SoftPerfect Network Protocol Analyzer Erfahren Sie mehr über Ihr Netzwerk! Der Network Analyzer ist ein professionelles Tool zur Analyse, zum Debuggen, zur Wartung und zum Beobachten des lokalen Netzwerkes und der Internet Verbindungen. Zeichnet die durch eine Netzwerkkarte flie?enden Daten auf und pr?sentiert sie in einer vom Anwender lesbaren Form. Erfahren Sie mehr ?ber Ihr Netzwerk!
Mehr…
PC-Network Remote Server / Controller
Version: 3.0 | Shareware (45,00 EUR)
Fernwartungsprogramm über das Netzwerk (Starten der Rechner über Wake On LAN, Herunterfahren über das Netzwerk). Einstellen einer einheitlichen Uhrzeit über das Netzwerk. Überwachung von Arbeitsplätzen. Fernadministration. Installation von Programmen. Programm kann als Dienst unter Windows XP, NT und 2000 laufen. 30 Tage Testversion.
Mehr…
Advanced Administrative Tools
Version: 5.92 | Shareware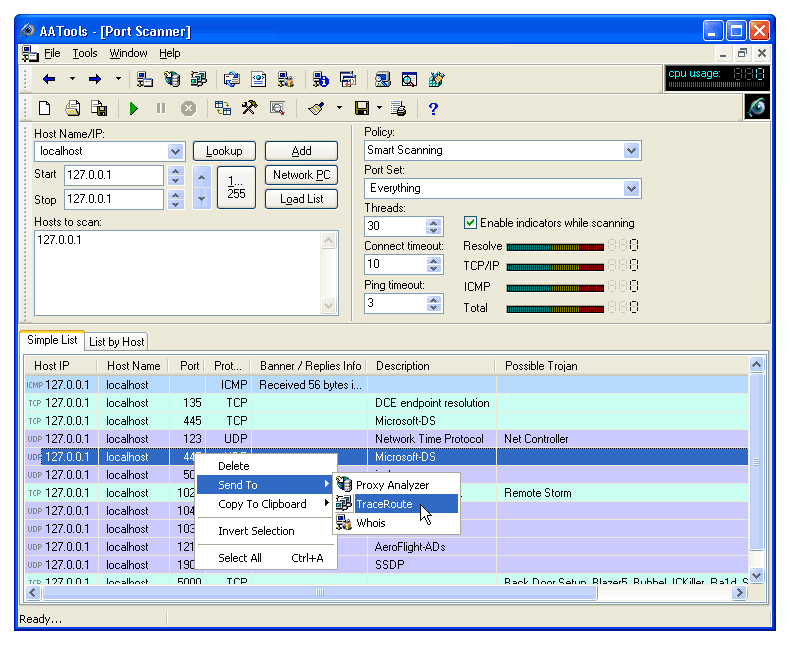 Advanced Administrative Tools investigates and gathers information about your computer, network status, and service availability. That is a layman's way of saying it performs an inspection on everything vital to network security as it pertains to the protection of your computer, including the utilization of tools to check open ports, proxies, email lists, Internet applications, and general system information.
Mehr…
Atelier Web Firewall Tester
Version: 5.1 | Shareware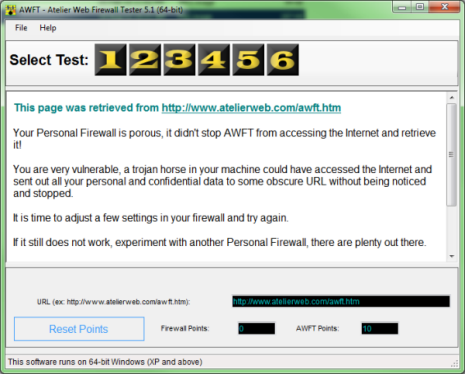 Atelier Web Firewall Tester is a tool for probing Personal Firewall software strengths against outbond attempts from network trojan horses and other malware or spyware. This will help you tweak your existing Personal Firewall software for improved protection or make a rational choice of a PF within the available alternatives in the market-place. AWFT comes in 32-bit and 64-bit editions.
Mehr…