Kategorie Audio & Multimedia / Musik Komponierer
Geniator XS-1
Version: 1.3 | Demo (29,00 EUR)
Geniator XS-1 verführt Sie als All-In-One Music Workstation in neue Welten der Klangerzeugung. Vom 32-stimmigen Synthesizer über den 16-Kanal Mixer, Effekt-Prozessoren und Drumkits bis hin zum ausgewachsenen 64-Track Sequenzer ist alles enthalten, was Sie zur Produktion von instrumentalen Musikstücken benötigen.
Mehr…
MIDI-Composer
Version: 1.0 | Demo (19,99 EUR)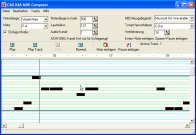 Wollten Sie nicht auch schon immer selbst Musik machen ohne ein Instrument lernen zu müssen oder Noten lesen zu können? Dieses Programm macht es Ihnen nun sehr einfach möglich selbst Musik zu komponieren ohne gleich ein Vermögen in Geld und Zeit zu investieren. Wählen Sie aus 128 Instrumenten und 128 Rhythmus-Instrumenten (Schlagzeug usw.) aus. Durch die Balken Darstellung der Töne im Zeitdiagramm sehen Sie quasi sofort was Sie auch hören.
Mehr…
AnaMark
Version: 2.25b | Shareware (40,00 EUR)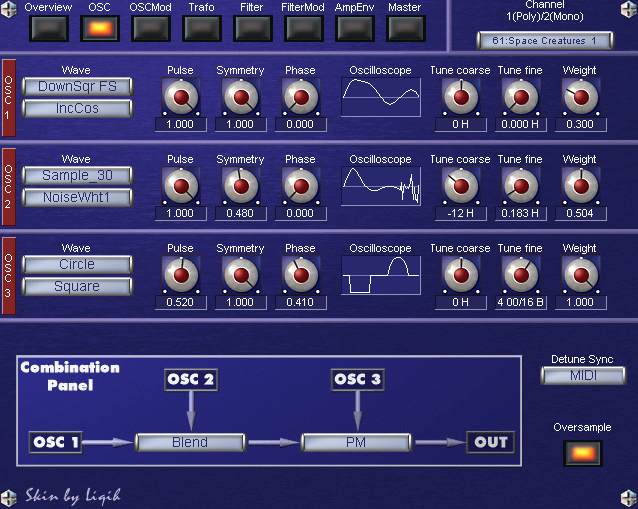 Analoger/experimenteller VST-Synthesizer mit Micro-Tuning: 545 Presets: Bässe, Leads, Pads, FX, Percussions...3 feedbackfähige OSC (52 Basiswellenformen), 21 kombinierbare Synthesearten (Additiv, Ring-Modulation, FM, XFM, PM...), 8 resonante Filter, Modulation fast aller Parameter: 4 LFO, 4 Envelopes und 10 Combiner. 11 Effekte (2 gleichzeitig): Delays/Reverbs, Chorus, Flanger, Phaser, EQ. 4-fach Multitimbral, 16-fach polyphon. Scale Morphing.
Mehr…
JamDeck
Version: 1.1.8 | Demo (10,00 USD)
JamDeck is a new approach to music creation on PC and Mac that lets you sit down and jam just like you would with a real instrument. With nearly zero setup and an easy to use live looper, JamDeck is always ready to capture and help you build on those moments of musical inspiration. By combining the feel of an instrument with an easy live looping workflow, creativity just flows.
Mehr…
120PianoChords
Version: 1.3 | Shareware (3,49 EUR)
Mit Hilfe von "120PianoChords" spielen Sie die Klavier-Akkorde sofort und ohne Erfahrung! Diese App beinhaltet mehr als 120 Akkorde. Das sind alle Akkorde, die Sie kennen müssen um alle Ihre Lieblingslieder begleiten zu können! Profitieren Sie von der klaren und leicht zu bedienenden Benutzeroberfläche mit Retina-Unterstützung und lernen Sie die Akkorde.
Mehr…
MixPad Masters Edition für Mac
Version: 4.22 | Shareware (69,95 USD)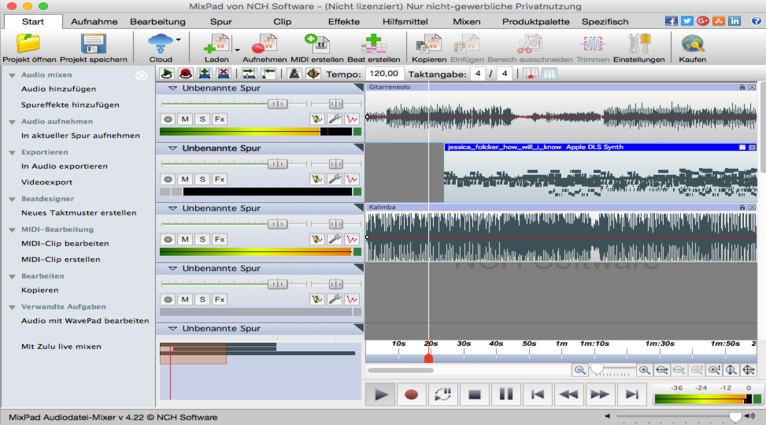 MixPad ist ein mehrspuriger Musik-Mixer für Mac OS X und für professionelle Audioproduktionen gedacht. Mehrere Audioclips laden oder aufnehmen und dann Musix mixen. An unterschiedlichen Stellen platzieren, die Lautstärke anpassen, das Audio schwenken oder ein- und ausblenden. Dies ist der digitale Ersatz von einem Audio-Mischpult. Mit dieser Tonstudio-Software einen Remix oder Mashup erstellen oder eigene Aufnahmen hinzufügen.
Mehr…
ChordPulse Lite
Version: 2.0 | Freeware
Practice and compose with this free auto accompaniment software. Set up a chord progression, select a music style and press play. ChordPulse Lite will play your automatic accompaniment with drums, bass and chords that you will enjoy playing along with. In contrast to mp3 backing tracks, midi files or play along CDs, here you can customize your backing tracks to fit your needs. You can change chords, music style, tempo and key in an instant.
Mehr…
Chord Pickout for Mac
Version: 2.0 | Shareware (39,95 USD)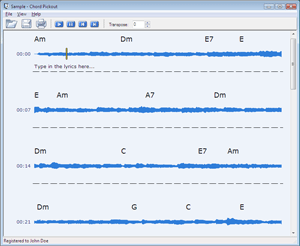 Dieses Programm setzt eigene Intelligenz ein, um Akkorde für Sie zu erkennen. Sie müssen nur noch eine Mediendatei (wav oder mp3) laden und auf die Taste drücken. Chord Pickout transkribiert Musik und schreibt erkannte Akkorde automatisch nieder. Der Vorgang ist automatisiert. Wobei alle Konkurrenten sipmle Schablonen für Akkordenerkennung benutzen, nutzt Chord Pickout komplexe Mathe und demonstriert hervorragende Ergebnisse in härtesten Fällen.
Mehr…
MagicScore Virtual Piano
Version: 7.225 | Freeware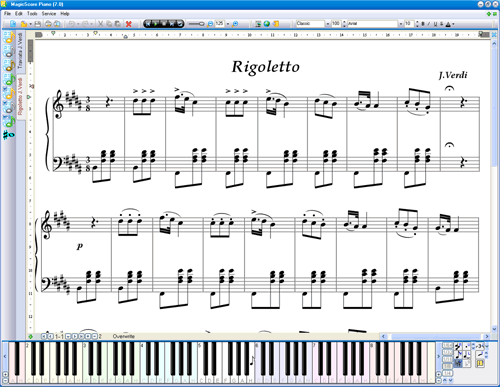 Compose music, type lyrics and print scores with free virtual piano keyboard! Enjoy music improvisations, have hours of fun and impress your friends with piano music. MagicScore Virtual Piano helps kids and adults develop creativity and music abilities by delivering a virtual piano keyboard free of charge. MagicScore Virtual Piano helps you become a composer, allowing you to improvise, pick out the notes or add lyrics to a popular tune.
Mehr…
Sound Effect Maker
Version: 1.1.0.8 | Shareware (29,99 USD)
Sound Effect Maker can create sound effects for sound file. It supports the sound effects such as chorus, compression, distortion, echo, flange, gargle, parametric equalizer, reverberation.
It can adjust the parameters of the sound effects such as wet/dry mix, depth, feedback, frequency, delay, waveform, phase, gain, attack, release, threshold, ratio, predelay, bandwidth, etc.
Mehr…
A73 Piano Station
Version: 1.1.0 | Shareware (19,95 USD)
Turn your PC into a fun to play virtual piano, synth, or band. Play piano or over 100 other instruments, from guitar to ocarina, from drums to synthesizer sounds. This virtual piano software combines a drum machine, bass-chord accompaniment, 15 music styles, arpeggios to play piano chords and rhythmic patterns, handy mixing and rhythm controls, a metronome, a recorder, an easy interface, a 6 octave virtual keyboard, and realistic piano keys.
Mehr…
PitchPerfect Free Guitar Tuning Software
Version: 2.12 | Freeware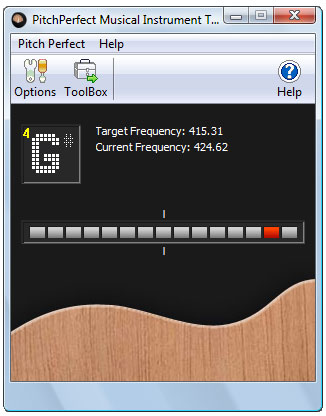 PitchPerfect is a highly accurate professional guitar tuner with a very simple to use interface. PitchPerfect eliminates the need to tune an instrument to some kind of conventional tuning. Instead, PitchPerfect can automatically detect whatever note you are playing.
Mehr…