Kategorie Audio & Multimedia / Sonstige
ABF Audio Tags Editor
Version: 1.999 | Shareware (29,95 USD)
ABF Audio Tags Editor is a convenient and powerful audio file tags editor. It enables you to edit tags, rename files, folders, export data to various formats, save playlists and much more. ABF Audio Tags Editor allows you to do without separate tag editing dialogs and edit them directly in the list cells. It makes the tag editing process similar to editing spreadsheets. ABF Audio Tags Editor will let you put your audio files collection in order!
Mehr…
MP3 Tag Editor
Version: 2.7.0.33 | Shareware (29,95 USD)
MP3 Tag Editor is a great tool for editing data tags in sound files of any format. You can work with several files simultaneously or change the tags for all files in a selected folder at once. MP3 Tag Editor is well-suited for bringing order to folders containing hundreds of music files. The program can download audio track data (author, album, date, genre etc.) from the FreeDB online database.
Mehr…
Online ABC drum_machine
Version: 1 | Freeware
Virtual Drum machine online flash game. Play drums with a mouse or keyboard. Drum kit for online playing. You can record your melody and play it. You can see how to easy to create a drum melody. Why not to create drum melody and enjoy drums bit offline. This flash is free and fun. Learn to play drums with free online lessons. Play drums with a mouse or keyboard. Virtual Drums - play drums online cymbals and all drums equipment. Learn to play dru
Mehr…
Online ABC guitar machine
Version: 1 | Freeware
Free music flash games note, piano, guitar, drums Music piano and guitar online flash games. Piano music machine free online game you can compose melody and play it. Try compose melody. This is very easy. Free flash games Puzzles, logic Guitar music machine and mind online flash games. Sonic kids game. Find a way to priz. ear training Guitar chords machine with sound. Cards online games. If you were thinking about getting into playing a guitar,
Mehr…
Online ABC piano machine
Version: 1 | Freeware
Play a Piano. Play the piano using your mouse or your computer's keyboard. Piano/Keyboard. Piano/Keyboard - . Students are given many opportunities to play for recitals and other functions. Accompanists work with other faculty and students to present concerts and recitals. As you play the piano, you'll hear them. All the tones are created from mathematical equations. Listen and repeat music. free online music flash game. This educational games fo
Mehr…
TagTuner
Version: 2.0.1833 | Shareware (24,95 USD)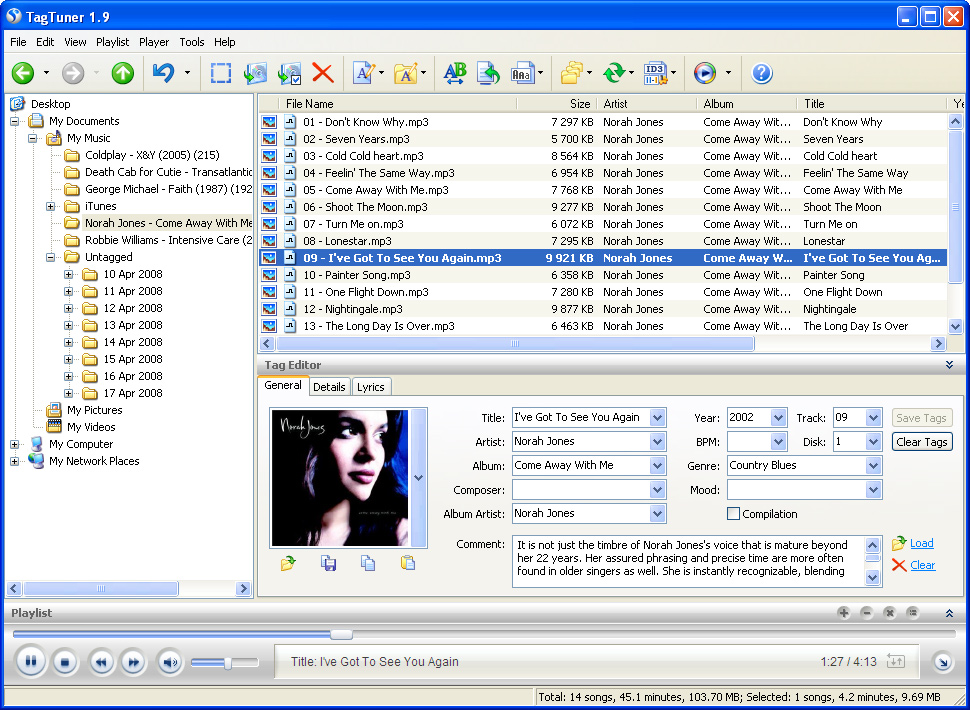 Bring your music collection into perfect order with TagTuner. Watch as TagTuner completes media file information, renames and plays your music. The album info search allows you to get media file tags along with CD covers, and rename your files on the fly. Use the built-in Tag Editor to edit tags manually. Play and handle your music without moving your attention to other applications, switch between your favorite playlists with HotTunes.
Mehr…
Media Catalog Studio Lite
Version: 5.9 | Freeware
Ist Ihre Sammlung von Musik- und Video Dateien zu groß geworden? Kommen Sie mit ihr nicht mehr zurecht? Dieses Problem löst Media Catalog Studio, ein Hilfsprogramm das Media Dateien und CDs ordnet und verfolgt. Dieses Programm findet Media Dateien auf allen Speichermedien (Festplatten, Floppies, externe Lauwerke, CDs usw.). Es werden MP3, M4a, WMA, APE, OGG, MPC, AAC, AVI, MPEG, WMV und Audio CD Dateien unterstützt. Das Programm ist kostenlos!
Mehr…
Music Tag Editor
Version: 2.0 | Shareware (19,95 USD)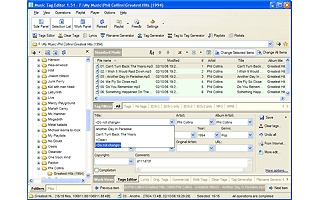 Music filenames and tags are never what they should, and rarely consistent. Changing the artist, song title and album title can be a long and grueling process if done manually. Music Tag Editor is a simple-to-use program that allows you to change "tagged" information about your MP3/WMA/M4A music files. Open up a world of options where you can quickly change music filenames, create playlists and even add lyrics to your music files.
Mehr…
MP3Test
Version: 1.7.0.172 | Shareware (15,00 EUR)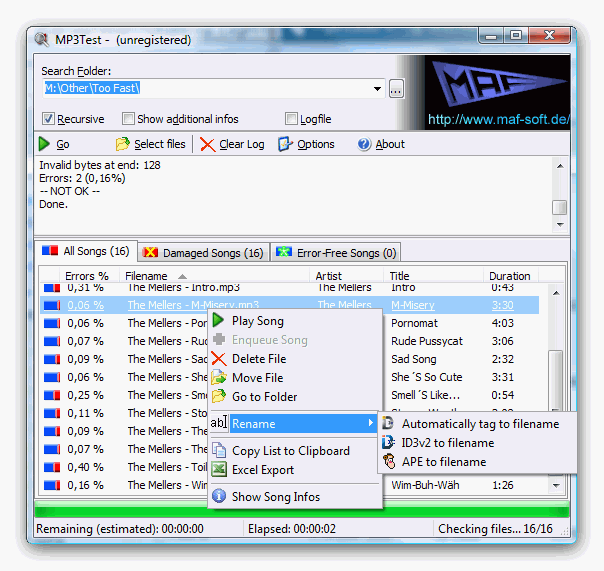 Das Programm kann auf Wunsch die gesamte MP3-Sammlung überprüfen und zeigt die gefundenen Fehler dann übersichtlich an. Die Dateien können dann zur Kontrolle angehört, verschoben oder gelöscht werden. -- MP3Test gibt es in einer Standard- und einer Pro-Version und ist mehrsprachig! -- Voll funktionsfähige Version ohne Einschränkungen!
Mehr…
SoundWheel
Version: 1.2.1 | Shareware (9,95 USD)
Sound Wheel replaces the standard sound volume icon in your Windows tray. When you press a hot key, your mouse wheel becomes a volume control. When you release the hot key, your mouse wheel keeps working as usual. The tray icon indicates the current volume level and the mouse wheel current state. Sound Wheel is fully customizable. Choose your own hot key, tray icon and tune the mouse wheel sensitivity !
Mehr…
1st MP3 Tag Editor
Version: 5.91 | Shareware (29,95 USD)
Jede Menge MP3s ohne Tags? Mit dem 1st MP3 Tag Editor füllen Sie diese autom. aus, ohne einen Finger zu rühren. Das Programm verbindet sich autom. mit einer DB, importiert den Liednamen, den Albumtitel und anderes, anhand deren Länge und anderen Eigenschaften (Internet erfordl.). Ferner kann es Tagbasiert Dateinamen ändern, Tags auf viele Arten editieren, Batchdateien verarbeiten, Playlists erzeugen und es bietet Amazon und CDDB Unterstützung.
Mehr…
Power Mixer
Version: 2.9 | Shareware (17,95 USD)
Power Mixer is an advanced Windows audio mixer, a complete replacement for the standard Volume Control. This application lets you easily change the sound volume by simply rotating the mouse wheel or using keyboard hot keys. It includes an audio mixer with advanced volume controls support, a scheduler, on-screen display, command line support, the ability to store and recall different unlimited presets via one mouse click or system-wide hot keys.
Mehr…