Kategorie Audio & Multimedia / Sonstige
DVD Files Informer
Version: 1.0 | Shareware (14,95 USD)
DVD Files Informer is a handy utility for reviewing of DVD Media files parameters.
Program views the parameters of these file formats: AC3, DTS, MPA, WAV (PCM) and MPEG.
Mehr…
DVD Audio Files Splitter
Version: 2.0 | Shareware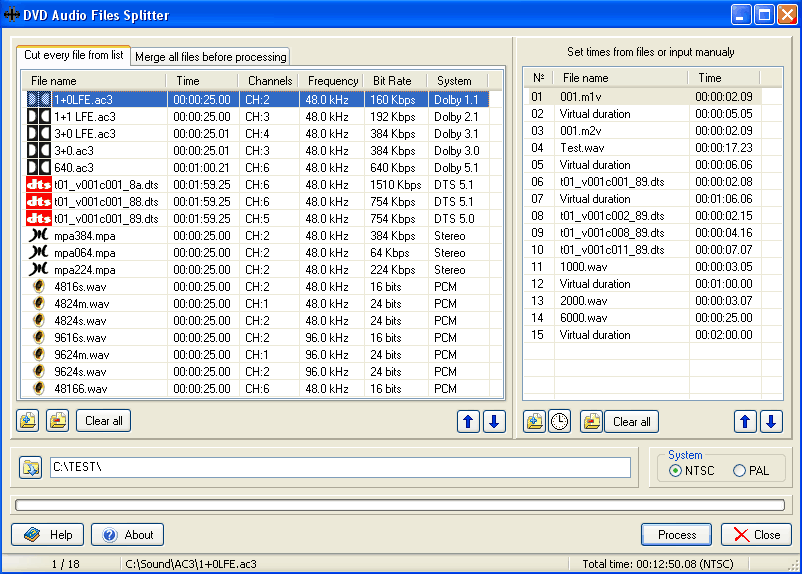 DVD Audio Files Splitter is a software designed for dividing an Audio file into smaller files according to the user-specified time intervals. DVD Audio Files Splitter deals with DVD-compliant Audio file formats. Those formats are: AC3, DTS, WAV (PCM), MPA. There are two main modes in the software: ?Cut every file from list? and ?Merge all files before processing?.
Mehr…
iPod2PC
Version: 4.2 | Shareware (14,90 EUR)
With iPod2PC you can easily sync/copy/restore your songs, playlists, videos and podcasts from your iPod back to your iTunes music library or to any folder on your PC.It supports automatic synchronization, which will search and select all missing songs and playlists, imports them in iTunes, including your "My Rating", "Play Count" and "Last Played" information. Playlists will also be updated automatically.
Mehr…
Music Trio
Version: 5.9 | Shareware (57,95 EUR)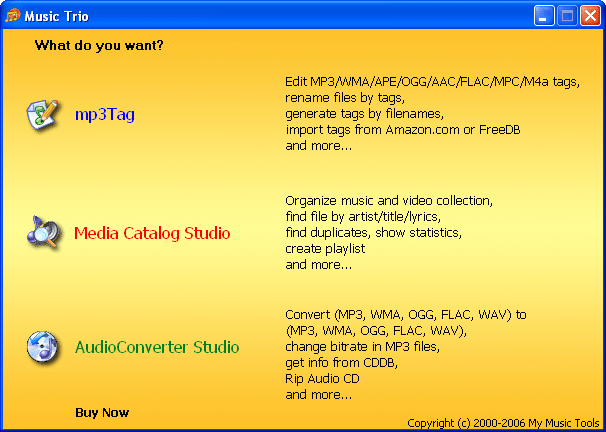 Genau das Richtige für Sie, wenn Sie MP3 Tools mögen, aber nicht bereit sind, dafür Fantasiepreise zu zahlen. Im Music Trio sind alle MP3 Tools enthalten, die Sie je brauchen werden (Tageditor, Musikorganizer, Audiokonv.), und das für nur 7 Cent/KB. Wer verkauft denn Software so billig? Hier ist der Name Programm: www.mymusictools.com. Wieviel sparen Sie damit? Einen glatten 20 EUR!
Mehr…
AllFrames MP3 Tagger
Version: 2.01 | Freeware
Der AllFrames Tagger macht ALLE im ID3v2 Tag befindlichen Frames und deren Informationen sichtbar. Umgekehrt können unendlich viele neue Frames hinzugefügt werden, private und vordefinierte, um zusätzliche Informationen wie Urls, Bewertungen, BPM etc. zu speichern. Die meisten der zusätzlichen Commentfelder und privaten Text und Url- felder können von den meisten Tagprogrammen nicht angezeigt werden.
Mehr…
Mp3 Tag Assistant Professional
Version: 2.9.4.335 | Shareware (34,95 USD)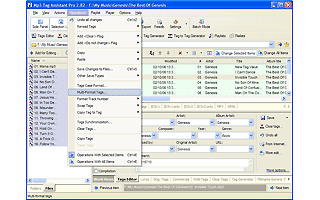 Music filenames are often inconsistent and erroneous. Mp3 Tag Assistant Professional allows you to change filenames based on their tagged information saving you time and effort. Automate the tedious task of changing tagged information in MP3 WMA M4A FLAC APE OGG files. Easily copy or move music files, create playlists/filelists, change filenames, edit lyrics and coverart. Tagged information can also be filled in automatically from Internet.
Mehr…
AudioLooper
Version: 3.0 | Shareware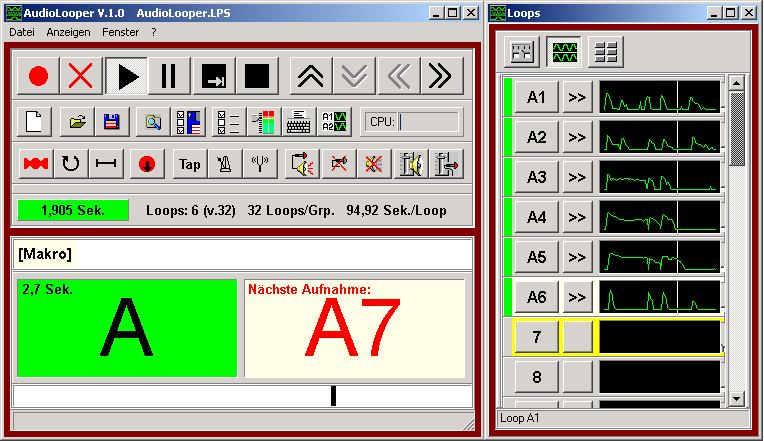 Mit AudioLooper können Sie schnell und intuitiv eigene Loops aufnehmen und sofort mehrstimmig abspielen. Nur ein Tastendruck startet die Aufnahme der ersten Loop. Mit dem nächsten Tastendruck wird diese ohne Verzögerung als Endlosschleife wiedergegeben. Ein inspirierendes live-Instrument nicht nur für Musiker. Ideal für improvisierten, rhythmischen Gesang oder mehrstimmige Instrumentalmusik; im Studio, auf der Bühne und im Unterricht.
Mehr…
MP3-Cutter
Version: 1.0 | Demo (14,99 EUR)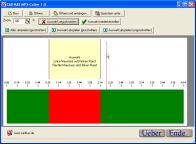 MP3's ohne Verluste zuschneiden und auch aneinander hängen ist mit MP3-Cutter problemlos möglich. Wenn Sie Musik als MP3 aufnehmen dann haben Sie später oft das Problem, dass unerwünschte Pausen oder gar Moderatoren Ansagen oder Werbung mit aufgenommen wurden sind. Markieren Sie einfach die Teile, die Sie entfernen wollen und drücken Sie auf "Herausschneiden". Dabei wird die MP3 Datei nicht neu kodiert, so dass keine Qualität verloren geht.
Mehr…
Mr. Captor
Version: 3.50 | Shareware (29,00 USD)
Captures regions, windows, menu, cursors, colors, DirectX games, long web pages, PDFs, DOCs using auto-scroll feature. Extracts images from EXE, DLL files. Can record screen action and save it as an AVI file. Saves captured images in a variety of graphical formats.
Additional features include hotkeys, image editing, email support, web publishing,
printing and more. Useful for designers, web masters, developers, technical writers and other.
Mehr…
mp3Tag
Version: 5.91 | Shareware (24,95 EUR)
mp3Tag - ein Tag Prozessor für MP3, WMA, M4a, OGG, MPC, WV und APE Dateien mit solchen Features wie automatisierte Suche nach Lyrik, FreeDB Support, das durch die automatische einfügungs Option vervollkomnet wird (für mp3 Alben ohne Tags und mit bedeutungslosen Dateinamen wie 01.mp3, geeignet). Das Programm Benutzt die Tracklänge, vergleicht sie mit den FreeDB Daten und findet den nötigen Album, aus dem die Tags importiert werden.
Mehr…
Tag&Rename
Version: 3.9.14 | Shareware (29,95 USD)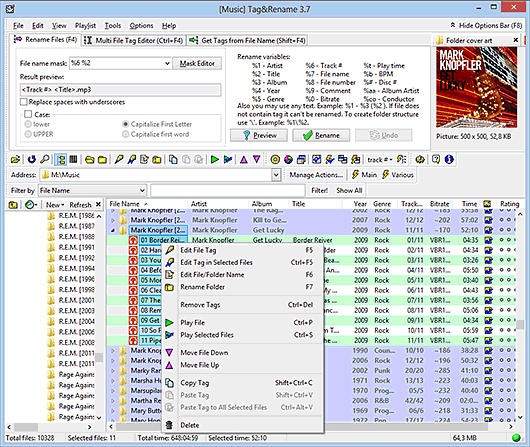 Tag&Rename is a music organizer that easily handles all digital audio formats. It supports mp3 (all ID3 tags), wma, mp4 (m4a, m4p), ogg, mpc, flac, opus, ape, wav pack, wav and aiff. With Tag&Rename, you can fix tags using freedb database, import album info from amazon/discogs, get tags data from files and folders names, organize music files and folders, create play lists, export information to CSV, HTML, XML, text, full Unicode support and more.
Mehr…
Sound Snooper
Version: 1.3.2 | Shareware (34,95 USD)
Sound Snooper can be used for conference recordings, phone calls monitoring and recording, radio broadcasts logging, spying, employee monitoring, etc. Key features of SoundSnooper include voice activated recording, multiple sound card support. Program operates in 100% stealth mode. All possible sound formats are supported. You can record WAV files in any format - MP3, PCM, GSM, ADPCM and many others. Low system resources using.
Mehr…