Kategorie Audio & Multimedia / Sonstige
Music Wizard Professional
Version: 8.0.9 | Shareware (39,00 EUR)
Music Wizard ist ein leistungsfähiges Archivierungsprogramm für CDs, MP3s, Platten und andere Tonträger. Audio-CDs können als MP3-, OGG oder WMA-Dateien auf Festplatte kopiert werden. Mit leistungsfähigen Sortier- und Suchfunktionen behalten Sie stets die Übersicht. Audio-CDs werden automatisch über das Offline-CD-Archiv oder über freedb erkannt, so dass die lästige Abtipparbeit entfällt. Erfasste MP3-Dateien können als Audio-CD gebrannt werden.
Mehr…
AudioSphere
Version: 2.57 | Shareware (14,97 USD)
Remember those old top-loading VCR's--with no remote, no VCR-Plus, and no fast-forward button--that were more cumbersome than they were functional? Compare those old relics with today's best and you'll perhaps be able to envision the difference between the antiquated "volume control" utility built into ALL versions of "Windows" unchanged since it first shipped with Windows-95 way back in 1995--and today's new-technology replacement: AudioSphere!
Mehr…
Mp3tag
Version: 2.84a | Freeware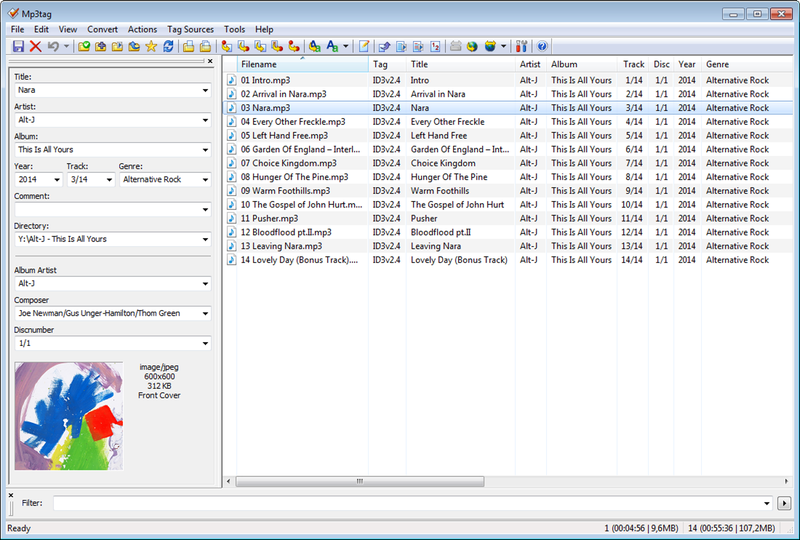 Mp3tag bietet die Möglichkeit ID3/MP4/OGG/APE/FLAC/WMA-Informationen auf äußerst komfortable Weise zu editieren. Dabei ist meistens keinerlei Eingabe mehr nötig, da Mp3tag über eine Anbindung an die Online-Datenbanken verfügt. Über Konverter können Sie Dateien auf Basis der Tags umbenennen. Darüber hinaus bietet Mp3tag eine allgemeine Exportschnittstelle, über die Dateiinformationen in beliebige Dateiformate exportiert werden können.
Mehr…
MP3ManNT
Version: 1.02 | Shareware (10,00 EUR)
MP3Man ist ein Programm das den Rio Manager von Diamond voll ersetzt. MP3Man kann zusätzlich beliebige Dateien Downloaden. Außerdem bietet MP3Man auch einen Upload aller. Dadurch kann der Rio Player auch zum Transport beliebiger Daten zwischen PC's verwendet werden. Es können auch Playlisten erstellt und verwaltet werden. Jetzt auch mit Unterstützung des Rio SE und einer Version für W95/98/ME.
Mehr…
NeatMP3
Version: 3.0.0 | Freeware
NeatMP3 is a free yet powerful music organizer software that will enable you to easily merge, organize, rename and edit the tags of all the audio files on your computer. Just select a set of audio files, choose the way in which your files will be organized and renamed from a wide set of commonly used predefined patterns, select the location where you want your files to be moved and you're ready to go.
Mehr…
eBooksWriter LITE
Version: 2016.33 | Freeware
Build ebooks with ease with this professional all-in-one tool. Not just a compiler! Edit, protect and pack a compact self installing EXE with one click, AEH (EBooksReader), MOBI EPUB (Kindle iPad etc). Several protections available: clipboard copy disabling; password(s) for different groups of pages; different passwords for diff users; expiry date.. Full editor. Frames, hot spots, audio, video, text/keyword search, 5000+ features... Free LITE.
Mehr…
iDevice2PC
Version: 5.2 | Shareware (19,90 EUR)
With iDevice2PC you can easily sync/copy/restore your songs, playlists, music videos and podcasts from your iPod/iPhone back to your iTunes music library or to any folder on your PC.It supports automatic synchronization, which will search and select all missing songs and playlists, imports them in iTunes, including your "My Rating", "Play Count" and "Last Played" information. Playlists will also be updated automatically.
Mehr…
AnyMP4 iPhone Klingelton Maker für Mac
Version: 7.1.6 | Shareware (10,00 EUR)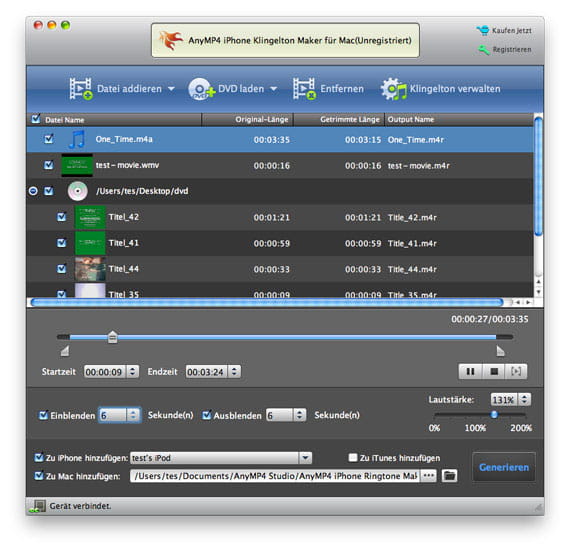 Mit der AnyMP4 iPhone Klingelton Maker für Mac erstellen Sie eigene iPhone Klingeltöne aus beliebigen Msuik und Videos auf Ihrem Mac. Alternativ können Sie auch einen Klingelton aus DVDs ohne Kopierschutz erstellen. Länge und Lautstärke des Klingeltons lassen sich dabei individuell konfigurieren.
Mehr…
Soft4Boost Burning Studio
Version: 4.8.3.757 | Shareware (24,95 USD)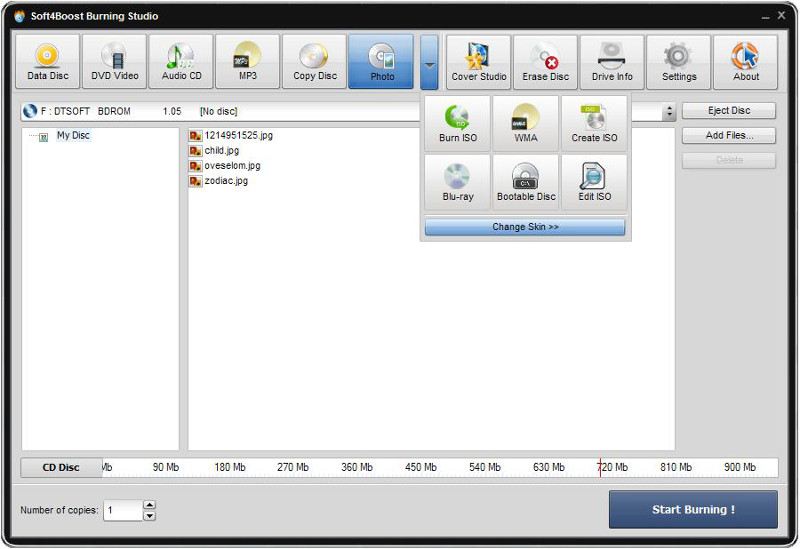 Ihre Disks schnell und einfach mit Soft4Boost Burning Studio brennen. Brennen Sie Ihre Daten in mehreren Sessionen auf dieselbe Disk. Erstellen Sie eigene Covers für Ihre Disks mit dem intergrierten Soft4Boost Cover Studio. Brennen Sie Boot-Disks und kennwortgeschützte Diskabbilder (.daa, .uif). Soft4Boost Burning Studio unterstützt CD-R/RW, DVD+/-R, DVD+/-RW, DVD-RAM, Double/Dual Layer DVD und Blu-Ray Disks.
Mehr…
AnyMP4 iPhone Klingelton Maker
Version: 7.0.98 | Shareware (10,00 EUR)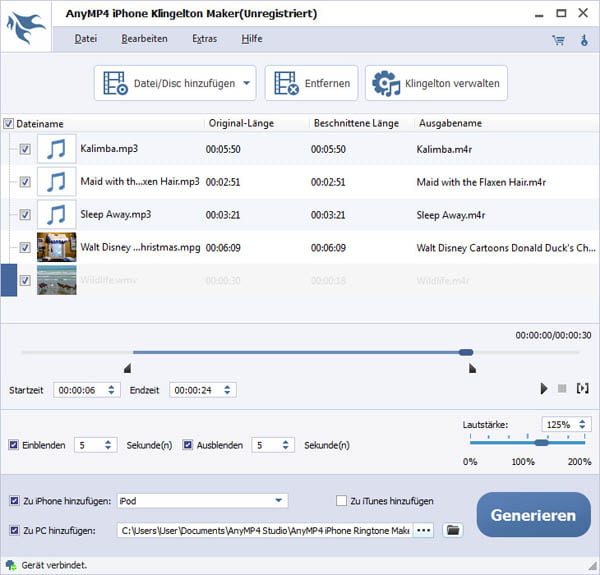 AnyMP4 iPhone Klingelton Maker, eine der beliebtesten iPhone Klingelton Software, kann Klingeltöne (M4R) für iPhone (inkl. iPhone 6s/6s Plus) aus Video- und Audiodateien erstellen. Das Programm unterstützt fast alle Video- und Audioformate wie MP4, MOV, WMV, MP3, M4A, WMA. Diese Software ist kompatibel mit allen iPhone-Geräten wie iPhone 7, iPhone 6s, iPhone 6 und unterstützt die neueste iOS-Version.
Mehr…
Replay Capture Suite
Version: 3.0 | Demo (79,00 USD)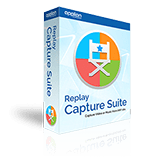 Record, convert & edit ANY streaming video and audio including Slype calls with the Replay Capture Suite. This toolkit of 7 different programs will capture all your favorite streaming media & convert it to the format you need to enjoy where you want. There is also a simple editor that will help you clean up any of your recordings so they sound just great. Also includes our brand new Skype call recorder. Save ANY Skype call video/audio easily.
Mehr…
ChurchBells
Version: 5.0.0 | Shareware (140,00 USD)
Carillon Church Bells Electronic Bells Software Bell Tower Electronic Chimes for $140. Beautiful Harmonious Bells. User friendly scheduler. The best sounding bells you can get on the net. Download the demo and you will agree. Full Year Scheduling. Great outreach ministry! Set often or once all year, add music, times, seasons, events.
Mehr…