Kategorie Desktop / Bildschirmschoner: Sonstige
Sword of Honor 3D Screensaver
Version: 1.01.5 | Shareware (9,95 USD)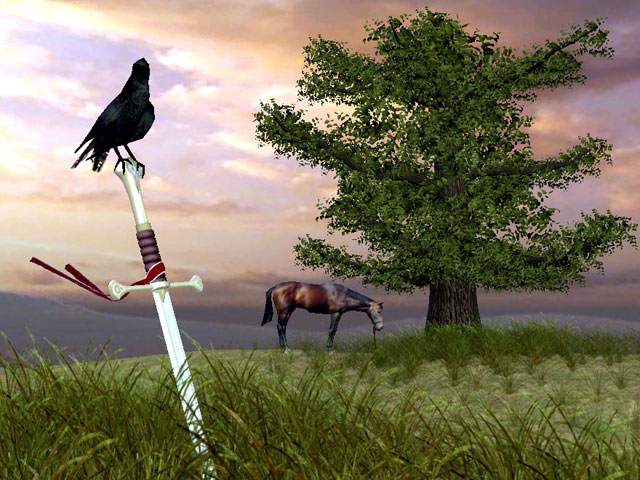 A very powerful animated 3D screensaver with a lot of spirit! It's not only the sheer beauty of the ravishing scenery but also the awe-inspiring theme and aura it creates that make you want to have it on your desktop. The centerpiece is the legendary sword of honor tempered in the fire of many glorious battles. The fate of its owner, a mighty noble warrior, whom it helped to defeat many evil foes, is, alas, unknown.
Mehr…
Halloween Time 3D Screensaver
Version: 2.0.2 | Shareware (9,95 USD)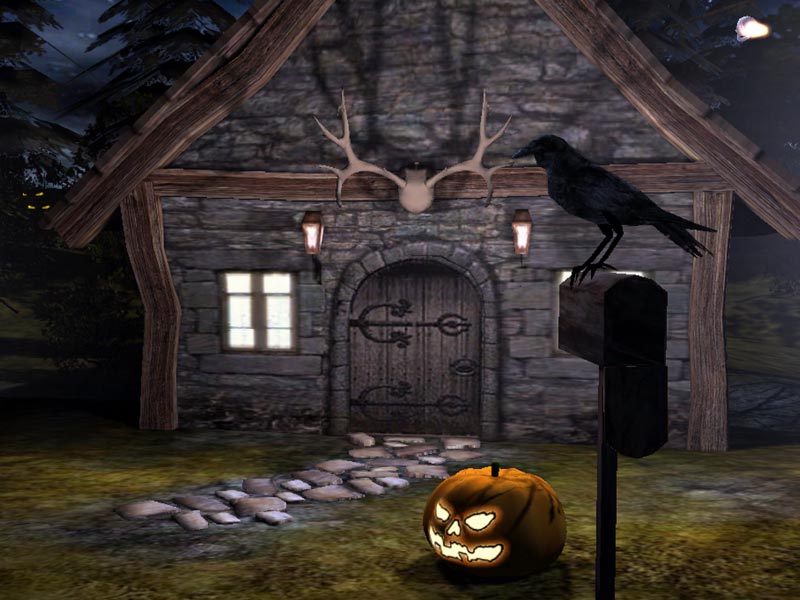 Halloween is here and it's spooky! Would you like to take a walk all alone deep in the woods and stumble upon an odd clearing with a ramshackle house that appears to be haunted? Something really strange seems to be going on inside as you see sparks of magic fire shooting out of the chimney. The whole place is packed with the scariest creatures of the night!
Mehr…
Free Magic Fantasy Screensaver
Version: 1.0 | Freeware
This fascinating fantasy screensaver will bring a sense of magic and adventure to your desktop. You will visit the undiscovered lands of unicorns, dragons and fairies. Explore this magic world now!
Mehr…
Cuckoo Clock 3D Screensaver
Version: 1.0 | Shareware (12,95 USD)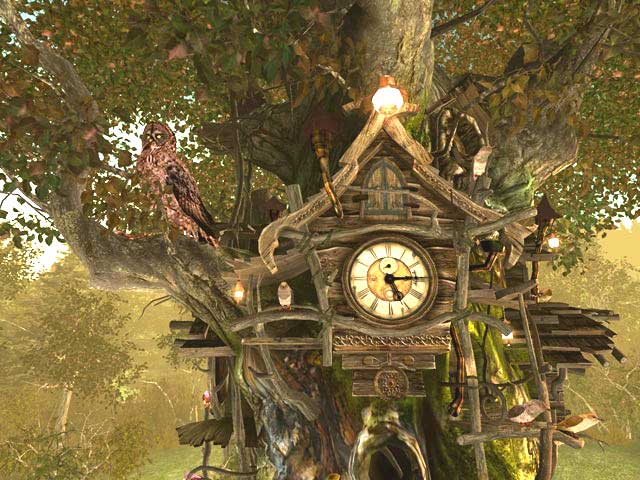 Cuckoo Clock 3D zeigt wirklich die Zeit an und erfreut dabei mittels faszinierender Bilder und Animationen. Geniessen Sie Tag- und Nachtzyklen mit unterschiedlichen Helligkeiten und Geräuschen. Es gibt vier Kuckkucks, Schmetterlinge am Tag und Leuchtkäfer in der Nacht. (Halb-)stündlich können Sie den Ruf hören. ? Cuckoo Clock? zeigt die aktuelle Zeit und bringt dabei eine magische und beruhigende Märchenatmosphäre in Ihre Wohnung oder Ihr Büro.
Mehr…
Voyage of Columbus 3D Screensaver
Version: 1.2 | Shareware (9,00 USD)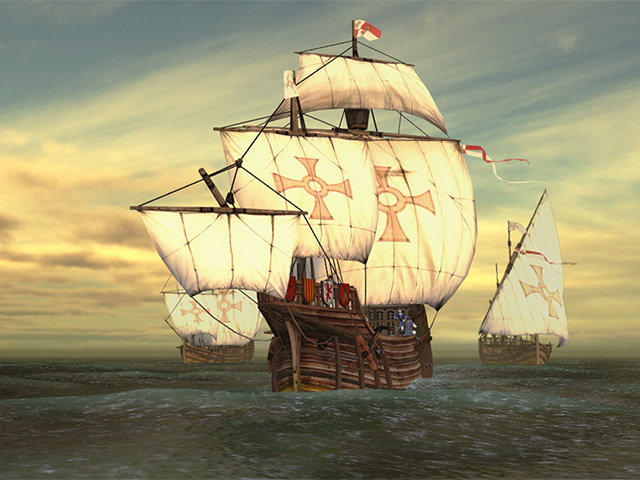 Der 3D Bildschirmschoner zur Reise von Columbus läßt Sie teilhaben an dessen erster Reise mit seiner Crew. Sie werden eine sehr detailierte Szene mit den drei Schiffen, Santa Maria, Pinta und Nina sehen, mit Columbus und seiner Crew an Bord. Aufgrund der eingebauten Physik sieht alles so aus, wie im richtigem Leben. Dabei wirkt es vorallem durch die ändernden Tageszeiten sehr real, angefangen bei sonnigen Nachmittagen bis Nächten.
Mehr…
Free Matrix Code Screensaver
Version: 1.0 | Freeware
You have always felt that there is something wrong with the world around you. This screensaver will put peculiar matrix code on your desktop and you will see everything anew.
Mehr…
PowerPoint to screensaver Converter
Version: 2.41 | Shareware (120,00 USD)
FlashPoint enables you to transfer PowerPoint to screensaver, and create your unique screensavers. The software is easy of use, accurate conversion, and small in size;
keywords: PowerPoint to screensaver, ppt to swf, ppt to scr
Mehr…
School of Magic 3D Screensaver
Version: 1.1 | Shareware (19,95 USD)
Wander along the grand corridors and hallways of the elite School of Witchcraft and Wizardry. Peek into the classrooms and look for secret chambers and passages in the place where magic has been taught for centuries. Many young witches and wizards have become mature and powerful magicians here. Use this unique chance to visit the School of Magic and perhaps you can also pick up a few tricks while you are there. Adventures await!
Mehr…
Screensaver Wonder
Version: 7.0 | Shareware (29,95 USD)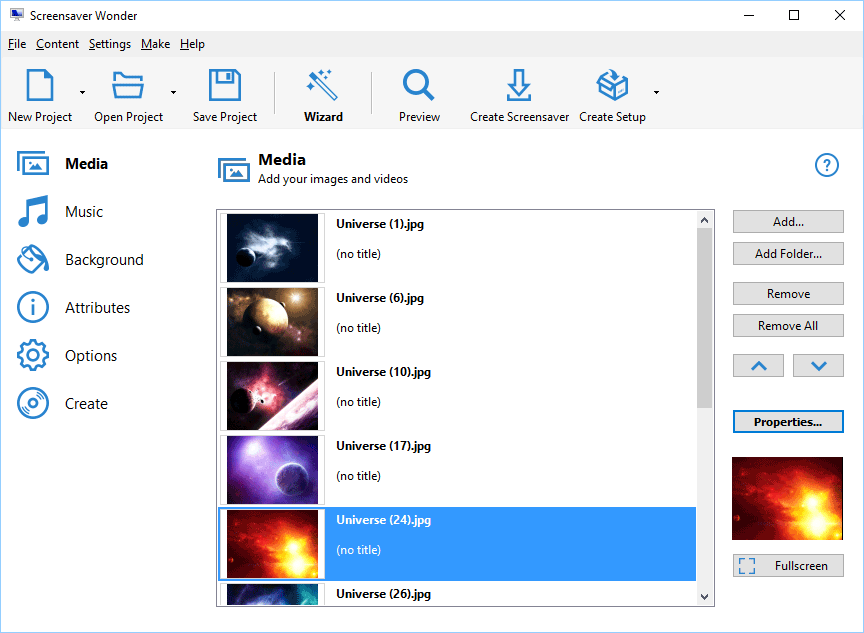 With Screensaver Wonder you can easily make your own screensaver from your pictures and videos files. You can add background music and select from over 100 stunning picture transition effects. Screensaver Wonder is extremely easy to use. You can create standard screensaver file and install it on your system automatically. You can also create standalone, self-installing screensavers for easy distribution and sharing with your friends.
Mehr…
Coral Clock 3D Screensaver
Version: 1.1 | Shareware (18,95 USD)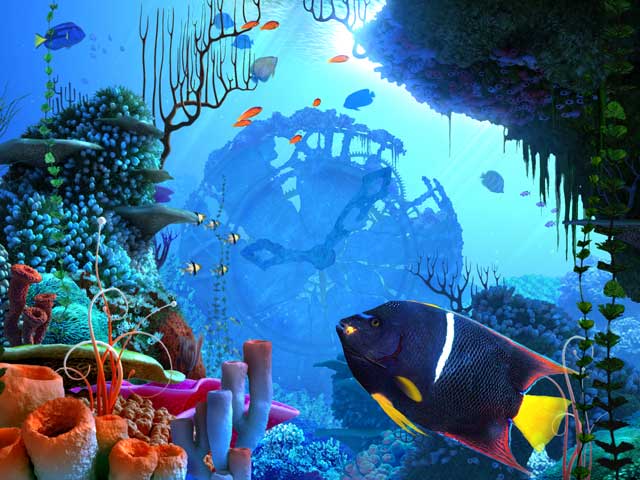 Tropische Fische schwimmen um Sie herum. Korallen haben verschiedene fantastische Farben und Gestalten. In der Ferne sehen Sie eine alte massive Uhr. Diese Uhr ist das Vermächtnis der großen Zivilisation - ein riesiges Gebäude gemacht aus Stein und Metall. Dann bemerken Sie, dass sich die Zeiger langsam bewegen und die Uhr die Echtzeit zeigt! Sie sehen und hören sogar, wie sich die massiven Getriebe mit Kratzern bewegen.
Mehr…
3D Realistic Flag Screensaver
Version: 2.31 | Shareware (9,95 USD)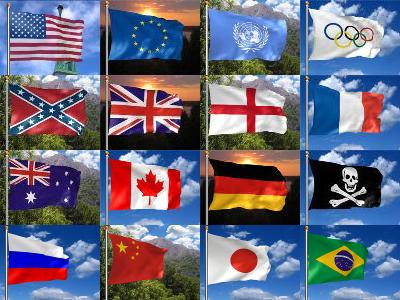 3D Realistic Flag Screen Saver instantly brings the patriotic spirit of a proudly flying flag in support of your country on your Windows Desktop. You can now express your pride and patriotism - wherever and whenever you want. Just select one of 230 realistic animated flags on the flagpole waving and flying in the wind (with sky, mountains and sunset in the background). The wind speed can be adjusted from breeze to strong wind to suit any mood.
Mehr…
Matrix Reality 3D ScreenSaver
Version: 1.3 | Shareware (14,95 EUR)
Matrix Reality 3D is a brand new screensaver that was specially created for all the fans of this greatest movie series of all times! The screensaver displays a number of 3D matrix special effects. It's also got numerous settings controls that will let you not only determine the speed of the matrix but also such parameters as its color, mist and many others. Matrix Reality 3D supports multiple monitors.
Mehr…