Kategorie Desktop / Bildschirmschoner: Sonstige
3D Matrix Screensaver: the Endless Corridors
Version: 1.2 | Shareware (14,95 USD)
This brand new 3D screensaver will give you a chance to get an inside look
at the way the Matrix works. You will find yourself in the long white
corridor with multiple doors on either side all looking exactly the same.
Behind these doors are various realizations of the Matrix. Some look very
real, others contain errors, yet other ones are still being constructed by
the Matrix. And just like the Matrix this corridor never ends.
Mehr…
Fantastic Flame Screensaver
Version: 7.20.134 | Shareware (19,95 USD)
When you fire up Fantastic Flame Screensaver (no pun intended), each item on your desktop - including icons and all open windows - will appear to catch on fire with glowing, smokey effects, crackling and popping sounds, chimes and music. Fantastic Flame Screensaver has more than 70 very different colorful flame presets and, of course, you can create your own wonderful presets too. Your friends will say: Oh, your desktop is BURNING!
Mehr…
Bubble Bobble ScreenSaver
Version: 1.0 | Freeware
Bubble Bobble was an arcade game released by Taito in 1986. You have
to guide the two hero's Bub and Bob through 100 levels of adventure to
rescue their girlfriends. This screensaver will see you the most
beautiful screenshots from the most popular Bubble Bobble remakes. It
is what every fan of the classic arcade Bubble Bobble simply has to
have.
Download it now and we are sure that you'll find it worth looking at.
Mehr…
Pictures Presentation Maker
Version: 2.6 | Shareware (22,90 EUR)
Pictures Presentation Maker (PPM) erlaubt Ihnen 3D Diashows und Bildschirmschoner unter Verwendung Ihrer Fotos und Ihrer Musik zu kreieren. Alle Ihre Bilder sind in Ihrer einzigen EXE oder SCR Datei eingebunden. PPM kann Ihre Bilder mit mehr als 150 Spezial 3D Effekten zeigen um Ihre Bilder zum Leben zu bringen. Sie können Ihr digitales Fotoalbum sehr leicht erstellen und es auf CD oder DVD brennen. Benützt 3D Hardware Beschleunigung.
Mehr…
Spirit of Fire 3D Screensaver
Version: 2.6 | Shareware (14,95 USD)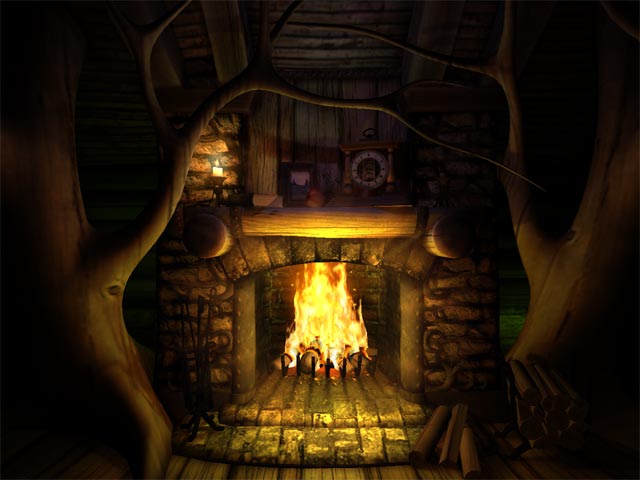 Der Geist des Feuers ist ein Screensaver der eine gemütliche Atmosphere eines brennenden Kaminfeuers in Ihren Haus oder Office verschafft. Der Kamin und das Feuer sind wunderbar dargestellt - das knackende Geräuch des brennenden Holzes, das Funkeln des Lichts, die Schatten. Die Kamera bewegt sich im Raum vergrößert und verkleinert das Bild, so dass man die Teile des Interieurs betrachten kann. Eine grosse Aufmerksamkeit ist auf Details gerichtet.
Mehr…
Internet ScreenSaver Builder
Version: 5.15 | Shareware (49,00 USD)
Make screensavers that can update automatically from the Web. Use images, text, html, flash swf and avi/wav/mp3/mid files with wizard, transition effects and script language. Create interactive and normal screensavers and get unbranded installers
Mehr…
Ultra Screen Saver Maker
Version: 3.4 | Shareware (19,95 USD)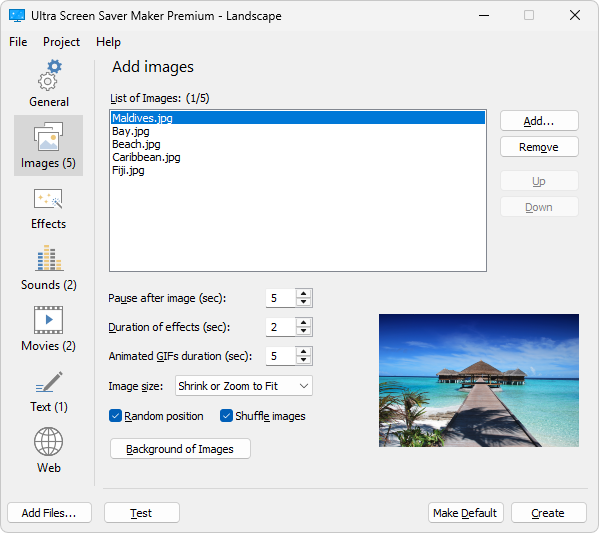 Create your own screensavers in 10 seconds - quickly and easily! Add images, sounds, movies, Flash animations, text, websites or images using keyword search to your own screensaver! Just collect media files, preview them and simply add to your screen saver project using a point-and-click interface. No programming skills are needed. You can test the screen saver at any time. Generated screen savers can be distributed for free.
Mehr…
GraFX Saver Pro
Version: 4.01 | Shareware (75,00 USD)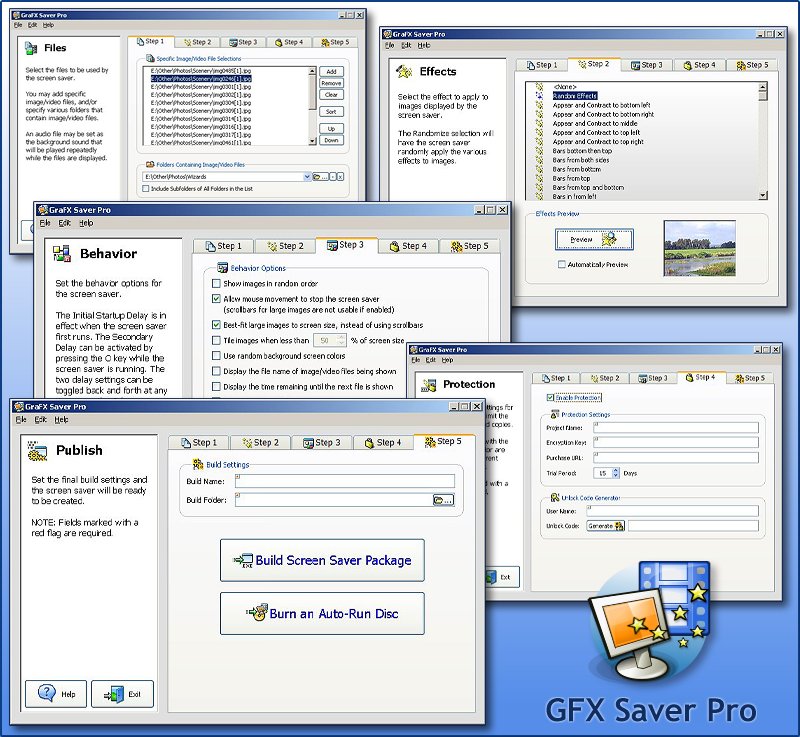 Create professional screen savers using images, video, and audio in record time! GraFX Saver Pro supports over 20 image and video formats, as well as all popular audio formats (MP3, WMA, WAV, MIDI, etc) for background sound. Advanced features for created screen savers include 120+ special effects; complete control over behavior and functionality; trial version screen savers to sell; end user installations for quick and easy setup; and much more!
Mehr…
ScreenSurfer
Version: 2.0.0.57 | Freeware
ScreenSurfer - Online-Tool & Bildschirmschoner - Aktuelle Informationen, WebCams und eigene Bilder im Screensaver! Wenn Ihr Rechner mit dem Internet verbunden ist, zeigt Ihnen der ScreenSurfer die aktuellsten Nachrichten an. Der ScreenSurfer wurde von ZDNet Deutschland und Stern.de mit fuenf Sternen ausgezeichnet und wurde bereits bei NBC Giga und Bayern3.de vorgestellt.
Mehr…
Bildschirmschoner von Rockmusik
Version: 1.0 | Freeware
E-Gitarre, Bier, Rockmusik,. . .
Mehr…
London 2012 Olympics Screensaver
Version: 4.2 | Freeware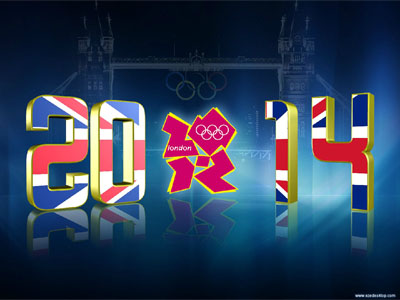 Für alle Liebhaber der Flagge von Großbritannien! London 2012 Olympics Bildschirmschoner völlig kostenlos und einfach zu installieren. Große Zahlen auf den Hintergrund Brücke Tower Bridge zeigen Ihnen die genaue Zeit. Besuchen Sie die Hauptstadt der Olympischen Spiele im Jahr 2012 mit der englischen Clock Screensaver. Nur ein paar Sekunden, und ein Bildschirmschoner auf Ihrem Computer!
Mehr…
Green Relax Screensaver
Version: 2.2 | Freeware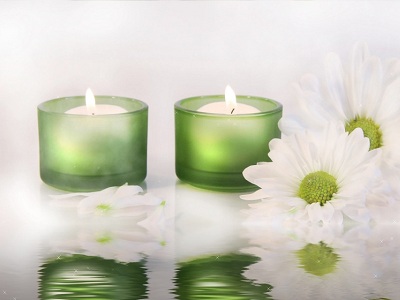 Wir bringen neue Bildschirmschoner zu entspannen, um Ihren romantischen Abend. Wenn Sie gerne einen romantischen Abend bei Kerzenschein, dann ist dieser Bildschirmschoner auf jeden Fall für Sie. Führen Sie Bildschirmschoner und entspannen Sie wird sofort eine Atmosphäre von einem romantischen Abend zu schaffen. Laden Sie und genießen absolut freerelax Bildschirmschoner!
Mehr…