Kategorie Lernen / Lehrer & Training Tools
Jägerprüfung-FB
Version: 2.0 | Shareware (18,00 EUR)
Das Programm enthält alle offiziellen Prüfungsfragen. Damit simuliert es die schriftliche Jägerprüfung gemäß der Jägerprüfungsordnung. Die Auswertung gibt die Fehlerverteilung auf die einzelnen Prüfungsfächer an und zeigt, ob die Prüfung bestanden wurde oder nicht. Die Ergebnisse werden gespeichert, so daß falsch beantwortete Fragen gezielt nachgearbeitet werden können. Ergänzend enthält es die für die Jagd relevanten Gesetze.
Mehr…
Quick-Type
Version: 1 | Demo (7,95 GBP)
You can turn into a speed typist INSTANTLY with Quick-Type, the world's only typing automation tool.
Quick-Type can automate your typing for you. You simply give Quick-Type all the common pieces of text you type, along with a keyword for each of them. Then whenever you type that keyword in future, it gets replaced with your text... literally saving you DAYS every single month!
Mehr…
Free A+ Certification Exam Study Guide
Version: 2.2.1 | Freeware
ProProfs FREE A+ Certification Exam Study Guide. This CompTIA A+ study guide covers hardware (core) exam objectives. Our notes serve as a+ certification exam study guide covering all hardware topics on just 4 pages. Study for the A+ hardware exam anytime and anywhere with these portable A+ notes. ProProfs A+ Cheat Sheets list all important points on the core exam in short notes. Download these Free A+ hardware cheat sheets now.
Mehr…
Guitar Speed Trainer
Version: 1.38 | Shareware (49,95 USD)
If you want to play FAST... if you want to play scales, patterns, licks, and solos at burning speeds... the Guitar Speed Trainer is a play-along training software that will help you achieve that goal. With 20 minutes a day of practice, in a few weeks you will be playing with more speed and precision that you ever imagined possible. Includes training on alternate picking, semi-alternate picking, sweep picking, tapping, and other exotic techniques.
Mehr…
Free CompTIA A+ Practice Exams: ProProfs
Version: 2.2.1 | Freeware
ProProfs FREE A+ Practice Exams includes A+ practice tests and practice questions. Provides a free dynamic A+ practice exam engine to ensure that you are fully prepared for the A+ cert test. The software aids training for CompTIA A+ (A Plus) Cert through an interactive testing based A+ certification study program. This A+ practice tests software includes explanations, custom A+ practice exams, A+ certification exam tips, flashcards and reports.
Mehr…
Guitar and Bass Ear Trainer
Version: 1.5 | Shareware (49,95 USD)
Play-along ear-training course for guitar, bass, and other fretboard instrument players. Learn to play effortlessly by ear. Develop the ability of playing whatever is in your mind without hesitation and without mistakes. Improve your improvisation skills. Develop your ability to listen one or twice to a song, to a solo, to a bass line, and then play it back exactly right the first time, without hesitation and withot fumbling around.
Mehr…
UniTest System
Version: 4.11.0 | Shareware (34,00 USD)
UniTest System is a comprehensive testing solution that allows you to design, manage and process your own tests. This application can be used on a local computer for testing one person, or perform simultaneous testing of thousands of people over the network (Intranet/Internet). UniTest System is a complete solution...it does everything from designing tests to analyzing and reporting test results.
Mehr…
Advanced Net Monitor for Classroom Pro
Version: 2.9.12 | Shareware (49,25 EUR)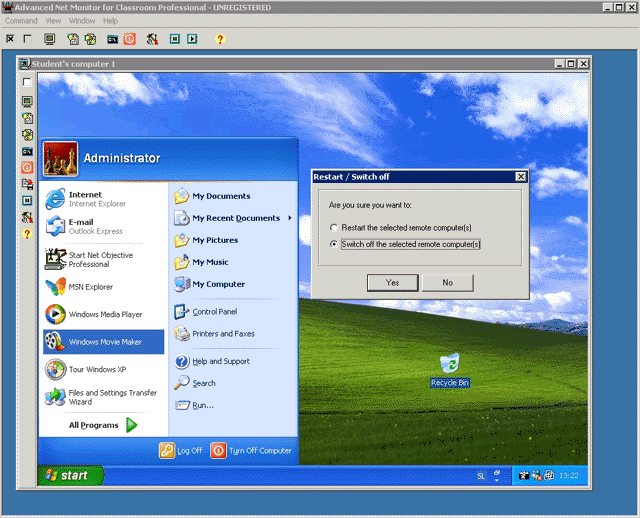 Net Monitor for Classroom is a program that allows a 'view' of a computer monitor of a remote computer, which is connected to the network. The program can be used on networks that use the TCP/IP network protocol. After start, the program displays the windows of all remote computers, where the picture appears, which is displayed on the monitor of the remote computer. A teacher also has the ability to send a message to the students' computers.
Mehr…
Classic Pythagorean Puzzles
Version: 1.82 | Shareware (11,00 USD)
Classic games and challenging puzzles are fun for games lovers. Classic Pythagorean Puzzles is the best variation of tile-based antique Greek games offered by Pythagoras as an excellent brain trainer for abstract thinking. When you start new game you see a sample you need to replicate with the fixed set of tiles on the game board. The samples you replicate are being approximations of real objects, which are easily to recognize by shapes.
Mehr…
RecallPlus
Version: 3.0.9.5 | Shareware
Study software -Make notes as Text/Ink diagrams reflecting your thoughts. Will speed up learning by improving your study technique in 10 ways. Make diagrams, draw and import images quickly and easily, record sounds in seconds. Program TESTS you, taking advantage of optimal revision timing. Results are tracked and revision is tailored. Study time need predictions given. Revises only what is necessary depending results.Offers tips,memory info.
Mehr…
SunRav TestOfficePro
Version: 6.0.3 | Shareware (199,00 USD)
SunRav TestOfficePro - the complete solution for knowledge, personality and aptitude testing and assessment. SunRav TestOfficePro can be used for academic and pre-employment testing, personnel testing and certification or as a part of computer-aided teaching solutions.
Mehr…
Teaching Templates Quiz Maker
Version: 15.5.0 | Shareware (24,95 USD)
The Teaching Templates Quiz Maker - a set of 12 easy-to-use authoring tools to help you create interactive educational exercises, tests and quizzes. The exercises can be put on a Web page, or run as standalone programs at home or in the classroom. The Teaching Templates Quiz Maker offers full Unicode support to guarantee the portability and global validity of your quizzes.
Mehr…