Kategorie Lernen / Lehrer & Training Tools
Remember Numbers
Version: 1.03 | Shareware (9,95 USD)
Do you sometimes feel embarrassed because you cannot recall a phone number? Try an alternative way to memorize phone numbers.
Look at your cellular phone. Note that several letters correspond to the figure on each button.
Only 1 and 0 have no letters corresponding to them, but only the - and + signs.
The program will show you all possible textual variants of the specified number. Select the one that you can memorize better and use it.
Mehr…
MM3-TeachingMachine - Lernen mit dem Handy
Version: 2017-283 | Freeware
Lernen Sie mit Ihrem Handy und eigenen Lektionen, wann und wo immer Sie möchten. Die Lernmaschine ist Ihr persönlicher Vokabeltrainer. Wählen Sie zwischen kurzzeitigem Lernen für eine Prüfung oder dem dauerhaften Speichern der Fakten in Ihr Langzeitgedächtnis. Damit gestalten Sie Ihren Lernprozess effektiv und höchst effizient. Fragen+Antworten können Sie einfach selbst am PC erstellen. Nebenbei bauen Sie sich Ihr persönliches Faktenwissen auf.
Mehr…
Frontype
Version: 2.1.2 | Shareware (11,00 USD)
Geben Sie schneller und schneller! Fünf einfache Schritte zum Touch-Eingabe: http://www.frontype.com/about_two.php
Mehr…
AgilePresenter
Version: 1.03 | Shareware (5,00 USD)
Use this software to Remote-Control Powerpoint/Presentations from WIFI-enabled Phones! Imagine yourself standing, presenting confidently with full presentation slide control in your hand. No need to sit or walk back to your computer anymore. Works with any WIFI-Enabled phone: iPhone, Nokia S60 N-Series, E-Series, Windows Mobile, Blackberry...
Mehr…
InstantBingoCard
Version: 1.2.0.0 | Shareware (24,95 USD)
What is InstantBingoCard? InstantBingoCard is an educational-software that can help you make your own custom printable bingo cards (bingo boards) with your own custom words and your own custom pictures in minutes. Bingo cards made by this software can be use for educational (instructional) and/or fun entertainment purposes. Please visit our website (http://www.instantbingocard.com) for more information.
Mehr…
Teacher Organizer Deluxe
Version: 4.11 | Shareware (75,00 USD)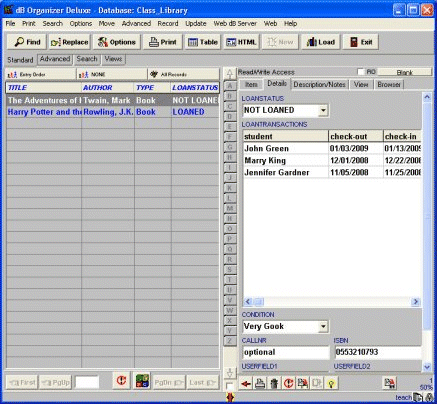 Teacher Organizer Deluxe for Windows: easy-to-use database management software that helps you to organize your school/teacher data. Enter, manage, track, and organize small class library, class inventory, student contact records, todo notes, incident reports, and more.
Mehr…
Memoriad Competition Simulator
Version: 1.0 | Freeware
Prepare and exercise for Memory Olympiads (Memoriad), World Memory Championships, Mental Calculation World Cups and Photographic Speed Reading Contests. Learn to memorize thousands of numbers, playing cards, and learn to remember names and faces; Use your brain as human calculator (mental calendars, mental additions, mental multiplications and mental square roots, etc.); Learn photographic speed reading techniques.
Mehr…
PG ETraining Solution Open
Version: July-2008 | Shareware (295,00 EUR)
Schaffen Sie Ihre originellen Ausbildungsprogramme und Kursen, Design-Teste, bekommen Sie Zertifikate mit Hilfe des Systems von Ausbildungsmanagement online. Das ist ein gutes und leichtes Mittel, Ihren Studiumprozess zu optimisieren und Gewinn von Tausenden Studenten online zu bekommen. Es fuhrt ein volles Internet-basiertes Management der Ausbildungsprogramme fur Administrator, Studenten, Ausbilder und Verbraucher.
Mehr…
PG Scorm e LMS Pro
Version: 2008 | Shareware (575,00 EUR)
Kostendeckendes, leicht gebrauchtes Lernsystem für Darstellung der online-Kursen. Kann im Internet und Intranet gebraucht werden. Benutzerfreundlich, multisprachlich, SCORM-gerecht, funktionelle Lehrer- und Administratorkonsolen. Offene Code, zu allen Bedürfen und Systembedingungen anpassbar. Kostenlose Support und Installationservices.
Mehr…
TimeChimes Pro Automated Audio Player
Version: 2.00 | Shareware (34,99 USD)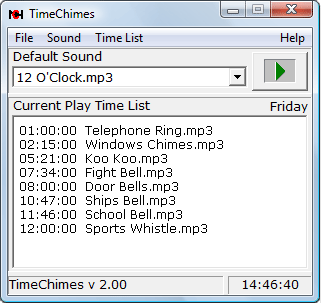 TimeChimes will play a sound or sounds at pre-scheduled times of day on each day of the week. Typically, TimeChimes can used to play school bells or shift-time sounds in factories, churches or businesses. It can also be used for other applications where you want a sound to play at preset times. Includes 9 pre-recorded bell type sounds. Supports dual week cycles.
Mehr…
PPT to Flash Pro version
Version: 2.43 | Shareware (180,00 USD)
PPT to Flash Pro is an easy flash authoring tool converts PowerPoint file to flash respect almost all features in PowerPoint.Very easy to use with a dramatically reduced output flash file size.Supports Office 2007. Key features:Accurate Conversion. Greater and Easier Accessibility.New Features:1.Capture most video clips (MPG,MPEG,ASF,WMV)
2.Support MP3,WAV,WMA audio 3.Add corresponding lyrics to background music to create a MTV.
Mehr…
AntiPlagiarist
Version: 2.7 | Shareware (9,95 USD)
Dieses Programm erkennt auf Knopfdruck Plagiate in Textform. Arbeit im Internet kopiert oder woanders abgekupfert? Hiermit schieben Sie diesem Treiben einen Riegel vor. Die Software unterstützt zahlreiche Dateiformate.
Mehr…