Kategorie Lernen / Lehrer & Training Tools
PPT to Flash Pro version
Version: 2.43 | Shareware (180,00 USD)
PPT to Flash Pro is an easy flash authoring tool converts PowerPoint file to flash respect almost all features in PowerPoint.Very easy to use with a dramatically reduced output flash file size.Supports Office 2007. Key features:Accurate Conversion. Greater and Easier Accessibility.New Features:1.Capture most video clips (MPG,MPEG,ASF,WMV)
2.Support MP3,WAV,WMA audio 3.Add corresponding lyrics to background music to create a MTV.
Mehr…
Memo-Coach
Version: 1.4.4 | Shareware (29,90 EUR)
Mit dem Memo-Coach wird Lernen merkbar einfach. Und das Gelernte nie wieder vergessen - ganz egal, ob es sich dabei um Vokabeln jeder Sprache, Prungsstoff, Fachbegriffe, Formeln, Allgemeinwissen oder einfach nur ein besseres Namensgedchtnis handelt: Ihr Memo-Coach hilft beim Einprgen und sorgt dafür, dass all das, was Sie sich merken möchten, ab nun verlässlich in Ihrem Langzeitgedächtnis landet. Und so wird Ihr "Nudelsieb" zum "Wissens-Netz"
Mehr…
School Calendar
Version: 4.3 | Shareware (49,95 USD)
School Calendar will help students and teachers with assignment organization, project due dates, and scheduling. It can even remind you when your scheduled event is about to happen. Included are two viewing modes, an automatic search option, password protection and an auto-backup with an opportunity to remove old archives automatically. The calendar can be synced with MS Outlook and its data exported to .ics, .xls, .txt, .html, .xml, .pdf formats
Mehr…
Catchysoft Gepard
Version: 1.10 | Shareware (25,00 USD)
Catchysoft Gepard ist ein Lehrprogramm zum Blindmaschinenschreiben. Diese Software wird Ihnen helfen, Blindmaschinenschreiben in kürzester Zeit zu erlernen. Wenn Sie bereits einige Fertigkeiten im Tippen haben, so können Sie die Geschwindigkeit und die Fehlerfreiheit Ihres Tippens noch weiter erhöhen.
Mehr…
School Calendar for Workgroup
Version: 4.4 | Shareware (69,95 USD)
This is a more powerful version of School Calendar, with all of the features of the standard version, but with the additional capability to share data in real time over the Internet. School Calendar will help students and teachers with assignment organization, project due dates, and scheduling. You pay for the program only the first time and get all new versions of this program for FREE and for a lifetime!
Mehr…
LearnWords PocketPC
Version: 3.4 | Shareware (29,95 USD)
LearnWords - training program to accelerate learning foreign languages (words, phrases) on PC, PDA, smartphone: 12 exercises, 20 languages, scheduling repetitions, transcriptions and pronunciation, automoving of words, freeware editor, free vocabularies on a site! For each word of dictionary it is necessary to execute a sequence of six basic exercises (Card, Mosaic, Select translation, Guess translation, Select word, Writing)
Mehr…
SamePitchPlease
Version: 1.0 | Demo (9,90 USD)
Ear training is very important to understanding music. Keeping the tonic of a piece in the mind helps to better analyze a piece while listening. Unlike other programs (e. g. Listening-Singing-Teacher), that use a growing melody to improve your musical memory, SamePitchPlease concentrates on learning to keep a single note in your mind. The goal is to learn to produce the same pitch after a longer period of silence with precision.
Mehr…
Test Constructor
Version: 3.4 | Shareware (29,95 USD)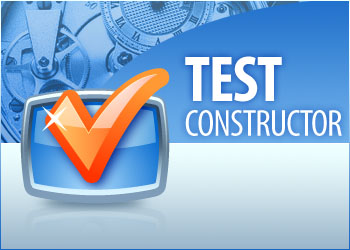 Test constructor is a universal program for testing knowledge. The program can be used to perform testing both at home and various educational institutions. The program allows using an unlimited number of topics, questions and answers. Test constructor supports five types of questions, which gives you an opportunity to perform any kinds of tests. It is possible to use music, sounds, images and video clips in your tests.
Mehr…
Jägerprüfung-BW
Version: 2.0 | Shareware (18,00 EUR)
Das Programm enthält alle offiziellen Prüfungsfragen. Es simuliert die schriftliche Jägerprüfung gemäß der Jägerprüfungsordnung. Die Auswertung erfolgt nach Prüfungsfächern mit Anzahl der Fehler und Note. Der Notenschlüssel entspricht der offiziellen Noten-Skala. Die Ergebnisse werden gespeichert, so daß falsch beantwortete Fragen gezielt nachgearbeitet werden können. Ergänzend enthält es die für die Jagd relevanten Gesetze.
Mehr…
TuneCrack
Version: 1.02 | Shareware (29,50 USD)
TuneCrack stands for: Crack the tuning problem. The importance of tuning is often underestimated. However, tuning is a necessary step for every performance. TuneCrack has exercises to improve your listening skill and your pitch transfer skill. Your listening skill is trained with the Precision Listening Method. Your transfer skill is trained with the Pitch Keeper Method. The program guides you from easy to recognize samples to precision listening
Mehr…
ListeningSingingTeacher
Version: 1.82 | Shareware (29,50 USD)
Listening Singing Teacher helps you to sing in tune and in rhythm. The visual feedbacks for pitch, beat and loudness allow you to train your "mental ear" by aiming the pitch in your head and adjusting your voice to produce the correct pitch. The replay possibility lets you hear yourself and analyze your strength and weaknesses in the appropriate context. Listening Singing Teacher consists of three animated introductory lessons and 111 exercises.
Mehr…
Gitarrenkurs - Band II
Version: 5.5 | Shareware (24,90 EUR)
Diese Gitarrenkurs, logische Folge des ersten Band, trainiert fortgeschrittenere Übergänge von Akkorden, die dem Schüler lehren, den Griff von zwei, drei oder vier Fingern gleichzeitig zu beherrschen. Übungen, um die linke Hand zu lockern sowie Übungen, um Akkorde mit dem Barré-Griff zu beherrschen, erlauben dem lernenden Gitarristen schneller fortzuschreiten.
Mehr…