Kategorie Grafik / Viewer
AhaView
Version: 4.54 | Shareware (16,95 EUR)
AhaView ist ein leistungsstarker Bildbetrachter und Konverter. Es unterstützt alle verbreiteten Grafikformate: JPEG, GIF, PNG, BMP, ICO, CUR, ANI, WBMP,XPM, XBM, SVG, TGA. Es ermöglicht Bilder im Vorschaumodus durchsuchen dabei den Vollbildmodus benutzen, Ihre Bilder in die BMP, PNG, GIF und JPEG Format konvertieren, Beschreibungen zu Dateien hinzufügen, sie kopieren, duplizieren, umbenennen und verschieben. Unterstützt Kommandozeilen-Interface.
Mehr…
Alteros 3D
Version: 3.0 | Shareware (29,95 USD)
Alteros3D ist ein 3D und 2D grafischer Viewer mit an den Nutzer anpassbarem Interface. Das Programm ermöglicht das Ansehen x-beliebige 3D-Dateien (3DS, VRML, TrueSpace, LightWave und viele andere Formate), so wie auch 2D grafische Dateien (PSD, TIFF, PNG, JPEG, BMP, GIF und viele andere). Der eingebaute Text-Editor erlaubt TXT- und RTF-Datein anzusehen und zu bearbeiten.
Mehr…
ImageBox
Version: 1.5 | Shareware (24,50 USD)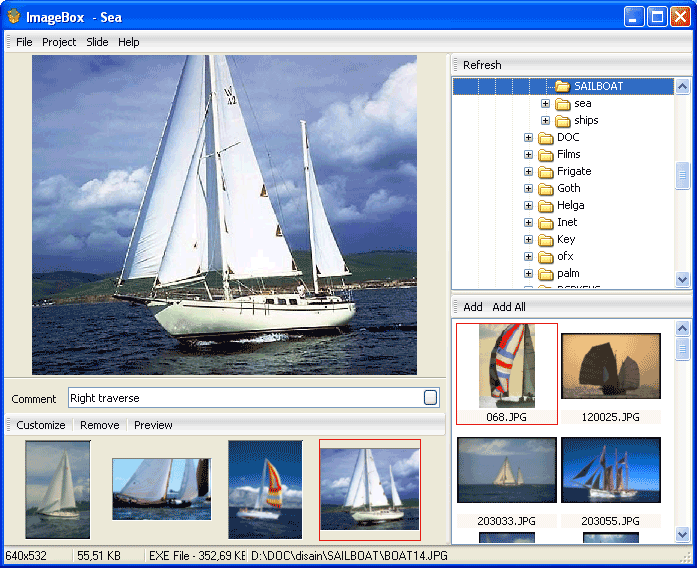 Image Box creates astonishing slide shows from your photos or any images. Select photos, write comments, add music - a spectacular slide show is ready in minutes. Your friends and relatives will appreciate it! Now you can come to your friend, insert a disk and enjoy your photos accompanied with the proper music. You may create full HD videos of your photos. Image Box has a built-in CD burner so that you could create video CDs. Try it now!
Mehr…
i-Fun Viewer
Version: 8.0 | Freeware
i-Fu. Other features include: Ability to assign text descriptions to images, Twain Scanner and digital camera support
Mehr…
IvanView
Version: 2008 | Shareware (24,95 EUR)
The image browser IvanView is now even more powerful. IvanView Viewer Editor Converter is capable of viewing more 60 image formats, and has unsurpassed conversion capabilities in 15 of the most popular formats. Its interface can be modified with great flexibility to accommodate both beginners and professionals. While it is possible to detail all of IvanView's great features, it's better to download it and see all it has to offer for yourself!
Mehr…
EZ-Pix
Version: 8.0 | Shareware (19,70 USD)
EZ-Pix is fast, highly functional viewer with support for all common image formats. It has an streamlined interface and is simple to use. Despite its simplicity it offers many advanced functions, such as complete thumbnail control, exporting to HTML and thumbsheets, file and image editing functions. Other features include: Ability to assign text descriptions to images, Twain Scanner and digital camera support, Password access and security
Mehr…
Photo Druid
Version: 1.0 | Shareware (19,90 USD)
Photo Druid will help you manage and share your digital photos and images hassle free. Many image actions are available (rotate, resize, crop...) and you can apply them to multiple selections. Extras: HTML album generator, FTP upload, send by e-mail.
Mehr…
ACDSee 9 Photo Manager
Version: 9.0.108-en | Shareware (39,99 EUR)
ACDSee 9 makes organizing your photos quick and easy, so you can play with and share the great photos you've got. Get Photos fast from any storage device, and ACDSee 9 automatically categorizes your shots based on metadata information (e.g., keywords, size, date taken). You don't even have to lift a finger. You can also use new password protected Private Folders to store confidential information.
Mehr…
MegaView
Version: 12.0 | Shareware (29,50 USD)
MegaView is a comprehensive viewing solution that supports all common image, multimedia (AVI, MPEG, MP3, etc), text and Office formats. It's advanced viewing features are matched with file management and information distribution functionality. Specific features include: Slideshow and Multishow functions, HTML Creation Wizard, Create Thumbnail Sheets and File Lists, Password Protection and image security, File management and batch conversion...
Mehr…
BildArchiv
Version: 2.05.00 | Shareware (15,00 EUR)
Digitale Bilder werden in eine Archivdatenbank aufgenommen und von der Software verwaltet. Die Datenbank beinhaltet ein Vorschaubild und Verwaltungsdaten um das Bild wiederzufinden. Die Originalbilder werden so organisiert, daß auf einfache Weise Backups (auf CD) angefertigt werden und die Bilder von der Festplatte gelöscht werden können. BildArchiv ist Netzwerk- und Multiuserfähig und verarbeitet fast alle Bildformate.
Mehr…
Context ThumbView
Version: 1.8.6 | Shareware (19,95 USD)
Context ThumbView is a Windows Explorer context menu extension that provides image preview directly in the right-click menu. It supports most of popular image file formats, including BMP, GIF, JPEG, PNG, TIFF and is very handy for quick image viewing. Context ThumbView is brought up by right-clicking on an image file in Windows Explorer. It allows to save thumbnails, send them by email or copy to the Clipboard.
Mehr…
XnView
Version: 2.42 | Freeware
Mit XnView k?nnen Sie schnell und komfortabel Fotos und Bilder betrachten, bearbeiten und konvertieren. Das Programm liest mehr als 400 Dateiformate, darunter JPG, GIF, PNG, BMP, TIFF, MPEG und viele andere mehr.
Neben Bildbetrachtung und Bildbearbeitung mit zahlreichen Effekten bietet XnView au?erdem Features wie die Erstellung von Webseiten, Kontaktabz?ge, Stapelverarbeitung, Dia-Shows, Fotoalbum auf CD, Bildschirmabz?ge und Twain-Support.
Mehr…