Kategorie Grafik / Viewer
AD Picture Viewer
Version: 3.9.1 | Shareware (29,95 USD)
AD Picture Viewer the fastest, easiest-to-use and compact image viewer available for Windows. It allows you to view, print, organaize and catalogue your image collection with ease. It supports all popular graphic formats, has a build-in file manager and can set images as a wallpaper. AD Picture Viewer supports manual and silede-show viewing modes. Also, it supports Picture List files that makes loading images wasier.
Mehr…
SeePlus DICOM
Version: 9.0.520 | Shareware (199,99 USD)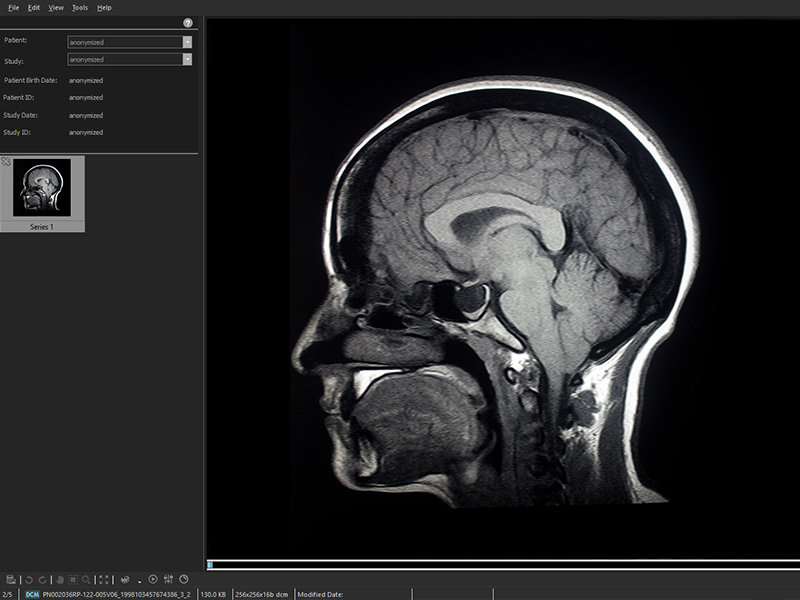 Digitale Bildverarbeitung und -kommunikation in der Medizin (DICOM) ist zum internationalen Standard im Austausch von Informationen im medizinischen Bilddatenmanagement geworden. SeePlus DICOM wird in vielen Branchen verwendet, u.a. bei Versicherungen und Zahnärzten, mit Anzeigemöglichkeit für dieses im Gesundheitswesen weit verbreitete Nachrichtenformat. Sie können Bilder bearbeiten und verwalten und Ihre DICOM-Dateien im JPEG-Format speichern.
Mehr…
PRIMA Little Image Viewer
Version: 2.00 | Freeware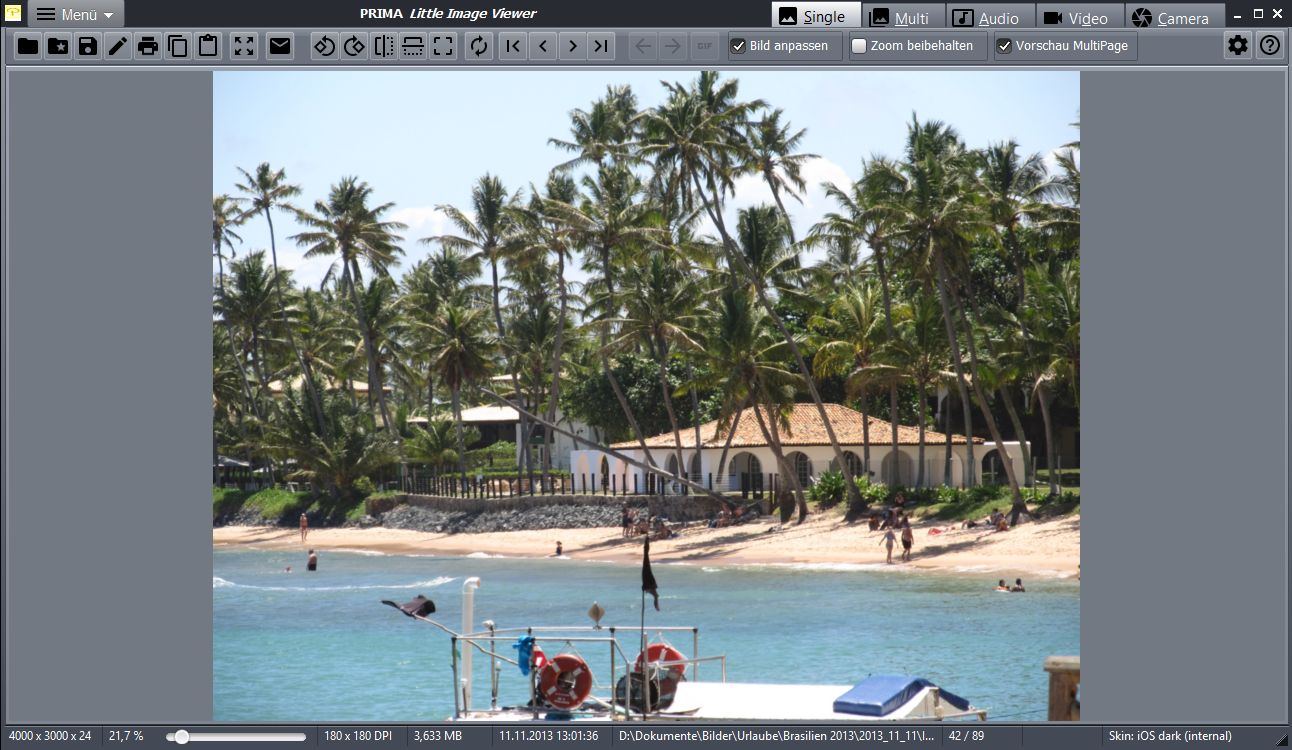 Ein kleines Bild-Anzeige-Programm (Little Image-Viewer) mit minimalen Funktionen und einem besonderen Schmankerl - in Audiodateien eingebettete Bilder (z.B. bei MP3-Downloads von Amazon) können angezeigt und aus der Audiodatei extrahiert werden. Und dabei kann man sich noch die Musik anhören...
Mehr…
TwinView Edit
Version: 16.00 | Demo (179,00 EUR)
TwinView ist ein professioneller, schneller und präziser Dateibetrachter für CAD und DTP Dokumente. Er unterstützt folgende Formate: DXF,DWG, DGN, DWF, HPGL (plt) sowie Rasterformate (Tiff,Jpg) Der Viewer bietet eine Reihe von leistungsstarken Werkzeugen, wie z.B.: - Erweiterte Druckfunktionen - Dateiversand als PDF - Abstandmessung - Markup (Rotstift) Funktion - Textsuche - Zeichnungsvergleich - Stapeldruck - Änderung der Elementeigenschaf
Mehr…
AD Picture Viewer Lite
Version: 2.1 | Shareware (19,95 USD)
AD Picture Viewer Lite is a compact, easy-to-use image viewer. It's support all popular image file formats and have many useful features such as opening images in folder with or without subfolders, viewing them in slide-show mode, a flexible and powerful image printing tool and so on.
AD Picture Viewer Lite has many powerful features: a easy-to-use and intuitively user interface, complete image formats support, and more.
Mehr…
PicSeriesSurfer
Version: 1.01 | Shareware (15,00 EUR)
Der PicSeriesSurfer erstellt automatisch eine ?bersicht Ihrer *.jpeg, *.jpg und *.bmp Dateien. Hierzu werden die Unterverzeichnisse eines ausgew?hlten Ordners nach besagten Dateien durchsucht. F?r jedes Verzeichnis das Bilder enth?lt wird eine kleine Visitenkarte erstellt. Die in den Verzeichnissen enthaltenen Bilderserien werden separat dargestellt.
Zus?tzliche Werkzeuge: Bildbetrachter, Erstellung von Bildausschnitten, Dateiumbenennung.
Mehr…
Falco Viewer
Version: 5.3 | Freeware
Falco Viewer is for quick and easy graphics viewing. It has a user-friendly interface, features such as: rotation, zoom in/out, and supports file saving in popular formats. The main advantage it has over a standard viewer is its very fast image processing speed. Also, you may rapidly zoom in and out, even with high resolution images from digital cameras.
Mehr…
FaxSee Pro
Version: 3.00.908 | Shareware (44,95 USD)
FaxSee Pro is a fax viewer browser and fax to tiff converter, able to browse open view print FaxWizard fmf, WinFax fxd fxm fxr fxs, black-white dcx bmp tiff, APRO MightyFax apf, BitFax bfx, CALS cal cg4 img mil gp4 oda ras, Zetafax g3f g3n, DIGI-FAX g3f, Image Systems IG4, awd, qfx, Kofax Ascent Capture DS, Edmics-mmr ED, other group 3 (T.4) and group 4 (T.6) compressed fax like mr mmr g3 g31d g32d g4 raw fax, etc, and convert fax to tiff.
Mehr…
Smart FaxSee
Version: 2.20.908 | Shareware (39,95 USD)
Smart FaxSee is a smart professional fax viewer and fax fax to tif tiff converter, able to open view print ALL G3 G4 fax images, such as tiff fax, FaxWizard fmf, WinFax fxd fxm fxr fxs, BitFax bfx, dcx fax, Quick Link qfx, APRO, MightyFax apf, Zetafax g3f g3n, MS awd, and all other Group 3 and most Group 4 fax like g3 g4 g31d g32d mr mmr raw fax images, etc, and convert all these fax to TIF TIFF format.
Mehr…
Free Photo Viewer
Version: 1.3 | Freeware
View photos, EXIF, and IPTC tags with this lignt-weight program. Organize full-screen slideshows. View RAW files. Browse folders with photos. Fast thumbnail-generating engine allows browsing folders with photos fast and easily. The program supports slow CPUs and widescreen monitors and TV.
Mehr…
SD Free Image Viewer
Version: 7.3.3.3000 | Freeware
Image Viewer is the powerful, compact and easy-to-use image viewer you can use. With Image Viewer you can do the following:- 1- Open a lot of image file formats like JPG,BMP,GIF,TIFF,PNG,PSD,PCX,TGA,WMF,EMF,WBMP,ICO,DIB. 2- Open images also from URL and save them to your disk. 3- Save to several image formats like JPG, BMP, GIF, TIFF, PNG?etc. 4- View images in full screen mode and slideshow mode. 5- View and browse images in Thumbnails view.
Mehr…
Ashampoo Photo Optimizer 6
Version: 6.0.20 | Shareware (14,99 EUR)
Sind Ihre Fotos zu blass, überbelichtet oder verwackelt? Fehlen Ihnen für aufwändige Bildoptimierungen schlicht die Zeit, Kenntnisse oder Lust? Ashampoo Photo Optimizer 6 bringt Ihre Fotos in Form, auf Knopfdruck und ohne Aufwand. Optimieren Sie Farben und Kontraste, korrigieren Sie die Bildschärfe, entfernen Sie Kratzer und Rauschen und korrigieren Sie die Bildausrichtung - einfach, schnell und ohne Vorkenntnisse.
Mehr…