Kategorie Büro / Office Suites & Tools
Advanced Consolidation Manager
Version: 1.1.1 | Shareware (39,00 USD)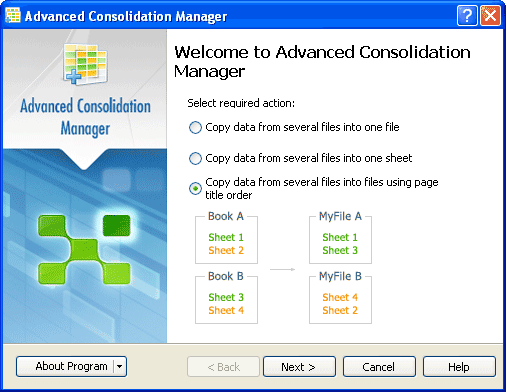 The add-on is designed for merging tables and consolidating Microsoft Excel data. In comparison to a standard data consolidation in Microsoft Excel, Advanced Consolidation Manager will allow you to process any number of files per one program run as well as to combine data from different files in one.
Mehr…
PDF Vista Server
Version: 7.02 | Shareware (86,00 EUR)
Install a shared PDF printer on the server, and allow your users to create PDF files on their client-side by printing from any Windows program to this shared PDF printer, and get quality PDF output.
Features:
Support Terminal Services and Citrix
Centralized PDF conversion
Deploy PDF Vista printer as a shared printer
Dynamically enable or disable shareable PDF printer
Share PDF Vista printer on server-side for client-side users
Mehr…
<b>Tables Transformer</b> for Excel
Version: 1.3.3 | Shareware (39,00 USD)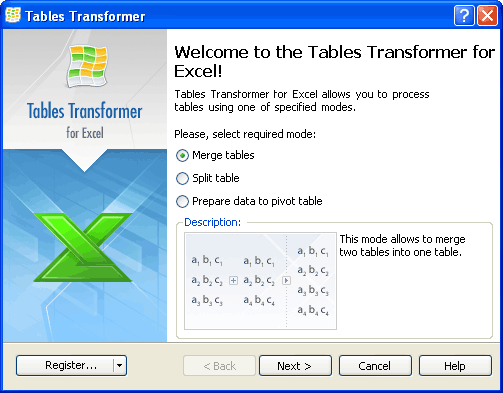 This add-in for Excel 2000-2013 will allow you to fast and easy transform current tables to construct pivot ones, to divide one table into several ones or to unite two tables in one.
Mehr…
Compare Spreadsheets for Excel
Version: 1.1.9 | Shareware (59,00 USD)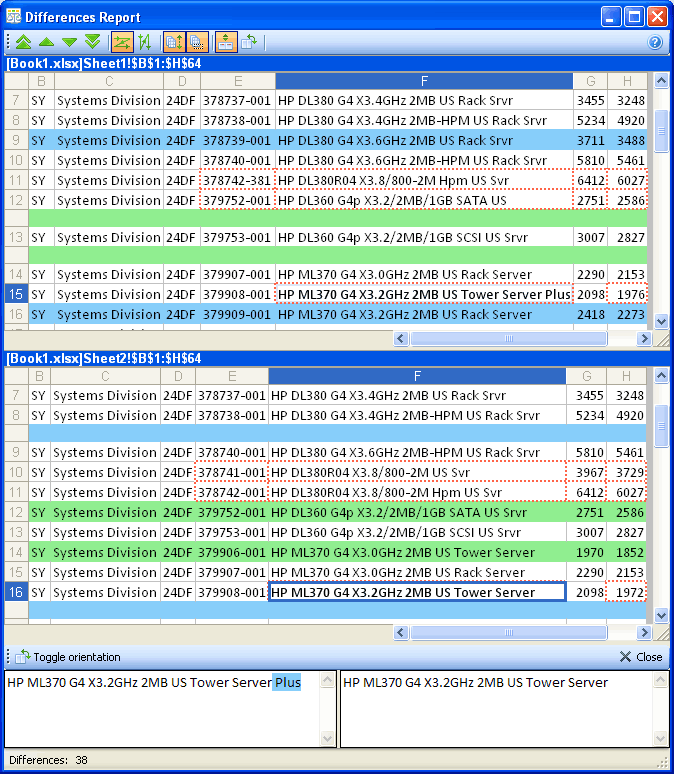 A powerful and convenient add-on for comparison of Microsoft Excel 2000-2013 files. Program features: work with files, tables or the selected range of cells; work with files without opening them in Microsoft Excel; a presentation of the results as a comprehensive report; a possibility to compare any cells in the final report; comparison by cell values or by formulas.
Mehr…
Fix Broken Links for Excel
Version: 1.1.5 | Shareware (59,00 USD)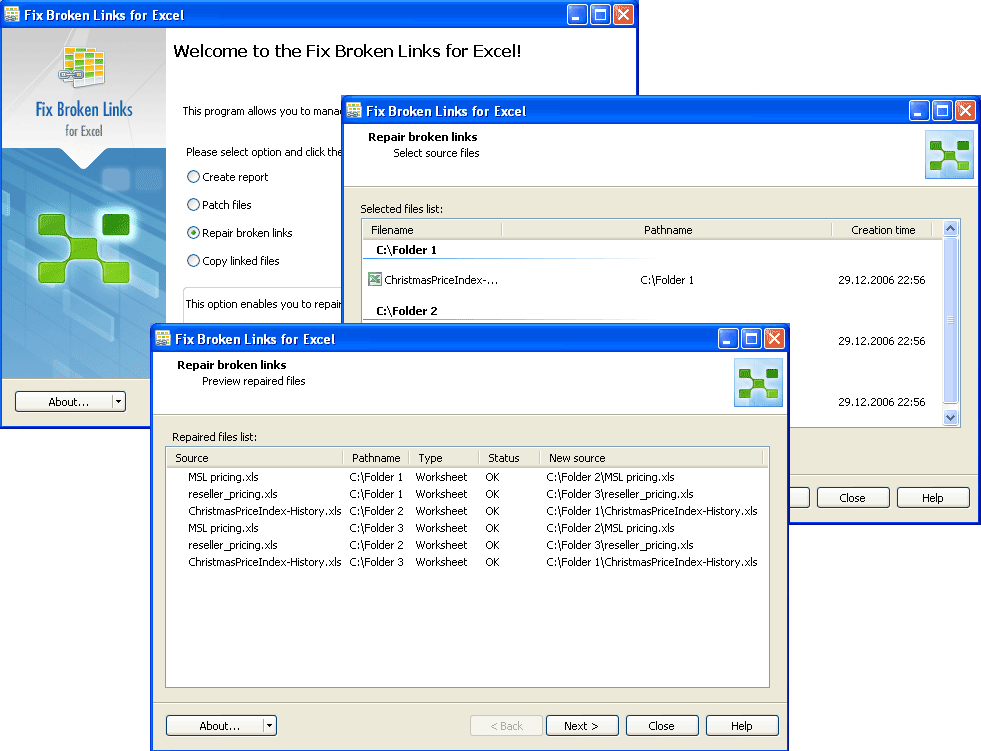 Microsoft Excel 2000-2013 add-on helps you to find and fix broken links in Excel linked files. Program key functions: search for documents with the broken links, fixing broken links, work with files stored on web-sites and SharePoint servers.
Mehr…
Office to PDF
Version: 1.0 | Demo (19,95 EUR)
Office to PDF - ein spezielles Werkzeug für die Umwandlung von Dokumenten aus den verbreiteten MS-Office-Programmen in Dokumente im PDF-Format. Das Produkt ermöglicht neben der üblichen Erstellung von PDFs auch die Umwandlung der wesentlichen Eigenschaften einer Office-Datei: Beschreibung: Titel, Thema, Verfasser, Stichwörter, Sicherheit, Inhaltsverzeichnis, interne und externe Verweise, Anmerkungen, Formulare, Kopf-/Fusszeilen
Mehr…
MAPILab Find and Replace
Version: 1.2.2 | Shareware (39,00 USD)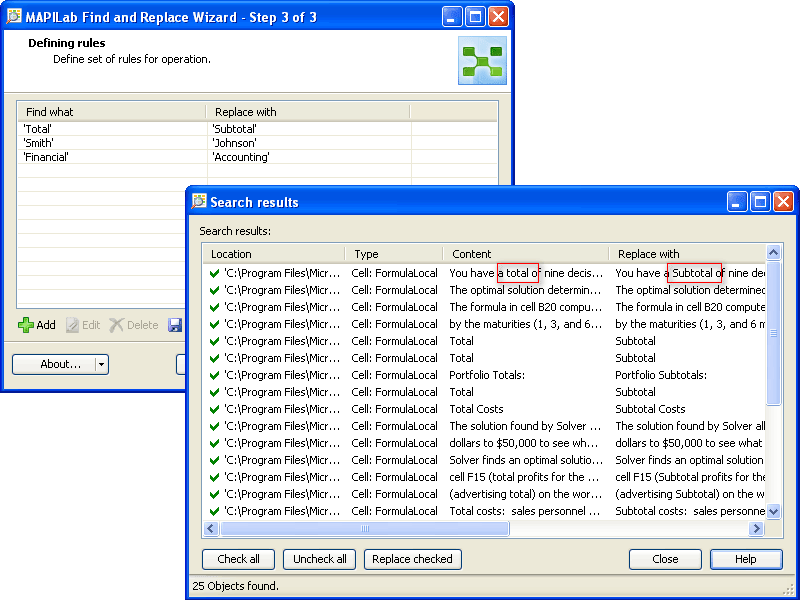 MAPILab Find and Replace for Excel is an advanced version of the "Find and Replace" function in Excel. The add-on has a number of essential benefits: simultaneous work with several files; saving and downloading retrieval requests as templates for reuse; creation of an unlimited number of rules for search and replacement of data; find and replace operation inside all document properties (formulas, values, etc).
Mehr…
FormsAssistant
Version: 1.7 | Shareware (39,95 USD)
FormsAssistant is a Microsoft Word add-in that takes the work and uncertainty out of creating and filling in business forms. Working from within the familiar Microsoft Word interface, FormsAssistant makes it easy to create new forms, modify existing ones, and fill forms with the appropriate information. By standardizing and automating your business' forms processing, productivity increases
Mehr…
OpenOffice Password Recovery
Version: 1.0.6 | Shareware (79,00 EUR)
OpenOffice Password Recovery is an all-in-one solution to the problem of lost passwords for OpenOffice documents. With its refreshingly simple interface, users can recover passwords and remove all types of document protection, including document ReadOnly protection, revision marking protection, protection of sections in OpenOffice Writer, protection of cells in OpenOffice Writer table, OpenOffice Calc documents and sheets protection.
Mehr…
Ablebits.com Duplicate Remover for Excel
Version: 3.1.5 | Shareware (22,95 EUR)
Mit diesem Add-In können Sie in Excel-Tabellen Dubletten oder einmalig vorkommende Inhalte finden. Bei der Dublettensuche in einem Bereich oder dem Vergleich zweier Listen unterschiedlicher Spaltenzahl dürfen Sie beliebige Vergleichsspalten wählen. Dubletten können Sie löschen, selektieren, färben oder an einen anderen Ort kopieren (neue Arbeitsmappe, neues/altes Arbeitsblatt). So funktioniert's: http://www.ablebits.com/go.php?to=drevideo-s
Mehr…
TypoTools
Version: 4.4 | Shareware (49,00 EUR)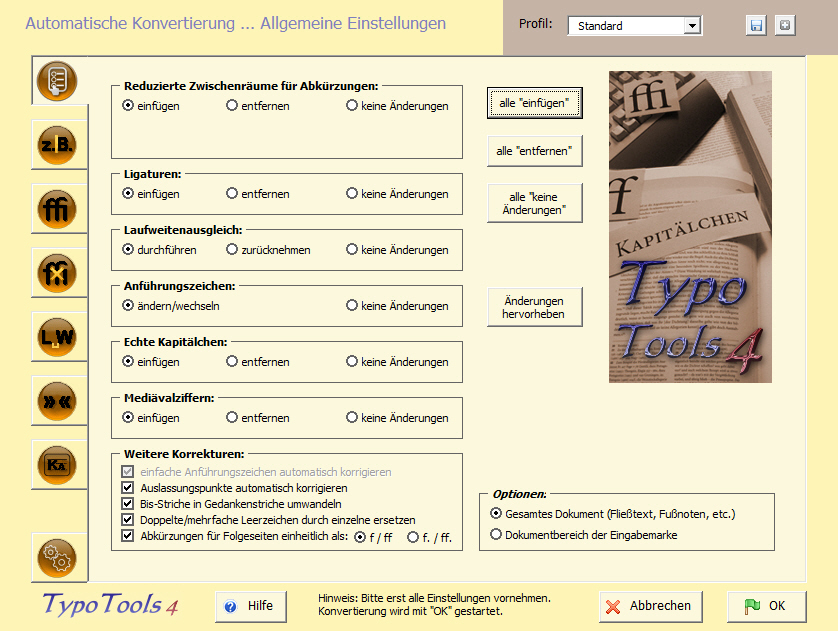 TypoTools für Microsoft Word (ab Version 2000) bietet eine clevere und preisgünstige Lösung zur Beseitigung typografischer Mängel und unterstützt bei der Erstellung optisch ansprechend gesetzter Texte. TypoTools kann als Add-In (ab Word 2007 als Registerkarte) direkt in Microsoft Word integriert werden. Mit TypoTools können ohne detaillierte typografische Fachkenntnisse typografisch korrekte und optisch optimierte Dokumente erstellt werden.
Mehr…
OpenOffice Draw Password Recovery
Version: 1.0.5 | Shareware (29,95 EUR)
OpenOffice Draw Password Recovery makes Draw password recovery downright simple. It provides a friendly interface and a carefully chosen feature set to let users recover passwords without problems. Even users who are not exposed to computer technologies can learn how to use OpenOffice Draw Password Recovery in just minutes and then instantly recover open-document passwords and remove ReadOnly protection to make the document editable again.
Mehr…