Kategorie Büro / Office Suites & Tools
PractiCount Toolbar Standard for MS Office
Version: 1.1 | Shareware (49,95 USD)
PractiCount Toolbar Standard for Word, Excel and PowerPoint is a dream come true for writers,
translators and editors. Most such professionals are paid either per unit of work (word,
line, page, character) or per unit of time (hour). With PractiCount Toolbar, you don't
need to spend time on tedious counting and invoicing. After finishing work in Word, Excel or
PowerPoint, just click on the Report button!
Mehr…
PDF Junction
Version: 1.10a | Shareware (325,00 USD)
Split, Merge and Secure Batches of PDF Files. PDF Junction provides a set of processing tools for PDF files, including splitting, merging, setting of security and other attributes, and generation of XML metadata files. The product has both a GUI and command-line interface.
Mehr…
ActiPOINToutlookD
Version: 1.11.07.09 | Shareware
ActiPOINToutlookD von COMIREL ist Outlooks Draht zu Ihrem Telefon und zu VoIP. Aus Outlook heraus können unter der verborgenen Nutzung von ActiPOINT Anrufe getätigt werden. Nutzen Sie die Wahlmöglichkeiten von ActiPOINT wie die Schnellwahl und die Wahl per 'Hot-Key'. ActiPOINToutlookD greift auf die Kontakt- und Anrufdaten von Outlook zu, um den Anrufer eines hereinkommenden Gespräches zu identifizieren. Importieren und Exportieren Sie Kontakte
Mehr…
AutoFormat for Excel PivotTables
Version: 2.0.3 | Shareware (29,95 USD)
This Excel add-in that allows you to save pivot table formatting and to use it as a format template for your other pivot tables. The add-in remembers formatting of each pivot table area including page,row, column, and data fields and stores all format options such as number format, borders, patterns, alignment, and fonts. It works efficiently in the Tabular mode and the Outline mode on MS Excel 2007/2003/XP/2000.
Mehr…
ExcelExplorer
Version: 2.1 | Freeware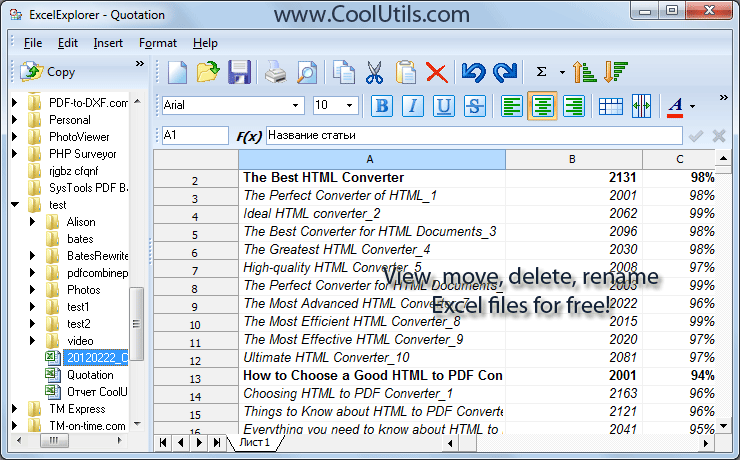 ExcelExplorer is a free utility for quick and easy managing excel files. Using ExcelExplorer you can view, move, delete or rename excel files even without Excel on your pc. Now you don't have to buy expensive Excel to manage your excel files. With ExcelExplorer you can do it for less money but with utmost convenience.
Mehr…
Merge Cells Wizard for Excel
Version: 3.0.8 | Shareware (29,95 USD)
With Ablebits.com Merge Cells Wizard you can merge data from several Excel cells using any separator you like (e.g. carriage return / line break). You can merge row by row, column by column or data from selected cells into one cell. The Merge Cells Wizard preserves all data if the selection contains multiple data values. Your data in Microsoft Excel will never be lost! Merge Cells Wizard is an add-in for Microsoft Excel 2010, 2007, 2003.
Mehr…
IDpack Business
Version: 9.1.22 | Shareware (299,00 USD)
IDpack Business ID card software is the most comprehensive and flexible ID card and ID badge design and printing software for Windows. IDpack empowers you to create, secure, and produce professional photo ID cards and ID badges such as access cards, employee ID, student ID and more all in a timely fashion. IDpack integrates with Microsoft Access and ODBC databases. IDpack, Smart Security at a Smart Price!
Mehr…
Ablebits.com Duplicate Remover for Excel
Version: 3.1.5 | Freeware (22,95 EUR)
Mit diesem Add-In können Sie in Excel-Tabellen Dubletten oder einmalig vorkommende Inhalte finden. Bei der Dublettensuche in einem Bereich oder dem Vergleich zweier Listen unterschiedlicher Spaltenzahl dürfen Sie beliebige Vergleichsspalten wählen. Dubletten können Sie löschen, selektieren, färben oder an einen anderen Ort kopieren (neue Arbeitsmappe, neues/altes Arbeitsblatt). So funktioniert's: http://www.ablebits.com/go.php?to=drevideo-s
Mehr…
Abetone Serienbrief
Version: 9.1.4 | Shareware
Kinderleicht Serienbriefe, Etiketten und Briefumschläge drucken mit der Serienbrief Software Abetone. Adressen verwalten und Mitgliederverwaltung
Mehr…
Fuzzy Duplicate Finder for Excel
Version: 3.5.3 | Shareware (19,95 USD)
With Ablebits.com Fuzzy Duplicate Finder for Excel you can easily find and correct all sorts of partial duplicates, typos and misspelled words in your worksheets. The add-in performs a fast search for duplicates that differ in 1 to 10 characters and recognizes omitted, excess or mistyped symbols. You can correct misprints automatically or manually directly in search results, split cell data into words and process them separately.
Mehr…
Ablebits.com Workbook Manager for Excel
Version: 1.0.4 | Shareware (19,95 USD)
Workbook Manager for Excel add-in works like an Microsoft Excel Task pane and displays all open workbooks and worksheets in a tree-view catalog. You can easily navigate between your Microsoft Excel workbooks, drag sheets across workbooks, sort, rename, delete, re-arrange them and insert dozens of worksheets in a click. The add-in works with Microsoft Office Excel 2010 - 2003.
Mehr…
pdfMachine Office / Pro /Ultimate
Version: 14.XX | Demo (59,00 EUR)
Dokumente 1:1 scannen, bearbeiten, drucken und als PDF Datei versenden! pdfMachine ist eine einfache Lösung rund um das Thema PDF. pdfMachine erstellt PDF Dateien und versendet diese per Email an den gewünschten Empfänger, unabhängig davon, welche Programme dieser nutzt. Neben der Integration ins Office Umfeld, ist eine Verschlüsselung, elektronisches Briefpapier sowie eine Parameterübergabe aus Fremdprogrammen einstellbar.
Mehr…