Kategorie Büro / Office Suites & Tools
Lotus Approach Password
Version: 2015.06.01 | Shareware (29,95 USD)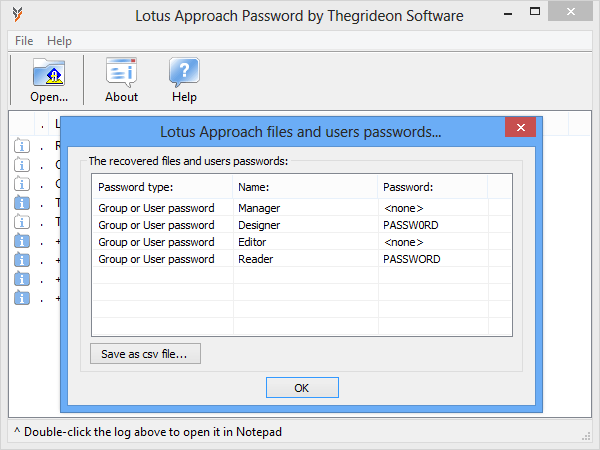 Lotus Approach Password by Thegrideon Software allows you to recover passwords which Lotus Approach files (.apr,.apt,.dbf,.db,.vew) are protected with. Lotus Approach Password recover passwords for Lotus Approach users and groups as well. Also recovers dBase/Foxpro (.dbf) and Paradox (.db) passwords for database created in Lotus Approach. Program works with all versions of Lotus Approach files.
Mehr…
AutoText
Version: 3.0 | Shareware (22,85 USD)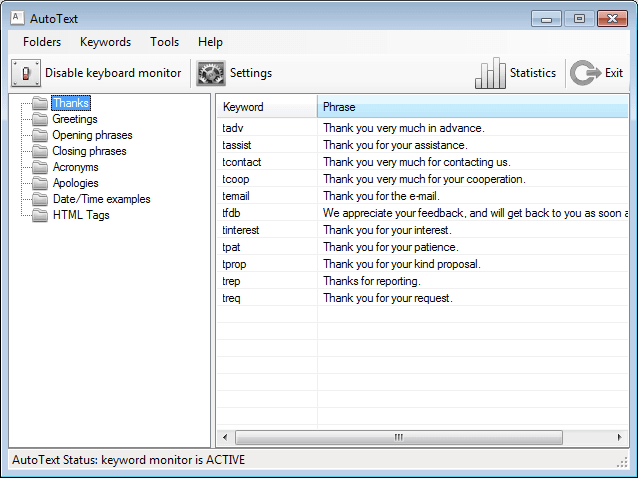 AutoText is a Text Expander for Windows. Assign keywords to frequently used phrases and AutoText will type a common phrase each time you type the corresponding keyword. For example, type "ffr" and Auto Text will replace it with "feel free to contact us". AutoText stores your common text fragments (frequently used sentences, common phrases) organized in folders and quickly inserts them while you type.
Mehr…
GAEB-Online 2016
Version: 5.1.0.0 | Shareware (95,20 EUR)
Mit der Software GAEB-Online 2016, die für die Branchen der Handwerker und Bauausführenden entwickelt wurde, können Sie alle GAEB Ausschreibungen ganz einfach direkt mit MS-Excel® oder OpenOffice bearbeiten und dort Ihre Angebotspreise erfassen und GAEB-DA84 Dateien erzeugen.
Mehr…
Desktop Forum Manager
Version: 2.0 | Shareware (37,00 USD)
Desktop Forum Manager will help you join and participate in an unlimited number of forums and message boards right from your desktop. Joining forums is a great way to gain credibility as an expert in your field and generate tons of incoming one way links to your website. Placing your links in your forum signature file, provides you with numerous one-way links to your website. You'll save a lot of time by managing it all in one place.
Mehr…
Abacus Calculated Fields for ACT! by Sage
Version: 9.5 | Shareware (59,95 USD)
Abacus Calculated Fields for ACT! now brings you the ability to calculate fields, copy fields, manipulate data and produce results dependent on data within other fields all within a simple, easy-to-use interface. Make calculations in Contact, Group or Company fields based on data within other fields and over 80 supported functions. Assign a formula to a field (make the field auto "calculated"). Use "if" and "case" statements to build scenarios.
Mehr…
Batch Replacer for MS PowerPoint
Version: 2.5 | Freeware
Batch Replacer for MS PowerPoint is a utility which helps you perform multi-replacement operations in MS PowerPoint files with the help of an MS Excel list. It can really save a great deal of time: no need to open each file and make a replacement and then open another file and so on. All this can be done in a few seconds and with as many files as desired.
Mehr…
Excel Unique & Duplicate Data Remove Software
Version: 7.0 | Shareware (29,99 USD)
This software offers a solution to users who want to search and delete duplicate/unique cells in MS Excel. To get this software to work, you select a block of cells and eliminate redundant data. The results can be placed on top of the original cells, in a new list next to the selection or in a new worksheet. Excel 2000 or higher required.
Mehr…
Recovery for WordPerfect
Version: 1.1.0922 | Demo (149,00 USD)
Recovery for WordPerfect is data recovery program for Corel WordPerfect documents (.wpd). Recovery for WordPerfect has a powerful recovery engine designed to retrieve data from most damaged documents. Recovered are texts, tables, images. Current version of the product supports Corel WordPerfect version 12.
Mehr…
OLMixedFolders
Version: 1.49 | Shareware (22,10 EUR)
Mit Ihrem iPhone oder einem beliebigen Smartphone möchten Sie gerne außer Ihren Standardordnern noch weitere Ordner aus Outlook abgleichen zB. Unterordner oder öffentliche Ordner aus Exchange? Dann wäre OLMixedFolders genau die richtige Wahl, denn hiermit gleichen Sie Ihren Standardordner mit diesen Ordnern unter Zuhilfenahme von Kategorien ab, so dass die Zurdnung zum Masterordner weiterhin bestehen bleibt.
Mehr…
4TOPS Compare Excel Files
Version: 2.0 | Shareware (49,00 EUR)
4TOPS Compare Files ist benutzt, um die Unterschiede in Werten oder Formeln zwischen Tabellenblattlisten oder Microsoft® Excel Files zu finden. Dies wird leicht benutzt und berichtet klar, wo und was fuer Unterschiede es gibt: Analytischer Bericht, Visueller Bericht.
Mehr…
Excel-Tuning
Version: 2.0 | Demo (10,00 EUR)
Excel-Tuning ist ein Add-In mit 300 Makros zur schnelleren Arbeit mit Excel. Excel-Tuning reduziert die Arbeitszeit mit Excel um mindestens 20%! Die Makros sind per Shortcut (frei wählbar) oder per Kontextmenue aufrufbar. Benutzervorgaben wie ständig benutzte Verzeichnisse oder Dateien sowie Druck-Fusszeilen können festgelegt werden. Die Demo-Version verfügt zwar über das komplette Menü, es sind aber nur 19 Makros enthalten.
Mehr…
DataNumen Office Repair
Version: 2.6 | Demo (499,95 USD)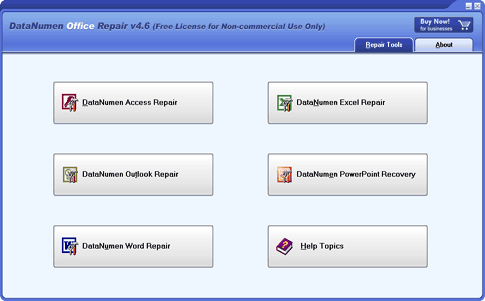 DataNumen Office Repair(DOFR) (formerly Advanced Office Repair) is a Microsoft Office data recovery suite. It includes recovery tools for corrupt or damaged MS Access databases (MS Access 95 to 2016), MS Excel worksheets (MS Excel 3 to 2016), MS Word documents (MS Word 6.0 to 2016), MS Outlook data files (MS Outlook 97 to 2016), and MS Outlook Express dbx and mbx files (MS Outlook Express 4, 5 and 6).
Mehr…